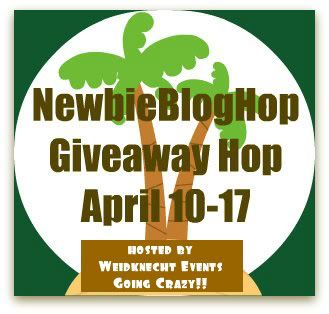 The Newbie Bloggers have arrived and we're bringing you a giveaway hop!! We've gathered up over 100 blogs (Newbies and those AWESOME bloggers who LOVE Newbies) and we all have a giveaway of at least $15 for you!!
This Giveaway Hop is hosted by GoingCrazy!!WannaGo??!! and Planet Weidknecht and is open to you from April 10 to April 17. Now, let's get to hopping and winning!!
When you're a Newbie Blogger, one of the most important things you can do is connect with other great bloggers who want to help and are willing to share their tips and tricks. The Newbie Blog Hop started so that we could connect with other Newbies and learn together!!
The Newbie Blog Hop, hosted by GoingCrazy!!WannaGo??!! and Life's Cheap Thrills, opens every Tuesday at 9pm CST and closes at midnight on Friday. We have a Facebook Group where we share with each other as we learn together.
If you are a Newbie Blogger – or you "feel" new – come join us!!
Lovable Labels Camp Pack Review
My preschooler is always having to put her name on her things at school and I really hate having to use a marker on everything. First of all, it will never come out, second, it usually ends up smudging, leaving a black spot on an otherwise cute piece of clothing or reusable snack bag. I was so excited to get Lovable Labels in the mail! They came in an organized booklet of different label choices for my preschooler to label her things and boy was she excited to label everything, including her arm, which, after removing them, she will never do again. They are semi-permanent and not for skin use! Apparently, she thought they were just "stickers" and not really, really sticky labels designed for wear and tear.
In fact, the first time I washed my preschooler's thermos, I was convinced it would come right off, but it didn't! Even the clothing labels are sticky enough to stay stuck to cloth and go through the laundry. There are 150 labels in the Camp Pack and I highly recommend them to every parent. They will be especially handy this summer when my preschooler does indeed go to camp, and she has just so many items to label. We've lost so many items at school because they weren't labeled and it's so frustrating to spend money on reusable lunch storage items only to have them lost somewhere or sent home in someone else's bag.
Lovable Labels has generously supplied us with a pack of "Camp Pack" for one lucky winner!
Thanks, Lovable Labels!
Now, head over to the other blogs and enter there!! Good Luck!!