As the summer continues on and the kids are asking for more and more beach time, I am looking for books to read that will allow me to escape. Even if it's just for a few minutes at a time, I long for that other world that quickens my heartrate and makes me turn each page with hunger, anticipation and sometimes fear. Here is a list of some of the best thriller books for your summer reading!
Over 30 Best Thriller Books to Read for Your Summer Vacation
Did you read and enjoy Gone Girl? Then check out this list of the best thriller books that are just as amazing, will keep you on the edge of your seat and make you forget the world!
What is a thriller novel?
According to wikipedia, thriller is a genre of fiction, having numerous, often overlapping subgenres. Thrillers are characterized and defined by the moods they elicit, giving viewers heightened feelings of suspense, excitement, surprise, anticipation and anxiety.
#1 – The Fever
The panic unleashed by a mysterious contagion threatens the bonds of family and community in a seemingly idyllic suburban community.
The Nash family is close-knit. Tom is a popular teacher, father of two teens: Eli, a hockey star and girl magnet, and his sister Deenie, a diligent student. Their seeming stability, however, is thrown into chaos when Deenie's best friend is struck by a terrifying, unexplained seizure in class. Rumors of a hazardous outbreak spread through the family, school and community.
As hysteria and contagion swell, a series of tightly held secrets emerges, threatening to unravel friendships, families and the town's fragile idea of security.
A chilling story about guilt, family secrets and the lethal power of desire, THE FEVER affirms Megan Abbott's reputation as "one of the most exciting and original voices of her generation." – Laura Lippman
---
#2 – The Weight of Blood
For fans of Gillian Flynn, Scott Smith, and Daniel Woodrell comes a gripping, suspenseful novel about two mysterious disappearances a generation apart.
NOMINATED FOR A BARRY AWARD AND AN INTERNATIONAL THRILLER WRITERS AWARD FOR BEST FIRST NOVEL • NAMED ONE OF THE BEST BOOKS OF THE YEAR BY BOOKPAGE
The town of Henbane sits deep in the Ozark Mountains. Folks there still whisper about Lucy Dane's mother, a bewitching stranger who appeared long enough to marry Carl Dane and then vanished when Lucy was just a child. Now on the brink of adulthood, Lucy experiences another loss when her friend Cheri disappears and is then found murdered, her body placed on display for all to see. Lucy's family has deep roots in the Ozarks, part of a community that is fiercely protective of its own. Yet despite her close ties to the land, and despite her family's influence, Lucy—darkly beautiful as her mother was—is always thought of by those around her as her mother's daughter. When Cheri disappears, Lucy is haunted by the two lost girls—the mother she never knew and the friend she couldn't save—and sets out with the help of a local boy, Daniel, to uncover the mystery behind Cheri's death.
What Lucy discovers is a secret that pervades the secluded Missouri hills, and beyond that horrific revelation is a more personal one concerning what happened to her mother more than a decade earlier.
The Weight of Blood is an urgent look at the dark side of a bucolic landscape beyond the arm of the law, where a person can easily disappear without a trace. Laura McHugh proves herself a masterly storyteller who has created a harsh and tangled terrain as alive and unforgettable as the characters who inhabit it. Her mesmerizing debut is a compelling exploration of the meaning of family: the sacrifices we make, the secrets we keep, and the lengths to which we will go to protect the ones we love.
---
#3 – Moonlight Weeps (Dick Moonlight Thriller Book 8)
Dick Moonlight can't help himself. Moonlight, the private detective known as the head case with a bullet lodged in his brain, should be grateful for his current job. But when it becomes clear the cash-starved brain surgeon he's been hired to drive around is protecting his son from a rape conviction, Moonlight is disgusted.
Worse, when the charges turn into a case of "reckless murder," Moonlight's the only one trying to keep the kid from the electric chair though the girl—a state senator's daughter—clearly committed suicide. Then Moonlight and his unwilling assistant, a fat Elvis impersonator owing him money, stumble into a much bigger plot and are soon dodging Hollywood obsessed drug-running Russian thugs, corrupt government officials, and the specter of Moonlight's recently diseased girlfriend.
New York Times bestselling author Vincent Zandri delivers another fast-paced, grizzly thriller in the Dick Moonlight series, offering readers plenty of wry humor, bullets, car chases, and Scarface references.
---
#4 – The Girl on the Train
A debut psychological thriller that will forever change the way you look at other people's lives.
Rachel takes the same commuter train every morning. Every day she rattles down the track, flashes past a stretch of cozy suburban homes, and stops at the signal that allows her to daily watch the same couple breakfasting on their deck. She's even started to feel like she knows them. "Jess and Jason," she calls them. Their life—as she sees it—is perfect. Not unlike the life she recently lost.
And then she sees something shocking. It's only a minute until the train moves on, but it's enough. Now everything's changed. Unable to keep it to herself, Rachel offers what she knows to the police, and becomes inextricably entwined in what happens next, as well as in the lives of everyone involved. Has she done more harm than good?
Compulsively readable, The Girl on the Train is an emotionally immersive, Hitchcockian thriller and an electrifying debut.
---
#5 – The Silent Wife
Jodi and Todd are at a bad place in their marriage. Much is at stake, including the affluent life they lead in their beautiful waterfront condo in Chicago, as she, the killer, and he, the victim, rush haplessly toward the main event. He is a committed cheater. She lives and breathes denial. He exists in dual worlds. She likes to settle scores. He decides to play for keeps. She has nothing left to lose. Told in alternating voices, The Silent Wife is about a marriage in the throes of dissolution, a couple headed for catastrophe, concessions that can't be made, and promises that won't be kept. Expertly plotted and reminiscent of Gone Girl and These Things Hidden, The Silent Wife ensnares the reader from page one and does not let go.
---
#6 – The Kind Worth Killing
A devious tale of psychological suspense involving sex, deception, and an accidental encounter that leads to murder. Fans of Paula Hawkins' The Girl on the Train will love this modern reimagining of Patricia Highsmith's classic Strangers on a Train from the author of the acclaimed The Girl with a Clock for a Heart—which the Washington Post said "should be a contender for crime fiction's best first novel of 2014."
On a night flight from London to Boston, Ted Severson meets the stunning and mysterious Lily Kintner. Sharing one too many martinis, the strangers begin to play a game of truth, revealing very intimate details about themselves. Ted talks about his marriage that's going stale and his wife Miranda, who he's sure is cheating on him. Ted and his wife were a mismatch from the start—he the rich businessman, she the artistic free spirit—a contrast that once inflamed their passion, but has now become a cliché.
But their game turns a little darker when Ted jokes that he could kill Miranda for what she's done. Lily, without missing a beat, says calmly, "I'd like to help." After all, some people are the kind worth killing, like a lying, stinking, cheating spouse. . . .
Back in Boston, Ted and Lily's twisted bond grows stronger as they begin to plot Miranda's demise. But there are a few things about Lily's past that she hasn't shared with Ted, namely her experience in the art and craft of murder, a journey that began in her very precocious youth.
Suddenly these co-conspirators are embroiled in a chilling game of cat-and-mouse, one they both cannot survive . . . with a shrewd and very determined detective on their tail.
---
#7 – The Long and Faraway Gone
With the compelling narrative tension and psychological complexity of the works of Laura Lippman, Dennis Lehane, Kate Atkinson, and Michael Connelly, Edgar Award-nominee Lou Berney's The Long and Faraway Gone is a smart, fiercely compassionate crime story that explores the mysteries of memory and the impact of violence on survivors—and the lengths they will go to find the painful truth of the events that scarred their lives.
In the summer of 1986, two tragedies rocked Oklahoma City. Six movie-theater employees were killed in an armed robbery, while one inexplicably survived. Then, a teenage girl vanished from the annual State Fair. Neither crime was ever solved.
Twenty-five years later, the reverberations of those unsolved cases quietly echo through survivors' lives. A private investigator in Vegas, Wyatt's latest inquiry takes him back to a past he's tried to escape—and drags him deeper into the harrowing mystery of the movie house robbery that left six of his friends dead.
Like Wyatt, Julianna struggles with the past—with the day her beautiful older sister Genevieve disappeared. When Julianna discovers that one of the original suspects has resurfaced, she'll stop at nothing to find answers.
As Wyatt's case becomes more complicated and dangerous, and Julianna seeks answers from a ghost, their obsessive quests not only stir memories of youth and first love, but also begin to illuminate dark secrets of the past. But will their shared passion and obsession heal them, or push them closer to the edge? Even if they find the truth, will it help them understand what happened, that long and faraway gone summer? Will it set them free—or ultimately destroy them?
---
#8 – Descent
The Rocky Mountains have cast their spell over the Courtlands, a young family from the plains taking a last summer vacation before their daughter begins college. For eighteen-year-old Caitlin, the mountains loom as the ultimate test of her runner's heart, while her parents hope that so much beauty, so much grandeur, will somehow repair a damaged marriage. But when Caitlin and her younger brother, Sean, go out for an early morning run and only Sean returns, the mountains become as terrifying as they are majestic, as suddenly this family find themselves living the kind of nightmare they've only read about in headlines or seen on TV.
As their world comes undone, the Courtlands are drawn into a vortex of dread and recrimination. Why weren't they more careful? What has happened to their daughter? Is she alive? Will they ever know? Caitlin's disappearance, all the more devastating for its mystery, is the beginning of the family's harrowing journey down increasingly divergent and solitary paths until all that continues to bind them together are the questions they can never bring themselves to ask: At what point does a family stop searching? At what point will a girl stop fighting for her life?
Written with a precision that captures every emotion, every moment of fear, as each member of the family searches for answers, Descent is a perfectly crafted thriller that races like an avalanche toward its heart-pounding conclusion, and heralds the arrival of a master storyteller.
---
#9 – The Life We Bury
College student Joe Talbert has the modest goal of completing a writing assignment for an English class. His task is to interview a stranger and write a brief biography of the person. With deadlines looming, Joe heads to a nearby nursing home to find a willing subject. There he meets Carl Iverson, and soon nothing in Joe's life is ever the same.
Carl is a dying Vietnam veteran–and a convicted murderer. With only a few months to live, he has been medically paroled to a nursing home, after spending thirty years in prison for the crimes of rape and murder.
As Joe writes about Carl's life, especially Carl's valor in Vietnam, he cannot reconcile the heroism of the soldier with the despicable acts of the convict. Joe, along with his skeptical female neighbor, throws himself into uncovering the truth, but he is hamstrung in his efforts by having to deal with his dangerously dysfunctional mother, the guilt of leaving his autistic brother vulnerable, and a haunting childhood memory.
Thread by thread, Joe unravels the tapestry of Carl's conviction. But as he and Lila dig deeper into the circumstances of the crime, the stakes grow higher. Will Joe discover the truth before it's too late to escape the fallout?
---
#10 – Dark Places
Libby Day was seven when her mother and two sisters were murdered in "The Satan Sacrifice" of Kinnakee, Kansas." She survived—and famously testified that her fifteen-year-old brother, Ben, was the killer. Twenty-five years later, the Kill Club—a secret secret society obsessed with notorious crimes—locates Libby and pumps her for details. They hope to discover proof that may free Ben. Libby hopes to turn a profit off her tragic history: She'll reconnect with the players from that night and report her findings to the club—for a fee. As Libby's search takes her from shabby Missouri strip clubs to abandoned Oklahoma tourist towns, the unimaginable truth emerges, and Libby finds herself right back where she started—on the run from a killer.
---
#11 – Girl Last Seen
Olivia Shaw has been missing since last Tuesday. She was last seen outside the entrance of her elementary school in Hunts Point wearing a white spring jacket, blue jeans, and pink boots.
I force myself to look at the face in the photo, into her slightly smudged features, and I can't bring myself to move. Olivia Shaw could be my mirror image, rewound to thirteen years ago.
If you have any knowledge of Olivia Shaw's whereabouts or any relevant information, please contact…
I've spent a long time peering into the faces of girls on missing posters, wondering which one replaced me in that basement. But they were never quite the right age, the right look, the right circumstances. Until Olivia Shaw, missing for one week tomorrow.
Whoever stole me was never found. But since I was taken, there hasn't been another girl.
And now there is.
---
#12 / The Woman in the Window
It isn't paranoia if it's really happening…
Anna Fox lives alone—a recluse in her New York City home, unable to venture outside. She spends her day drinking wine (maybe too much), watching old movies, recalling happier times . . . and spying on her neighbors.
Then the Russells move into the house across the way: a father, a mother, their teenage son. The perfect family. But when Anna, gazing out her window one night, sees something she shouldn't, her world begins to crumble—and its shocking secrets are laid bare.
What is real? What is imagined? Who is in danger? Who is in control? In this diabolically gripping thriller, no one—and nothing—is what it seems.
---
#13 / The Flight Attendant
Cassandra Bowden is no stranger to hungover mornings. She's a binge drinker, her job with the airline making it easy to find adventure, and the occasional blackouts seem to be inevitable. She lives with them, and the accompanying self-loathing. When she awakes in a Dubai hotel room, she tries to piece the previous night back together, counting the minutes until she has to catch her crew shuttle to the airport. She quietly slides out of bed, careful not to aggravate her already pounding head, and looks at the man she spent the night with. She sees his dark hair. His utter stillness. And blood, a slick, still wet pool on the crisp white sheets. Afraid to call the police – she's a single woman alone in a hotel room far from home – Cassie begins to lie. She lies as she joins the other flight attendants and pilots in the van. She lies on the way to Paris as she works the first class cabin. She lies to the FBI agents in New York who meet her at the gate. Soon it's too late to come clean-or face the truth about what really happened back in Dubai. Could she have killed him? If not, who did?
Set amid the captivating world of those whose lives unfold at forty thousand feet, The Flight Attendant unveils a spellbinding story of memory, of the giddy pleasures of alcohol and the devastating consequences of addiction, and of murder far from home.
---
#14 / Say You're Sorry (Morgan Dane)
In this thrilling series from Wall Street Journal bestselling author Melinda Leigh, former prosecutor Morgan Dane faces the most personal—and deadly—case of her lifetime.
After the devastating loss of her husband in Iraq, Morgan Dane returns to Scarlet Falls, seeking the comfort of her hometown. Now, surrounded by family, she's finally found peace and a promising career opportunity—until her babysitter is killed and her neighbor asks her to defend his son, Nick, who stands accused of the murder.
Tessa was the ultimate girl next door, and the community is outraged by her death. But Morgan has known Nick for years and can't believe he's guilty, despite the damning evidence stacked against him. She asks her friend Lance Kruger, an ex-cop turned private eye, for help. Taking on the town, the police, and a zealous DA, Morgan and Lance plunge into the investigation, determined to find the real killer. But as they uncover secrets that rock the community, they become targets for the madman hiding in plain sight.
---
#15 / I Am Watching You
When Ella Longfield overhears two attractive young men flirting with teenage girls on a train, she thinks nothing of it—until she realises they are fresh out of prison and her maternal instinct is put on high alert. But just as she's decided to call for help, something stops her. The next day, she wakes up to the news that one of the girls—beautiful, green-eyed Anna Ballard—has disappeared.
A year later, Anna is still missing. Ella is wracked with guilt over what she failed to do, and she's not the only one who can't forget. Someone is sending her threatening letters—letters that make her fear for her life.
Then an anniversary appeal reveals that Anna's friends and family might have something to hide. Anna's best friend, Sarah, hasn't been telling the whole truth about what really happened that night—and her parents have been keeping secrets of their own.
Someone knows where Anna is—and they're not telling. But they are watching Ella.
---
#16 / Sharp Objects
Fresh from a brief stay at a psych hospital, reporter Camille Preaker faces a troubling assignment: she must return to her tiny hometown to cover the murders of two preteen girls. For years, Camille has hardly spoken to her neurotic, hypochondriac mother or to the half-sister she barely knows: a beautiful thirteen-year-old with an eerie grip on the town. Now, installed in her old bedroom in her family's Victorian mansion, Camille finds herself identifying with the young victims—a bit too strongly. Dogged by her own demons, she must unravel the psychological puzzle of her own past if she wants to get the story—and survive this homecoming.
---
#17 / The Couple Next Door
It all started at a dinner party. . .
A domestic suspense debut about a young couple and their apparently friendly neighbors—a twisty, rollercoaster ride of lies, betrayal, and the secrets between husbands and wives. . .
Anne and Marco Conti seem to have it all—a loving relationship, a wonderful home, and their beautiful baby, Cora. But one night, when they are at a dinner party next door, a terrible crime is committed. Suspicion immediately lands on the parents. But the truth is a much more complicated story.
Inside the curtained house, an unsettling account of what actually happened unfolds. Detective Rasbach knows that the panicked couple is hiding something. Both Anne and Marco soon discover that the other is keeping secrets, secrets they've kept for years.
What follows is the nerve-racking unraveling of a family—a chilling tale of deception, duplicity, and unfaithfulness that will keep you breathless until the final shocking twist.
---
#18 / The Good Girl
"I've been following her for the past few days. I know where she buys her groceries, where she has her dry cleaning done, where she works. I don't know the color of her eyes or what they look like when she's scared. But I will."
One night, Mia Dennett enters a bar to meet her on-again, off-again boyfriend. But when he doesn't show, she unwisely leaves with an enigmatic stranger. At first Colin Thatcher seems like a safe one-night stand. But following Colin home will turn out to be the worst mistake of Mia's life.
When Colin decides to hide Mia in a secluded cabin in rural Minnesota instead of delivering her to his employers, Mia's mother, Eve, and detective Gabe Hoffman will stop at nothing to find them. But no one could have predicted the emotional entanglements that eventually cause this family's world to shatter.
An addictively suspenseful and tautly written thriller, The Good Girl is a propulsive debut that reveals how even in the perfect family, nothing is as it seems.
---
#19 / Finding Rebecca
Nothing could keep Christopher and Rebecca apart: not her abusive parents, or even the fiancé she brought home after running away to England. But when World War II finally strikes the island of Jersey, the Nazi invaders ship Rebecca to Europe as part of Hitler's Final Solution against the Jewish population.
After Christopher and his family are deported back to their native Germany, he volunteers for the Nazi SS, desperate to save the woman he loves. He is posted to Auschwitz and finds himself put in control of the money stolen from the victims of the gas chambers. As Christopher searches for Rebecca, he struggles to not only maintain his cover, but also the grip on his soul. Managing the river of tainted money flowing through the horrific world of Auschwitz may give him unexpected opportunities. But will it give him the strength to accept a brave new fate that could change his life—and others' lives—forever?
---
#20 / The Wife Between Us
When you read this book, you will make many assumptions.
You will assume you are reading about a jealous ex-wife.
You will assume she is obsessed with her replacement – a beautiful, younger woman who is about to marry the man they both love.
You will assume you know the anatomy of this tangled love triangle.
Assume nothing.
Twisted and deliciously chilling, Greer Hendricks and Sarah Pekkanen's The Wife Between Us exposes the secret complexities of an enviable marriage – and the dangerous truths we ignore in the name of love.
Read between the lies.
---
21. American Dirt / by Jeanine Cummins

Lydia Quixano Pérez lives in the Mexican city of Acapulco. She runs a bookstore. She has a son, Luca, the love of her life, and a wonderful husband who is a journalist. And while there are cracks beginning to show in Acapulco because of the drug cartels, her life is, by and large, fairly comfortable.
Even though she knows they'll never sell, Lydia stocks some of her all-time favorite books in her store. And then one day a man enters the shop to browse and comes up to the register with a few books he would like to buy―two of them her favorites. Javier is erudite. He is charming. And, unbeknownst to Lydia, he is the jefe of the newest drug cartel that has gruesomely taken over the city. When Lydia's husband's tell-all profile of Javier is published, none of their lives will ever be the same.
Forced to flee, Lydia and eight-year-old Luca soon find themselves miles and worlds away from their comfortable middle-class existence. Instantly transformed into migrants, Lydia and Luca ride la bestia―trains that make their way north toward the United States, which is the only place Javier's reach doesn't extend. As they join the countless people trying to reach el norte, Lydia soon sees that everyone is running from something. But what exactly are they running to?
American Dirt will leave readers utterly changed. It is a literary achievement filled with poignancy, drama, and humanity on every page. It is one of the most important books for our times.
Already being hailed as "a Grapes of Wrath for our times" and "a new American classic," Jeanine Cummins's American Dirt is a rare exploration into the inner hearts of people willing to sacrifice everything for a glimmer of hope.
---
22. The Last Time I Saw You / by Liv Constantine

Dr. Kate English has it all. Not only is she the heiress to a large fortune; she has a gorgeous husband and daughter, a high-flying career, and a beautiful home anyone would envy.
But all that changes the night Kate's mother, Lily, is found dead, brutally murdered in her own home. Heartbroken and distraught, Kate reaches out to her estranged best friend, Blaire Barrington, who rushes to her side for the funeral, where the years of distance between them are forgotten in a moment.
That evening, Kate's grief turns to horror when she receives an anonymous text: You think you're sad now, just wait. By the time I'm finished with you, you'll wish you had been buried today. More than ever, Kate needs her old friend's help.
Once Blaire decides to take the investigation into her own hands, it becomes clear that all is not as it seems in Baltimore high society. As infidelity, lies, and betrayals come to light, and tensions rise to a boiling point, she begins to alienate Kate's friends and relatives with her relentless, accusatory questions, as she tries to find Lily's killer. The murderer could be anyone—friend, neighbor, loved one. But whoever it is, it's clear that Kate is next on their list…
In The Last Time I Saw You, Liv Constantine takes the lightning pace of The Last Mrs. Parrish and raises the stakes, creating an exquisitely tension-filled and absorbing tale of psychological suspense in which innocent lives—and one woman's sanity—hang in the balance.
---
23. My Lovely Wife / by Samantha Downing

Our love story is simple. I met a gorgeous woman. We fell in love. We had kids. We moved to the suburbs. We told each other our biggest dreams, and our darkest secrets. And then we got bored.
We look like a normal couple. We're your neighbors, the parents of your kid's friend, the acquaintances you keep meaning to get dinner with.
We all have our secrets to keeping a marriage alive.
Ours just happens to be getting away with murder.
---
24. Have You Seen Me? / by Kate White

The key to her missing memories could bring relief—or unlock her worst nightmares.
On a cold, rainy morning, finance journalist Ally Linden arrives soaked to the bone at her Manhattan office, only to find that she's forgotten her keycard. When her boss shows, he's shocked to see her—because, he explains, she hasn't worked there in five years.
Ally knows her name, but is having trouble coming up with much beyond that, though after a trip to the psychiatric ER, she begins to piece together important facts: she lives on the Upper West Side; she's now a freelance journalist; she's married to a terrific man named Hugh. More memories materialize and yet she still can't recall anything about the previous two days. Diagnosed as having experienced a dissociative state, she starts to wonder if it may have been triggered by something she saw. Could she have witnessed an accident—or worse—had something happened to her?
Desperate for answers, Ally tries to track where she spent the missing days, but every detail she unearths points to an explanation that's increasingly ominous, and it's clear someone wants to prevent her from learning where those forty-eight hours went. In order to uncover the truth, Ally must dig deep into the secrets of her past—and outsmart the person who seems determined to silence her.
---
25. Someone We Know / by Shari Lapena

"This is a very difficult letter to write. I hope you will not hate us too much. . . My son broke into your home recently while you were out."
In a quiet, leafy suburb in upstate New York, a teenager has been sneaking into houses–and into the owners' computers as well–learning their secrets, and maybe sharing some of them, too.
Who is he, and what might he have uncovered? After two anonymous letters are received, whispers start to circulate, and suspicion mounts. And when a woman down the street is found murdered, the tension reaches the breaking point. Who killed her? Who knows more than they're telling? And how far will all these very nice people go to protect their own secrets?
In this neighborhood, it's not just the husbands and wives who play games. Here, everyone in the family has something to hide . . .
You never really know what people are capable of.
---
26. This Is How I Lied / by Heather Gudenkauf

Twenty-five years ago, the body of sixteen-year-old Eve Knox was found in the caves near her home in small-town Grotto, Iowa—discovered by her best friend, Maggie, and her sister, Nola. There were a handful of suspects, including her boyfriend, Nick, but without sufficient evidence the case ultimately went cold.
For decades Maggie was haunted by Eve's death and that horrible night. Now a detective in Grotto, and seven months pregnant, she is thrust back into the past when a new piece of evidence surfaces and the case is reopened. As Maggie investigates and reexamines the clues, secrets about what really happened begin to emerge. But someone in town knows more than they're letting on, and they'll stop at nothing to keep the truth buried deep.
---
27. The Red Lotus / by Chris Bohjalian

The first time Alexis saw Austin, it was a Saturday night. Not in a bar, but in the emergency room where Alexis sutured a bullet wound in Austin's arm. Six months later, on the brink of falling in love, they travel to Vietnam on a bike tour so that Austin can show her his passion for cycling and he can pay his respects to the place where his father and uncle fought in the war. But as Alexis sips white wine and waits at the hotel for him to return from his solo ride, two men emerge from the tall grass and Austin vanishes into thin air.
The only clue he leaves behind is a bright yellow energy gel dropped on the road. As Alexis grapples with this bewildering loss, and deals with the FBI, Austin's prickly family, and her colleagues at the hospital, Alexis uncovers a series of strange lies that force her to wonder: Where did Austin go? Why did he really bring her to Vietnam? And how much danger has he left her in? Set amidst the adrenaline-fueled world of the emergency room, The Red Lotus is a global thriller about those who dedicate their lives to saving people, and those who peddle death to the highest bidder.
---
28. Little Secrets / by Jennifer Hillier

Marin had the perfect life. Married to her college sweetheart, she owns a chain of upscale hair salons, and Derek runs his own company. They're admired in their community and are a loving family―until their world falls apart the day their son Sebastian is taken.
A year later, Marin is a shadow of herself. The FBI search has gone cold. The publicity has faded. She and her husband rarely speak. She hires a P.I. to pick up where the police left off, but instead of finding Sebastian, she learns that Derek is having an affair with a younger woman. This discovery sparks Marin back to life. She's lost her son; she's not about to lose her husband, too. Kenzie is an enemy with a face, which means this is a problem Marin can fix.
Permanently.
---
29. Disappearing Earth / by Julia Phillips

One August afternoon, two sisters—Sophia, eight, and Alyona, eleven—go missing from a beach on the far-flung Kamchatka Peninsula in northeastern Russia. Taking us through the year that follows, Disappearing Earth enters the lives of women and girls in this tightly knit community who are connected by the crime: a witness, a neighbor, a detective, a mother. We are transported to vistas of rugged beauty—open expanses of tundra, soaring volcanoes, dense forests, the glassy seas that border Japan and Alaska—and into a region as complex as it is alluring, where social and ethnic tensions have long simmered, and where outsiders are often the first to be accused. In a story as propulsive as it is emotionally engaging, Julia Phillips's powerful novel brings us to a new understanding of the intricate bonds of family and community, in a Russia unlike any we have seen before.
---
30. The Turn of the Key / by Ruth Ware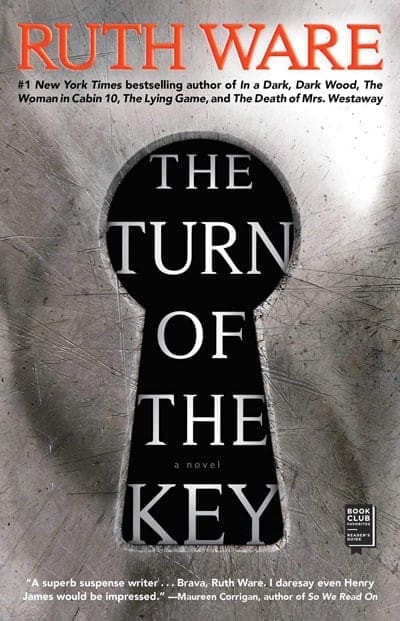 When she stumbles across the ad, she's looking for something else completely. But it seems like too good an opportunity to miss—a live-in nannying post, with a staggeringly generous salary. And when Rowan Caine arrives at Heatherbrae House, she is smitten—by the luxurious "smart" home fitted out with all modern conveniences, by the beautiful Scottish Highlands, and by this picture-perfect family.
What she doesn't know is that she's stepping into a nightmare—one that will end with a child dead and herself in prison awaiting trial for murder.
Writing to her lawyer from prison, she struggles to explain the events that led to her incarceration. It wasn't just the constant surveillance from the home's cameras, or the malfunctioning technology that woke the household with booming music, or turned the lights off at the worst possible time. It wasn't just the girls, who turned out to be a far cry from the immaculately behaved model children she met at her interview. It wasn't even the way she was left alone for weeks at a time, with no adults around apart from the enigmatic handyman.
It was everything.
She knows she's made mistakes. She admits that she lied to obtain the post, and that her behavior toward the children wasn't always ideal. She's not innocent, by any means. But, she maintains, she's not guilty—at least not of murder—but somebody is.
Full of spellbinding menace and told in Ruth Ware's signature suspenseful style, The Turn of the Key is an unputdownable thriller from the Agatha Christie of our time.
---
31. The Sister-in-Law / by Sue Watson

THE WIFE: Clare is ready for a break. It's been a tough year and now she wants to put her feet up. Arriving at the Italian villa for their summer holiday, she decides it's high time her husband and his family did some of the work. After all, her husband owes her…
THE HUSBAND: Even though Dan had his head turned by someone else, he's realised the error of his ways. He's here now, and he says it's for keeps. Clare can trust him, can't she? At least he'll have his brother there, to keep him in line…
THE BROTHER: Jamie is the prodigal child, back in the family fold again after years of travelling abroad. But when he gets to the villa, he's not alone. He's brought a wife, someone none of them have met before.
THE SISTER-IN-LAW: Ella is everything Clare isn't. Glamorous. Young. Influential. But she knows a secret about Clare. Something that has the power to break the whole family apart.
And there's someone who will do whatever it takes to make sure that this deep secret never comes to the surface.


More amazing resources like these best thriller books
The best books to read



10 Gripping Psychological Thriller Books for 2020

10 Best Psychological Thriller Books for 2019

The Best Summer Thriller Books to Read this Year

10 Amazing Top Fiction Books to Read