You know that feeling when you're reading a book and you just can't put it down because the suspense is killing you? That's what you get with the Best Thriller Books. Whether you're a fan of psychological thrillers that mess with your head or action-packed thrillers that keep you on the edge of your seat, there's something for everyone. Some of my personal favorites include Gone Girl by Gillian Flynn, The Girl on the Train by Paula Hawkins, and The Silence of the Lambs by Thomas Harris. Trust me, once you start reading one of these books, you won't be able to stop until you've reached the heart-pounding conclusion.
When it comes to Books to Read, there are so many options out there that it can feel overwhelming. Do you want a suspenseful mystery to keep you on the edge of your seat, or a heart-warming romance to tug at your heartstrings? Perhaps you'd rather delve into an epic fantasy world or learn something new with a nonfiction title. No matter what your literary preferences are, there's sure to be a book out there that will capture your attention and ignite your imagination. So settle in with a comfy spot and a good book, and let yourself get lost in a world of words.
Over 30 Best Thriller Books to Read for Your Summer Vacation
Did you read and enjoy Gone Girl? Then check out this list of the best thriller books that are just as amazing, will keep you on the edge of your seat and make you forget the world!
What is a Thriller Novel?
If you're a fan of suspense, action, and unexpected twists, then a thriller novel is the perfect genre for you. These books are meant to keep you on the edge of your seat from beginning to end, with heart-pumping moments that leave you guessing what will happen next. Unlike other genres, thrillers are all about the journey, taking you through countless plot twists and turns until you reach the climactic finale that ties everything together. With so many amazing books to read in this genre, you'll never run out of thrilling adventures to embark on.
#1 – The Fever
In this gripping novel, a mysterious contagion unleashes panic in an idyllic suburban community, threatening the bonds of family and friendship.
The Nash family is tight-knit, with Tom as a beloved teacher and father to two teenagers – Eli, a popular hockey player and ladies' man, and his sister Deenie, a dedicated student. But their seemingly perfect existence is shattered when Deenie's best friend suffers a terrifying and unexplained seizure during class. As rumors of an outbreak spread throughout the school and community, fear and hysteria take hold.
As the contagion spreads, long-held secrets come to light, putting friendships, families, and even the town's sense of security at risk. In this riveting tale, readers will witness the power of fear and the fragility of human relationships as characters are forced to confront uncomfortable truths and deal with the fallout from the crisis.
---
#2 – The Weight of Blood
Deep in the Ozark Mountains lies the town of Henbane, where Lucy Dane's mother appeared briefly to marry Carl Dane before vanishing when Lucy was young. Now on the cusp of adulthood, Lucy experiences another loss when her friend Cheri goes missing and is later found murdered, with her body put on display. Despite her family's deep roots and influence in the community, Lucy is always seen as her mother's daughter.
Haunted by the loss of both her mother and friend, Lucy sets out to uncover the truth behind Cheri's death with the help of local boy Daniel. As she delves deeper, Lucy uncovers a sinister secret that engulfs the secluded Missouri hills, leading her to a startling revelation about her mother's disappearance more than a decade ago.
In this urgent novel, Laura McHugh explores the dark underbelly of a seemingly peaceful landscape beyond the reach of the law, where people can vanish without a trace. With masterful storytelling, McHugh creates a vivid and unforgettable world, rich with complex and compelling characters. The Weight of Blood is a gripping tale of family, sacrifice, secrets, and love – a powerful meditation on what we're willing to do to protect those closest to us.
---
#3 – Moonlight Weeps (Dick Moonlight Thriller Book 8)
Meet Dick Moonlight, the private detective known for having a bullet lodged in his brain. Despite being grateful for his current job as a driver for a cash-strapped brain surgeon, Moonlight finds himself disgusted when he learns that the surgeon is protecting his son from a rape conviction.
As the case escalates into one of "reckless murder," Moonlight is the only one fighting to save the son from the electric chair. To make matters worse, the girl involved is a state senator's daughter who appears to have committed suicide. Along with his reluctant assistant, a rotund Elvis impersonator who owes him money, Moonlight delves deeper into the case and uncovers a much larger plot.
Soon, Moonlight and his assistant find themselves dodging danger from Hollywood-obsessed drug runners, corrupt officials, and even the specter of Moonlight's recently deceased girlfriend. In this gripping novel, readers will be taken on a thrilling journey full of twists and turns as they follow Moonlight's efforts to solve the case and clear the son's name.
#4 – The Girl on the Train
In this gripping psychological thriller debut, readers will be forever changed in the way they view other people's lives.
Rachel takes the same commuter train every day, passing by cozy suburban homes and watching a seemingly perfect couple, "Jess and Jason," on their deck. But when Rachel witnesses something shocking one day, everything changes. Unable to keep it to herself, she offers what she knows to the police and becomes embroiled in the lives of those involved. The question remains: has she done more harm than good?
The Girl on the Train is a compulsively readable novel that immerses readers in a Hitchcockian world full of suspense and intrigue. With an electrifying debut, this emotionally charged thriller is sure to leave readers on the edge of their seats as they delve deeper into the tangled web of secrets and lies.
#5 – The Silent Wife
Jodi and Todd's marriage is crumbling, putting everything on the line, including their luxurious life in a beautiful Chicago waterfront condo. He's a serial cheater, while she lives in complete denial. He leads two lives, while she seeks revenge. He decides to take their game to the next level, but she has nothing left to lose.
Told in alternating voices, The Silent Wife is a gripping tale of a marriage on the brink of collapse. As the couple hurtles towards disaster, they make concessions that can't be kept and promises that won't be fulfilled. With an expertly plotted story reminiscent of Gone Girl and These Things Hidden, this novel ensnares readers from the very first page and refuses to let go.
#6 – The Kind Worth Killing
Jodi and Todd's marriage is crumbling, putting everything on the line, including their luxurious life in a beautiful Chicago waterfront condo. He's a serial cheater, while she lives in complete denial. He leads two lives, while she seeks revenge. He decides to take their game to the next level, but she has nothing left to lose.
Told in alternating voices, The Silent Wife is a gripping tale of a marriage on the brink of collapse. As the couple hurtles towards disaster, they make concessions that can't be kept and promises that won't be fulfilled. With an expertly plotted story reminiscent of Gone Girl and These Things Hidden, this novel ensnares readers from the very first page and refuses to let go.
---
#7 – The Long and Faraway Gone
Lou Berney's Edgar Award-nominated novel, The Long and Faraway Gone, is a crime story that explores the impact of violence on survivors and the mysteries of memory. With the compelling narrative tension and psychological complexity of authors like Laura Lippman, Dennis Lehane, Kate Atkinson, and Michael Connelly, this book is a smart and compassionate tale.
In 1986, Oklahoma City experienced two tragic events: an armed robbery that resulted in the deaths of six movie-theater employees, and the disappearance of a teenage girl during the State Fair. Both cases remain unsolved twenty-five years later, but their repercussions continue to haunt the lives of those involved.
Private investigator Wyatt's latest case brings him back to his hometown, where he delves deeper into the mystery surrounding the movie theater tragedy that claimed the lives of six of his friends. Meanwhile, Julianna is grappling with the disappearance of her older sister Genevieve years ago. When she learns that one of the original suspects has resurfaced, she becomes determined to uncover the truth.
As their investigations progress, Wyatt and Julianna's obsessions lead them down a dangerous path. Their quests stir up memories of the past and first love while illuminating dark secrets. But will the truth they seek heal them or push them closer to the edge? Will it set them free, or ultimately destroy them?
The Long and Faraway Gone is a gripping and emotionally charged novel that will leave readers questioning the impact of violence on survivors and the power of memory.
#8 – Descent
The Courtlands, a young family from the plains, are on a summer vacation in the Rocky Mountains before their daughter, Caitlin, begins college. For Caitlin, the mountains are a challenge to her runner's heart, while her parents hope the beauty and grandeur of the mountains will repair their damaged marriage. However, when Caitlin and her younger brother, Sean, go for an early morning run and only Sean returns, the mountains become a source of terror as this family finds themselves living a nightmare.
As the Courtlands' world falls apart, they are consumed by fear and blame. Why weren't they more careful? What happened to their daughter? Is she still alive? Caitlin's disappearance, made even more devastating by its mystery, is just the beginning of the family's harrowing journey as they each go down divergent and solitary paths. All that remains is the unspoken questions that haunt them: When does a family stop searching? When does a girl stop fighting for her life?
With precision and emotional depth, Descent is an expertly crafted thriller that races toward its heart-pounding conclusion like an avalanche. This novel captures every moment of fear and emotion as each member of the family searches for answers. Written by a master storyteller, this book heralds the arrival of a brilliant new voice in the genre.
#9 – The Life We Bury
Joe Talbert is a college student with a simple goal: complete an English class writing assignment. He needs to interview a stranger and write a brief biography of that person. With deadlines approaching, Joe visits a nearby nursing home in search of a willing subject. That's where he meets Carl Iverson, changing Joe's life forever.
Carl is a dying Vietnam veteran, as well as a convicted murderer. After serving thirty years in prison for rape and murder, Carl has been medically paroled to a nursing home with only a few months left to live.
As Joe delves into Carl's life story and heroism in Vietnam, he struggles to reconcile the soldier's valor with the convict's despicable acts. Along with his skeptical neighbor Lila, Joe embarks on a mission to uncover the truth about Carl's conviction. However, he faces obstacles such as his dysfunctional mother, guilt about leaving his autistic brother vulnerable, and a haunting childhood memory.
Thread by thread, Joe slowly unravels the tapestry of Carl's conviction. But as he and Lila dig deeper, the stakes grow higher, and the truth becomes more dangerous. Will Joe discover the truth before it's too late to escape the fallout?
#10 – Dark Places
When Libby Day was just seven years old, her mother and two sisters were brutally murdered in Kinnakee, Kansas in what was dubbed "The Satan Sacrifice." Despite surviving the attack, Libby famously testified that her fifteen-year-old brother, Ben, was the killer.
Twenty-five years later, the Kill Club, a secret society obsessed with notorious crimes, tracks down Libby hoping to uncover proof that may free Ben. But Libby has other motives – she wants to turn a profit off her tragic history. She agrees to reconnect with those involved in the case and report her findings to the club, for a fee.
As Libby's search takes her through seedy strip clubs in Missouri and abandoned tourist towns in Oklahoma, she discovers the unimaginable truth and finds herself back where she started – on the run from a killer.
With a gripping storyline that takes readers on a thrilling journey through the darkest corners of the human psyche, this novel is a page-turner that will leave readers on the edge of their seats until the final shocking twist.
---
Gripping Thriller Books to Read
#11 – Girl Last Seen
Olivia Shaw has been missing since last Tuesday after being last seen outside the entrance of her elementary school in Hunts Point. She was wearing a white spring jacket, blue jeans, and pink boots.
As I stare at her photo, her slightly smudged features seem eerily familiar, almost like looking into a mirror from thirteen years ago. The thought leaves me frozen, unable to move.
The missing posters of girls that I've peered at for years never quite matched my age, look, or circumstances. But Olivia Shaw, missing for one week tomorrow, fits all the criteria.
I've always wondered who took me and why they were never caught. Since my kidnapping, there hasn't been another girl taken until now.
If you have any information about Olivia Shaw's whereabouts or any relevant details, please contact…
This chilling novel will keep readers on the edge of their seats as they follow the search for Olivia and the protagonist's own haunting memories. With a story that delves into the darkest corners of human nature, it's a gripping thriller that will leave readers guessing until the very end.
---
#12 / The Woman in the Window
Anna Fox lives as a recluse in her New York City home, unable to leave and constantly battling her paranoia. She spends her days drinking wine, watching old movies, and reminiscing about happier times. But her main pastime is spying on her neighbors.
Everything changes when the Russells move into the house across from hers – the perfect family, with a father, mother, and teenage son. But one night, Anna sees something she shouldn't have, and her carefully constructed world starts to unravel. As secrets are revealed, Anna struggles to determine what is real and what is imagined, who is in danger, and who is in control.
In this gripping thriller, nothing is what it seems. As the story unfolds, the line between reality and delusion becomes blurred, leaving readers wondering what will happen next. This diabolical tale will keep you on the edge of your seat until the very end.
---
#13 / The Flight Attendant
Cassandra Bowden is a seasoned pro when it comes to hangovers. As a binge drinker who works for an airline, she's no stranger to adventure, and the occasional blackout is just par for the course. But when she wakes up in a Dubai hotel room after a night of heavy drinking, she realizes that something is different. There's a man lying beside her, his dark hair and stillness chilling her to the bone. And then she sees the blood – a slick, still-wet pool on the crisp white sheets.
Afraid to call the police and unwilling to face the consequences of her actions, Cassie begins to weave a web of lies that quickly spirals out of control. She lies to her colleagues during the crew shuttle ride to the airport, as she works in the first-class cabin to Paris, and even to the FBI agents waiting for her in New York. But as the truth slowly begins to emerge, Cassie must confront the terrifying possibility that she may have killed the man lying next to her.
Set against the backdrop of the high-flying world of flight attendants and pilots, "The Flight Attendant" is a gripping tale of addiction, memory, and murder. With its captivating plot and unforgettable characters, this novel is sure to keep readers on the edge of their seats until the very last page.
---
#14 / Say You're Sorry (Morgan Dane)
Wall Street Journal bestselling author Melinda Leigh delivers an exhilarating series in which former prosecutor Morgan Dane finds herself facing the most personal and dangerous case of her career.
After suffering the devastating loss of her husband in Iraq, Morgan Dane returns to her hometown of Scarlet Falls in search of solace. With the comfort of family and a promising career opportunity, she feels as though she's finally found peace – until tragedy strikes. When her babysitter is murdered, Morgan's neighbor asks for her help in defending his son, Nick, who has been accused of the crime.
Tessa was loved by everyone in the community, and her death sends shockwaves through Scarlet Falls. Despite the overwhelming evidence against Nick, Morgan refuses to believe he is capable of such a heinous act. She enlists the help of her friend Lance Kruger, a former cop turned private eye, to help them get to the bottom of the case.
As they dig deeper into the investigation, they uncover secrets that will shake the town to its core. But their search for the truth leads them straight into the sights of a dangerous killer who will stop at nothing to keep the truth from coming out.
In this heart-pumping series, readers will be taken on a thrilling ride alongside Morgan and Lance as they fight to clear Nick's name and bring justice to Scarlet Falls.
---
#15 / I Am Watching You
On a train ride, Ella Longfield overhears two young men flirting with teenage girls. She doesn't think much of it until she realizes they are fresh out of prison and her maternal instincts kick in. However, before she can call for help, something stops her. The next day, she learns that one of the girls, beautiful Anna Ballard, has vanished without a trace.
A year later, Anna is still missing, leaving Ella riddled with guilt over what she failed to do. But she's not alone. Someone has been sending her threatening letters, making her fear for her safety.
As an anniversary appeal brings renewed attention to the case, secrets begin to surface. Anna's best friend, Sarah, has been keeping the truth about what happened that night hidden, while her parents have their own secrets to protect. The question is: who else is hiding the truth?
Someone knows where Anna is, and they're watching Ella. In this gripping thriller, readers will be taken on a rollercoaster ride as they follow along with Ella's search for answers and the dangerous game of cat and mouse that follows. With its shocking twists and turns, this novel will keep readers guessing until the very end.
---
#16 / Sharp Objects
After a brief stint at a psychiatric hospital, reporter Camille Preaker is given a challenging assignment: she must return to her hometown to cover the murders of two young girls. Despite having little contact with her neurotic, hypochondriac mother or her mysterious half-sister, a beautiful thirteen-year-old with an eerie influence over the town, Camille agrees to the task.
As she settles into her old bedroom in her family's Victorian mansion, Camille finds herself becoming increasingly invested in the case. But as she delves deeper, she realizes that she is identifying all too closely with the victims, raising questions about her own past.
Haunted by her personal demons, Camille must confront her own history if she hopes to solve the psychological puzzle of the murders and survive her return home.
With its riveting plot and complex characters, this novel takes readers on a suspenseful journey through the darkest corners of the human psyche. As the tension builds and secrets begin to unravel, readers will be left guessing until the very end.
---
#17 / The Couple Next Door
It all began with a seemingly innocent dinner party…
In this suspenseful debut novel, we meet Anne and Marco Conti, a seemingly perfect couple with a beautiful home and a precious baby, Cora. But when they attend a dinner party at their neighbor's house, everything changes. A heinous crime is committed, and the finger of suspicion points straight at the Contis.
As the investigation unfolds, a web of lies and deceit begins to unravel. Detective Rasbach senses that there is more to the story than meets the eye, and as he delves deeper, he uncovers long-held secrets that both Anne and Marco have kept hidden for years.
Told through a series of unsettling flashbacks, this chilling tale explores the dark side of human nature, highlighting the power of deception and betrayal. As the truth slowly comes to light, readers will be left gasping for breath – and questioning everything they thought they knew about the Contis and their seemingly friendly neighbors.
With its shocking twists and turns, this page-turner is sure to keep readers guessing until the very last page.
---
#18 / The Good Girl
For the past few days, I've been keeping a close eye on her – following her to the grocery store, the dry cleaners, and her workplace. I don't know much about her, but I'm determined to find out everything there is to know. Her eyes, her fears, her deepest secrets – nothing will be left uncovered.
Mia Dennett enters a bar one night, hoping to meet her boyfriend. But when he's a no-show, she makes a fateful decision to leave with an enigmatic stranger, Colin Thatcher. At first, he seems like just another one-night stand. But when Colin takes Mia to a remote cabin in rural Minnesota instead of delivering her to his bosses, her world quickly turns upside down.
As Mia's mother and a detective race to find her, they uncover a web of lies and deceit that threaten to destroy them all. In this suspenseful debut thriller, readers will be taken on a heart-pumping ride as they watch this family's perfect world crumble before their eyes.
---
#19 / Finding Rebecca
Christopher and Rebecca were determined to be together, even in the face of adversity. Her abusive parents and a fiancé couldn't keep them apart, but when World War II reaches the shores of Jersey, everything changes. Nazi invaders ship Rebecca off to Europe as part of Hitler's Final Solution, leaving Christopher desperate to find her.
Deported back to Germany with his family, Christopher does the unthinkable – he volunteers for the Nazi SS, knowing that it may be the only way to save his beloved Rebecca. Posted to Auschwitz, he finds himself in control of the money stolen from the gas chamber victims. As he searches for Rebecca, Christopher struggles to maintain his cover and hold onto his soul amidst the horrors of the concentration camp.
Managing the river of tainted money brings unexpected opportunities, but will it give Christopher the strength to accept a new fate that could change his life – and the lives of others – forever? This gripping tale takes readers through the darkest depths of the human experience, exploring themes of love, sacrifice, and redemption. With its powerful message and unforgettable characters, this novel will leave a lasting impact on readers long after the final page is turned.
---
#20 / The Wife Between Us
As you dive into this book, you'll likely find yourself making many assumptions. Perhaps you'll assume that it's a story about a jealous ex-wife, obsessed with her replacement – a younger, more beautiful woman who's about to marry the man they both love. You may think you know all the ins and outs of this tangled love triangle.
But don't be so sure.
In Greer Hendricks and Sarah Pekkanen's The Wife Between Us, nothing is quite as it seems. This twisted and deliciously chilling novel peels back the layers of an enviable marriage to reveal the dangerous truths we often ignore in the name of love.
So don't assume anything. Instead, read between the lies and get ready for a thrilling ride through the darkest corners of human nature. With its complex characters and shocking twists, this novel will keep you on the edge of your seat until the very last page.
---
21. American Dirt / by Jeanine Cummins
Ly Quixano Pérez leads a comfortable life in the Mexican city of Acapulco. With her loving husband, a journalist, and their son Luca, who is the light of her life, Lydia runs a bookstore and takes solace in her favorite books, even though she knows they'll never sell.
But when a charming and erudite man named Javier enters her shop, Lydia has no idea that he is the leader of a ruthless drug cartel that has taken over the city. When Lydia's husband publishes an exposé on Javier, their lives are forever changed.
Forced to flee for their lives, Lydia and Luca become migrants, travelling north to the United States in search of safety and security. Along the way, they join countless others on a perilous journey to el norte, each one running from something, but never quite sure what they are running towards.
In American Dirt, Jeanine Cummins explores the inner lives of people willing to risk everything for a chance at a better life. With poignancy, drama, and humanity on every page, this literary masterpiece is being hailed as a contemporary classic – a Grapes of Wrath for our times. It is a must-read for anyone seeking a deeper understanding of the human condition and the lengths we will go to in pursuit of hope.
---
22. The Last Time I Saw You / by Liv Constantine
Dr. Kate English has it all. Not only is she the heiress to a large fortune; she has a gorgeous husband and daughter, a high-flying career, and a beautiful home anyone would envy.
But all that changes the night Kate's mother, Lily, is found dead, brutally murdered in her own home. Heartbroken and distraught, Kate reaches out to her estranged best friend, Blaire Barrington, who rushes to her side for the funeral, where the years of distance between them are forgotten in a moment.
That evening, Kate's grief turns to horror when she receives an anonymous text: You think you're sad now, just wait. By the time I'm finished with you, you'll wish you had been buried today. More than ever, Kate needs her old friend's help.
Once Blaire decides to take the investigation into her own hands, it becomes clear that all is not as it seems in Baltimore high society. As infidelity, lies, and betrayals come to light, and tensions rise to a boiling point, she begins to alienate Kate's friends and relatives with her relentless, accusatory questions, as she tries to find Lily's killer. The murderer could be anyone—friend, neighbor, loved one. But whoever it is, it's clear that Kate is next on their list…
In The Last Time I Saw You, Liv Constantine takes the lightning pace of The Last Mrs. Parrish and raises the stakes, creating an exquisitely tension-filled and absorbing tale of psychological suspense in which innocent lives—and one woman's sanity—hang in the balance.
---
23. My Lovely Wife / by Samantha Downing
At first, our love story seemed like the stuff of fairy tales. I met a beautiful woman, we fell deeply in love, and started a family together. We moved to the suburbs and shared our biggest hopes and fears with each other.
But as time went on, we found ourselves growing bored with the monotony of our lives. We looked like any other ordinary couple, going about our business without drawing attention to ourselves. But we had a secret – one that kept our marriage alive in ways that others couldn't understand.
We got away with murder.
As the bodies piled up, we justified our actions to ourselves, telling ourselves that it was all for the sake of our love. But when the authorities start to close in on us, we realize that our perfect life may be coming to an end. In this chilling novel, readers are taken on a journey into the dark heart of a couple willing to do anything to keep their love alive. With its unforgettable characters and gripping plot, this novel will leave readers questioning just how far they would go for the ones they love.
---
24. Have You Seen Me? / by Kate White
It all started on a cold, rainy morning when finance journalist Ally Linden arrived at her Manhattan office soaking wet and without her keycard. To her surprise, her boss informed her that she hadn't worked there in five years. Despite knowing her name, Ally struggled to remember anything else about herself, leading her to seek help at a psychiatric ER.
As Ally began to piece together her past, she uncovered important facts about her life: she lived on the Upper West Side, was married to a man named Hugh, and was now a freelance journalist. However, she couldn't recall the previous two days, and her diagnosis of a dissociative state left her wondering if something traumatic had happened to her.
Determined to uncover the truth, Ally embarked on a quest to retrace her steps from the missing days, but every lead she followed only pointed to an increasingly ominous explanation. It became clear that someone was determined to silence her and prevent her from uncovering the truth. As Ally delved deeper into her past, she realized that the key to unlocking her missing memories could either bring relief or unlock her worst nightmares.
In this gripping novel, readers are taken on a thrilling journey through the dark secrets of Ally's past as she races against time to outsmart those who want to silence her. With its unforgettable characters and heart-stopping plot twists, this book is a must-read for anyone who loves a good psychological thriller.
---
25. Someone We Know / by Shari Lapena
In a quiet and peaceful suburb of upstate New York, a disturbing letter arrives in the mailboxes of unsuspecting homeowners. The letter is difficult to write, its author apologizing in advance and praying not to be hated too much. It reveals that the sender's son has been breaking into people's homes – including the recipient's – and hacking into their computers to uncover their deepest secrets.
As the community struggles to come to terms with this shocking revelation, suspicion and whispers start to spread. When a woman nearby is found murdered, tensions reach boiling point. Who killed her? What do they know? And how far will people go to protect their own secrets?
In this idyllic neighborhood, everyone seems to have something to hide. From husbands and wives to their children, everyone is playing games and keeping secrets. And with each new revelation, it becomes clear that you can never really know what people are capable of.
In this gripping novel, readers are taken on a thrilling journey through the dark secrets of an apparently perfect community, where no one is quite what they seem. With its nuanced characters and heart-pounding plot twists, this book is a must-read for anyone who loves a good psychological thriller.
---
26. This Is How I Lied / by Heather Gudenkauf
Small-town Grotto, Iowa was rocked twenty-five years ago when the body of sixteen-year-old Eve Knox was found in the nearby caves. Her best friend Maggie and sister Nola were the ones to make the devastating discovery, but despite several suspects – including her boyfriend Nick – the case went cold due to lack of evidence.
For years, Maggie was tormented by the memory of that night and the unanswered questions surrounding Eve's death. Now, as a detective in Grotto, and seven months pregnant, she is pulled back into the past when new evidence comes to light and the case is reopened. With each clue Maggie uncovers during her investigation, secrets about the truth behind Eve's death begin to surface. But someone in the town knows more than they are willing to reveal, and they will go to great lengths to keep the truth from coming out.
As Maggie races against time to uncover the truth, she realizes that the secrets buried deep in the town's past are more sinister than anyone could have ever imagined. In this gripping novel, readers are taken on a rollercoaster ride through a small town's dark secrets. With its unforgettable characters and heart-stopping plot twists, this book is a must-read for fans of thrilling mysteries and suspenseful dramas.
---
27. The Red Lotus / by Chris Bohjalian
It was a Saturday night when Alexis first laid eyes on Austin, but it wasn't in a bar. Instead, they met in the emergency room where she sutured a bullet wound in his arm. Over the next six months, as their connection deepened, Austin shared his passion for cycling with Alexis and took her on a bike tour of Vietnam to pay homage to his father and uncle who fought in the war.
But one evening, as Alexis waited at their hotel for Austin to return from a solo ride, two men appeared from the tall grass and he vanished without a trace. The only clue left behind was a yellow energy gel dropped on the road. As Alexis searches for answers amidst dealing with FBI agents, Austin's difficult family, and her colleagues at the hospital, she uncovers a series of lies that force her to question everything she knows about him and their relationship.
In this thrilling novel, set against the backdrop of the emergency room, readers are taken on a heart-stopping ride through the world of those who dedicate their lives to saving others and those who peddle death for profit. As Alexis races against time to uncover the truth about Austin's disappearance, she realizes that danger lurks around every corner. With its gripping plot twists and unforgettable characters, this book is a must-read for anyone who loves a good mystery.
---
28. Little Secrets / by Jennifer Hillier
Marin thought she had it all – a perfect life with her college sweetheart Derek, a successful chain of upscale hair salons, and a happy family. But everything changed when their son Sebastian was taken, shattering their idyllic world.
A year later, Marin is a mere shell of her former self as the FBI search for Sebastian has gone cold and the media attention has faded. Her marriage to Derek has crumbled, and she hires a private investigator to continue the search for Sebastian. However, instead of finding her son, she discovers that Derek is having an affair with a younger woman.
The revelation shocks Marin into action. She refuses to let go of what's left of her family and vows to fight for her marriage. The other woman, Kenzie, becomes her target, and Marin sees her as the enemy she can fix. With her fierce determination and newfound strength, Marin sets out to reclaim what's rightfully hers.
In this gripping novel, readers are taken on a journey through the depths of loss, betrayal, and ultimately, redemption. With its unforgettable characters and plot twists, this book is a must-read for anyone who loves a good psychological thriller.
---
29. Disappearing Earth / by Julia Phillips
On a hot August afternoon, two sisters named Sophia and Alyona vanish from a beach on the remote Kamchatka Peninsula in northeastern Russia. In the year that follows, Disappearing Earth takes us deep into the lives of the women and girls in this close-knit community whose lives are intertwined by the crime. We meet a witness, a neighbor, a detective, and a mother, each grappling with the tragedy in their own way.
As we journey through this ruggedly beautiful region, with its stunning vistas of tundra, volcanoes, forests, and seas, we glimpse the complex social and ethnic tensions that have simmered there for years. Outsiders are often easy targets for suspicion and blame. In this mesmerizing tale filled with suspense and emotion, author Julia Phillips provides us with an intimate look at family and community bonds in a Russia unlike any other.
With its compelling characters and immersive storytelling, Disappearing Earth is a must-read for anyone who loves a good mystery. As we follow the twists and turns of the investigation, we gain a deeper understanding of the intricate web of relationships that hold this community together, even as they are tested by tragedy.
---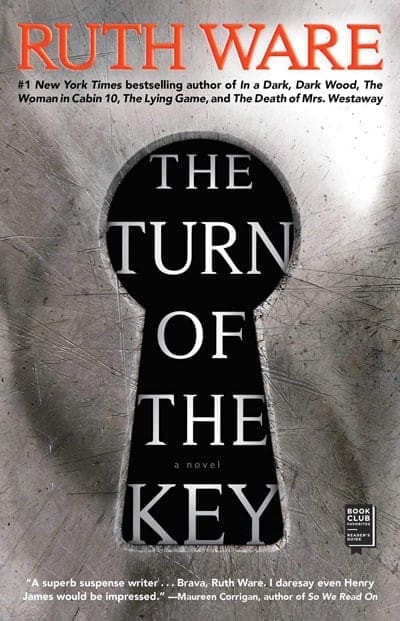 30. The Turn of the Key / by Ruth Ware
Rowan Caine wasn't looking for a nannying job when she stumbled across the ad. But with its staggeringly generous salary and live-in arrangement, she couldn't resist. Heatherbrae House seemed like the perfect place – a luxurious "smart" home in the breathtaking Scottish Highlands, with a seemingly perfect family.
But what Rowan doesn't realize is that she's walking into a nightmare that will end with a dead child and her own imprisonment for murder. Writing to her lawyer from prison, Rowan struggles to make sense of the events that led to her incarceration. It wasn't just the constant surveillance from the home's cameras, or the malfunctioning technology that disrupted their lives. It wasn't just the misbehaving girls who were nothing like the well-behaved children she met during her interview. And it certainly wasn't the weeks she spent alone in the house with no adults around except for the enigmatic handyman.
It was everything.
Rowan admits to making mistakes and lying to obtain the post, but she insists that she's not guilty of murder. Someone else is responsible for the tragedy that befell the household, and Rowan is determined to clear her name.
In this gripping novel by Ruth Ware, readers are taken on a suspenseful journey through a haunting tale of menace and deception. With its spellbinding storytelling and nail-biting plot twists, The Turn of the Key is a must-read for fans of psychological thrillers and mysteries.
---
31. The Sister-in-Law / by Sue Watson
Clare is in desperate need of a break after a tough year, and she's determined to make her husband and his family do some of the work during their Italian villa summer holiday. She feels that her husband owes her for everything she's been through.
Dan has had his head turned by someone else, but he's back now and wants to make amends. He promises Clare that she can trust him, especially with his brother around to keep him in line.
Jamie, the prodigal child, has returned to the family fold after years of traveling abroad. But he's not alone – he's brought his wife Ella, a glamorous and influential woman who seems to have it all. However, she knows a secret about Clare that has the power to destroy the entire family.
As tensions rise and secrets threaten to come to light, there's someone who will stop at nothing to ensure that the truth remains hidden. In this gripping novel, readers are taken on a suspenseful journey through the tangled web of family relationships and deep secrets. With its unforgettable characters and shocking plot twists, this book is a must-read for fans of psychological thrillers and domestic dramas.