Is your baby having pain and you want to help her naturally? Try these Natural Teething Remedies to Help Ease Pain without medicine. It's comforting to use natural remedies for our babies when they can't verbalize how they are feeling.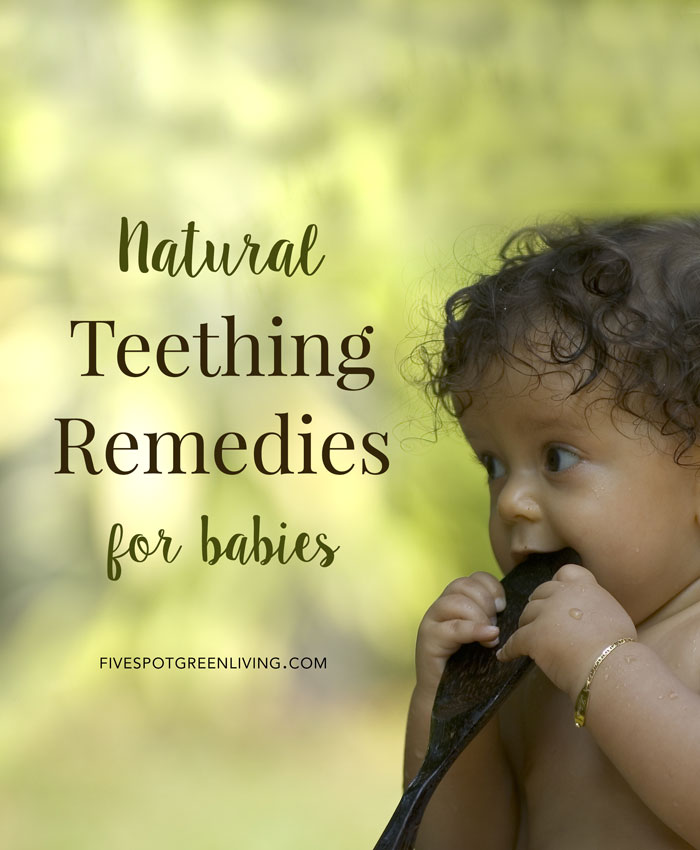 Natural Teething Remedies
My little one is teething. There's no doubt about that. Except that she seems to have been teething for two months and I am convinced she is cutting 10 teeth at once – that's how much pain she seems to be in. This is not my first time at the rodeo – I've done this before and know how difficult it is. With her baby teething symptoms, this time seems much, much worse. Maybe Baby A's pain is that severe–maybe I am just a downright tired mama flattened by postpartum fatigue or maybe I just blocked out the memories of past teething events.
I was always nervous about giving my child tylenol when she can't talk or tell me how she feels. I found some really easy, household natural remedies for teething babies. Most of them can be used regardless of age, but you should use your judgement as a parent as to your child's readiness. I am not a doctor and I am not pretending to be one, just offering some advice to help parents and caregivers relieve a baby's tooth pain.
Lifefactory Teething Ring is BPA, phthalate, PVC, and latex free. It can be worn as a bracelet so it is always close by and can be refrigerated or frozen to soothe aching gums. It was created by a pediatric feeding specialist.
Bananas! Freeze a banana and then let baby put the soothing, sweet treat to her gums. Make sure to supervise!
Freeze a dishtowel and let baby suck on the towel. The cold will keep swelling down and ease baby's pain.
Freeze a bottle nipple – put water in a baby bottle and freeze the bottle upside down (so the water is frozen at the nipple).
Slide your baby a spoon. The cold metal against her gums will put a smile on her face.
Cold applesauce tastes good and is gum-friendly.
Massage! Gentle pressure can help relieve teething pain. Softly rub the baby's gums with a clean finger.
Amber Teething Necklaces – When they are worn around baby`s neck the gentle warming of an amber teething necklace releases succinic acid into the skin. Succinic acid is known to accelerate the healing of wounds, ease muscle pains, reduce inflammation of the throat, ear and stomach, reduce/prevent respiratory disease, decrease colic symptoms, reduce acid reflux, reduce eczema and improve heart, liver, kidney, and intestinal function.
Hazelwood Teething Necklaces have the medicinal property of neutralizing the body's acidity, relieving ulcers, acid reflux, heartburn, teething, skin problems (psoriasis, eczema, acne), arthritis, constipation, migraines, and dental cavities. Like amber, the Hazelwood teething necklace is worn around the neck of the baby and the active ingredient is absorbed into the skin.
Indian home remedies for teething babies include Tlismi moti, an ancient remedy that has helped many babies in India teethe naturally. Tlismi moti is an ayurvedic remedy – one of the world's oldest holistic ("whole-body") healing systems. It was developed more than 3,000 years ago in India. It's based on the belief that health and wellness depend on a delicate balance between the mind, body, and spirit. The tlismi moti pendant is made of combination of five metals in specific proportion. It comes in the form of a small pearl which is a natural harmonizer of energies around the oral cavity. Ayurvedic medicine for baby teething can be very effective.
Vanilla has natural calming properties which can soothe anxiety associated with teething and relieve an upset tummy. The pressure from rubbing the liquid on the gums provides relieving counter pressure.
Freeze a popsicle made from fruit, mum`s milk or chamomile tea and rub on baby's gums.
Homeopathy works by stimulating the immune system. Chamomilla is the most commonly prescribed remedy for symptoms such as restlessness and a red cheek. Belladonna may be more appropriate when there is a very flushed face and fever. Pulsatilla is useful when the child is very clingy and weepy. These are the most common treatments but consult a homeopath for the most appropriate remedy.
Breastfeeding and skin to skin contact has been shown to be pain relieving during medical interventions of babies. Many babies instinctively want to nurse more during teething. Nursing also has the added benefit of helping to align baby's teeth correctly and prevent malocclusion later.
Cloves are known for their ability to relieve a toothache. Clove oil is very potent and should be diluted before using it on your baby. It can be diluted in a carrier oil such as olive oil and then rubbed on the gum.
Sophie the Giraffe teether toy. It's made of 100% natural rubber and food paint and is Phthalates and BPA free.
Make sure to check out this post for more information on Baby Teething Symptoms and Schedule PLUS get a free printable tooth chart!

More Posts like Natural Teething Remedies
Herbal Remedies for Teething Babies
Indian Home Remedies for Teething Babies
Natural Home Remedies

Healthy Eating For Healthy Teeth – Keeping Your Smile Beautiful
Colic and Acid Reflux in Babies
Sources: Natural News & Discovery Fit & Health