This homemade Cinnamon Star Bread is the perfect addition to any holiday celebration! You won't believe how easy it is to make this festive treat and be rewarded with its sweet and spicy deliciousness. With just a few simple ingredients you can make your own homemade bread in no time. Whether it's for a holiday gathering or just to enjoy with family, this flavorful bread will be sure to bring smiles all around! So what are you waiting for? Give this delicious homemade cinnamon star bread a try today!
There's something special about Homemade Bread Recipes. Maybe it's the aroma that fills the air as it bakes or the satisfaction of knowing you made something delicious from scratch. Whatever it is, there's no denying that there's nothing quite like a warm slice of fresh bread straight out of the oven. Whether you're a seasoned baker or a novice looking to try something new, making your own bread is a rewarding and tasty experience. So why not dust off that apron and give it a try? Who knows, you might just discover a new hobby and never want to go back to store-bought bread again.
Where Does the Cinnamon Star Bread Come From?
Have you ever tried a warm slice of cinnamon star bread with your morning coffee? If not, you're missing out on a delicious treat that has roots across centuries and continents. The cinnamon star bread, also known as zimtsterne in German, is believed to have originated in Switzerland, where bakers would create intricate star patterns out of sweet dough and cinnamon sugar.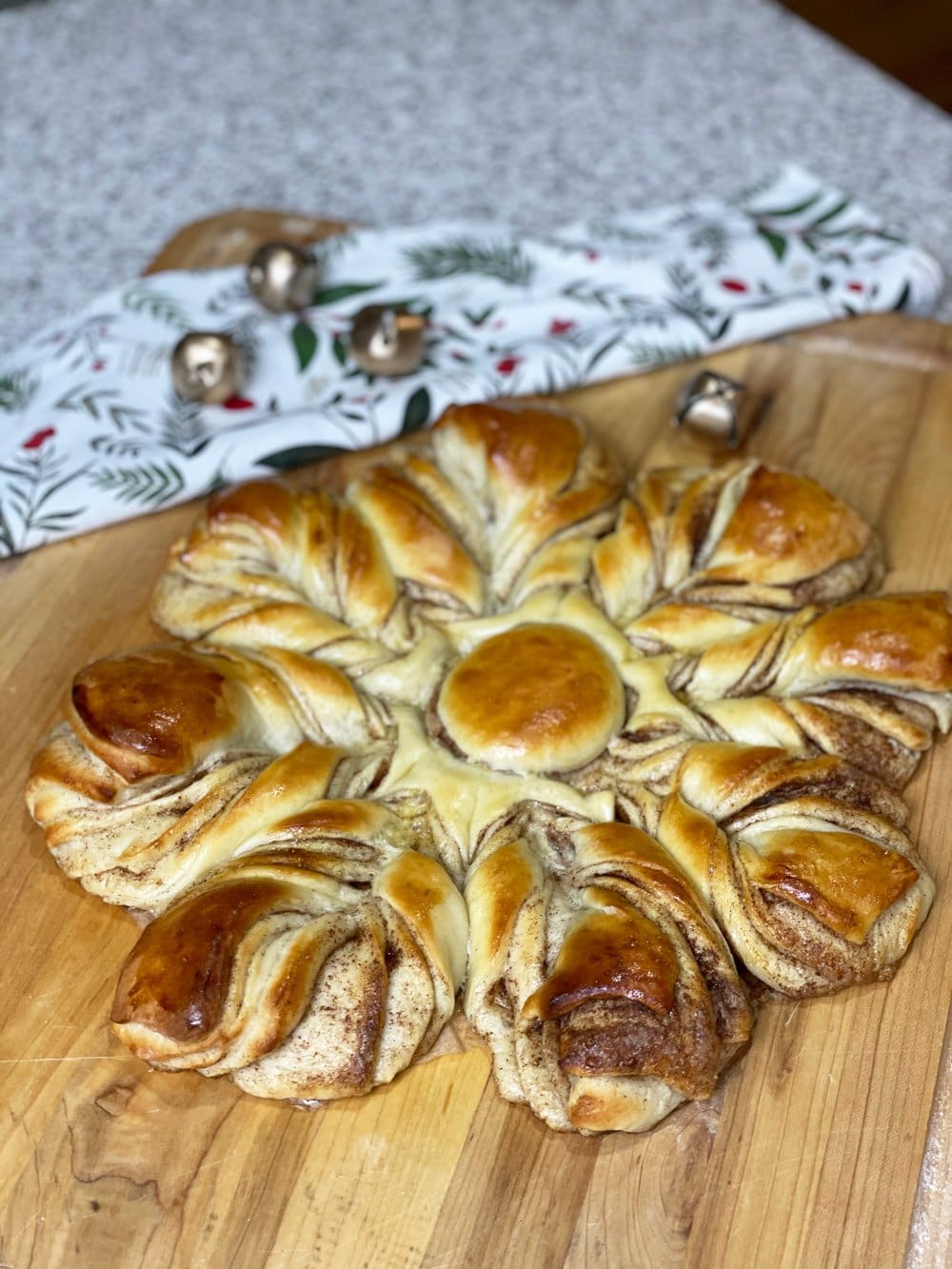 Over time, versions of the bread have spread to neighboring countries like Austria and Germany, where it remains a popular holiday treat. Whatever its origins, one thing is for sure: the cinnamon star bread is a sweet and satisfying way to start any day.
Amazing Homemade Bread Recipes
Why Use Potato Flakes in Homemade Bread?
Have you ever tried adding potato flakes to your homemade bread? If not, you're missing out on some serious magic, my friend. Potato flakes are a game-changer when it comes to baking bread – they add a lovely, subtle sweetness and texture that just can't be replicated with plain old flour. Plus, they help keep your bread moist and tender, without getting too dense or heavy.
So if you want to elevate your bread-baking game and impress all your friends and family, give those potato flakes a try. Trust me, your taste buds will thank you.
Pro Tip
To ensure even baking, rotate the baking sheet halfway through the baking time.
What Tools Should I Use to Make this Cinnamon Star Bread?
Large mixing bowl
Small mixing bowl
Rolling pin
Parchment paper
Baking sheet
Pastry brush
Pizza cutter or sharp knife
Round object (cookie cutter or glass)
Bread Baking Essentials
Unbleached Parchment Paper Roll 15 in x 210 ft 260 Sq.Ft Paper Baking Paper by Baker's Signature | Silicone Coated – Will not Soak Through or Burn – Non-Toxic & Comes in Convenient Packaging
Gorilla Grip Mixing Bowls Set of 3, Slip Resistant Rubber Bottom, Nesting Baking Bowl, Soft Handle, Easy Pour Spout, Electric Mixer and Dishwasher Safe, Kitchen Essentials, 5, 3 and 1.5 QT, Sky Blue
KitchenAid K45SSWH Stand Mixer, 4.5 Q, White
Wilton Easy Layers Sheet Cake Pan, 2-Piece Set, Rectangle Steel Sheet Pan
Pizza Cutter Wheel – Premium Kitchen Pizza Cutter – Super Sharp and Easy to Clean Pizza Slicer, Pizza Wheel, Cortador De Pizza, Black
OXO Good Grips Natural Pastry Brush | Natural Boar Bristles | Non-slip Grip | Dishwasher Safe | Ideal for Butter, Oil, and Baking
Cinnamon Star Bread Recipe
Ingredients
2 Cups All-Purpose Flour
1/2 Cup Dried Potato Flakes
1/4 Cup Nonfat Dry Milk
3/4 Cup + 2 to 4 tablespoons lukewarm water
4 Tablespoons Unsalted Butter, at room temperature
1 Teaspoon Vanilla Extract
2 Teaspoons Instant Yeast
2 Tablespoons Sugar

1 Teaspoon Salt
FILLING
1/2 Cup Sugar
1 Tablespoon Cinnamon
1 Large Egg, beaten
Instructions
In a large mixing bowl, combine the all-purpose flour, the potato flour/flakes and dry milk and sift through a strainer.
Next, add the strained mixture to the rest of the dough ingredients and mix until a soft dough forms.
Knead the dough for about 5 minutes on a lightly floured surface or in mixer, then place it in a greased bowl, cover with a towel, and let it rise for 1 hour or until doubled in size.
Divide the risen dough into 4 equal parts. Shape each piece into a ball, cover the balls, and allow them to rest for 15 minutes.
On a lightly greased or floured work surface, roll one piece of dough into a 10" circle. Place the circle on a piece of parchment, brush a thin coat of beaten egg on the surface, then evenly sprinkle with 1/3 of the cinnamon-sugar, leaving 1/4" of bare dough around the perimeter. Repeat with the remaining dough circles and filling, stacking them on top of each other and finishing with an unbuttered dough circle on top.
Place a round object (like a cookie cutter or a glass) in the center of the stack as a guide. Using a pizza cutter or sharp knife, cut the dough into 16 equal wedges, leaving the center intact.
Take two adjacent wedges and twist them away from each other twice, pinching the ends together. Repeat with all the wedges, forming a star shape.
Cover the star bread with a towel and let it rise for 20 minutes.
Brush the star bread with the beaten egg wash for a golden finish.
Bake for 20-25 minutes or until golden brown and cooked through. If the bread starts to brown too quickly, cover it loosely with aluminum foil.
Remove the Cinnamon Star Bread from the oven and let it cool for a few minutes before serving. Enjoy!