Self-care is one of the most important aspects of physical and mental health, and it doesn't have to be expensive or time-consuming. One of the best ways to practice self-care is with daily affirmations that focus your thoughts, relieve stress, or lift your mood.
Daily Affirmations for Self-Care
I have a friend who talks about doing her affirmations in times of stress and how it helps center her and makes her feel more in control. I never really understood until I started learning more about self care. Daily affirmations are actually one of the best things one can do for self care because it focuses your thoughts on feeling good about yourself, being positive about your life and letting go of bad thoughts.
Do You Need Help Living Your Best Life?
Daily, weekly and monthly planners that will help you keep on track! Inspiration for a healthy mind, body and soul with quotes, healthy meals and more!
What is a daily affirmation?
Daily affirmations are simple, positive statements about our dreams and ambitions that we manifest into our brains that result in a deep sense of reassurance and serenity.
According to The Blissful Mind, Affirmations are a powerful way to improve your mindset on a daily basis, and research has shown that they can increase our feelings of self-worth.
How many affirmations should I say a day?
You can include them in a daily meditation, or you can repeat them to yourself as you face obstacles throughout your day. As you repeat your mantra, you'll start to truly believe it and embody it.
What are some good affirmations?
Here are six daily mantras that you can add to your self-care practice.
1. I love myself.
Accepting and loving yourself can sometimes be difficult, but it's an important step toward positive mental and spiritual health. Loving yourself the way you love your friends and family will help you realize that you deserve happiness just as much as they do. As you repeat this mantra, remind yourself of all your positive qualities, and remember that you're unique.
2. I am worthy of things that bring me joy.
We often deprive ourselves of good things or feel guilty for indulging in what we love. It's okay to want the best for yourself and to seek out what brings you joy. Whether it's spending time with a good friend, sleeping in late, buying something nice for yourself, or anything else, you deserve the things that make you happy.
3. I deserve to take care of my mind and body.
If you're constantly stressed about work, school, or family obligations, you might neglect your physical and mental health. However, even amidst all the stress, you deserve to treat your mind and body well.
4. I am important.
You are just as important as anyone else, and you deserve to treat yourself like you're important. Your health and happiness matter, and your needs are valid. It's easy to prioritize everyone and everything else above yourself, but this mantra will remind you that you're important too.
5. I choose to be positive.
The stress and struggles that come your way might be out of your control, but your
attitude isn't. You can choose to be positive and to focus on the good things in your life.
Remind yourself that positive self-talk is powerful and effective, and you can choose to
focus on uplifting thoughts.
6. I am strong.
You have made it through every obstacle in your life so far, and you'll continue to make it through. Even when you don't feel strong, remind yourself of your strength. Sometimes, being strong involves practicing self-care, which helps you become healthy and focused enough to tackle whatever comes your way.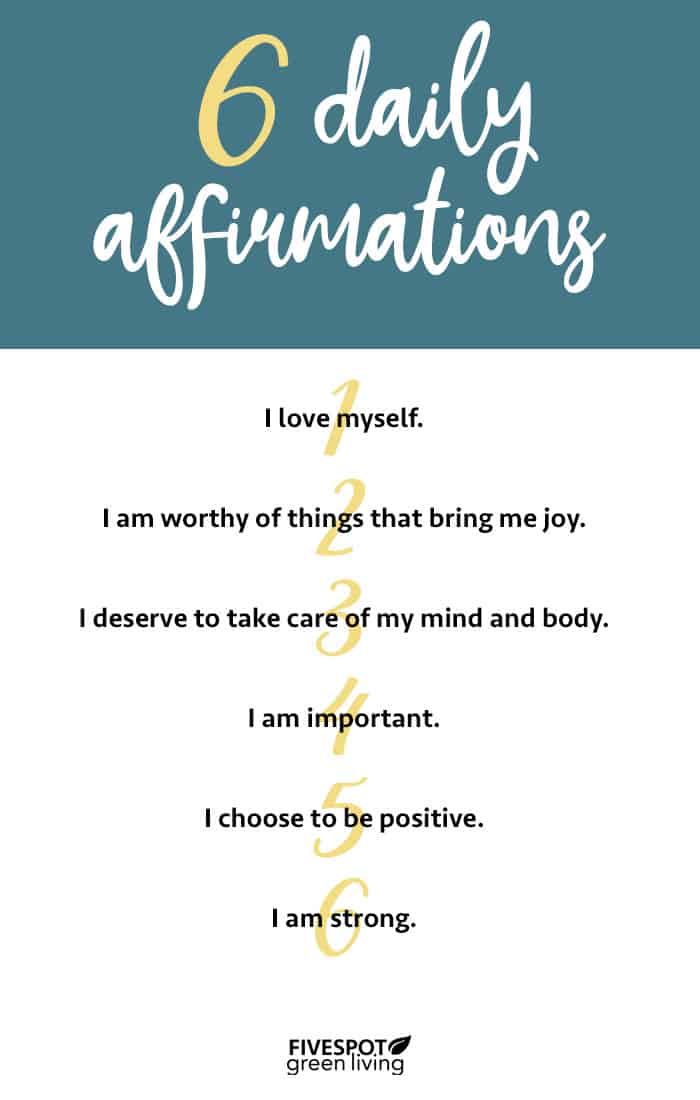 It's best to choose one mantra at a time and focus on it for at least a week. Everyone has different values and priorities, so some mantras might not benefit you as much as others. Once you've tried out a few mantras, you'll find one that really speaks to you. A good mantra helps you focus on the positive, but it also has the power to influence your actions. Your mantra should help you accept yourself, take care of yourself, and make
positive choices that benefit your life.