Have you wondered what you can do to Christmas treats to make them just a little bit healthier? Try adding a vegetable pureé like sweet potato to create an almost healthy recipe! Try these Delicious Glazed Chocolate Sweet Potato Christmas Cookies with your kids this year.
Glazed Chocolate Sweet Potato Christmas Cookies
I didn't tell my kids what I put in these cookies until they tried them because I wasn't sure if they would have if they knew! Well the younger ones probably wouldn't care, but my picky tween definitely would not have touched them had she knew there was a VEGETABLE in these holiday cookies.
Unfortunately, healthy or not, I ended up eating most of these cookies! I could do without the sprinkles, but I can never resist a glaze on top of a puffy, cloud-like cookie.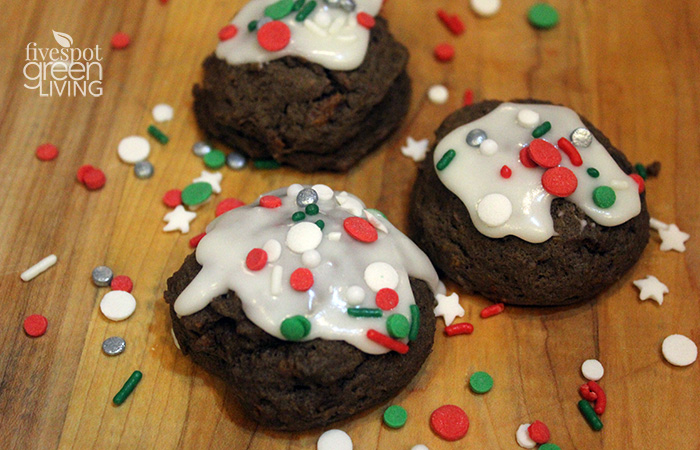 The original recipe I found called for food coloring to make them red velvet, but in the spirit of making them healthier by using the sweet potato, it hardly seems appropriate to add fake coloring. Though I DID add 100% sugary Christmas sprinkles, but you can opt-out of that.
You definitely want to use a good cocoa powder like Ghirardelli unsweetened cocoa powder.
Glazed Chocolate Sweet Potato Cookies
Makes about 36 cookies
Ingredients
1 3/4 cups all-purpose flour
1/4 cup unsweetened cocoa powder
1 teaspoon baking soda
1/4 teaspoon salt
3/4 cup unsalted butter, room temperature
3/4 cup sugar
1 cup roasted sweet potato (1 large or 2 medium)
1 large egg
1 1/2 teaspoons vanilla extract
2 cups confectioner's sugar
3 tablespoons butter, melted
Directions
Whisk flour, cocoa powder, baking soda, and salt together and set aside.
Cream butter and sugar together in a mixer until fluffy. Add the sweet potato, egg and vanilla and mix to combine, scraping bowl as necessary. Reduce speed to low and slowly add the flour mixture. Cover bowl and refrigerate for 1-2 hours.
Preheat oven to 350˚
Scoop slightly-heaping tablespoon-sized rounds or use cookie scooper onto baking sheets, spacing 2 inches apart.
Bake until toothpick comes out clean, about 15 minutes. Transfer cookies to a rack to cool.
Whisk together confectioner's sugar and melted butter for the glaze. Add to cookies when cool. Top with sprinkles if desired. Let cool completely before transferring to container.

Other posts like Chocolate Sweet Potato Christmas Cookies

Healthy Honey Gingerbread Cookies

Oatmeal Chickpea Chocolate Chip Cookies

---