This Easy Bread Recipe is perfect for that delicious dinner when you want some crusty bread that can be whipped up without fuss! This is one of those bread recipes that will always be in rotation.
Easy Bread Recipe
This delicious bread is so fat and crusty it makes the most delicious addition to any dinner. I couldn't wait to sit down at dinner the first time I made it and I cut it open almost immediately and slathered on some butter. Shall we say… heaven!
I was amazed that this recipe only uses FIVE ingredients and takes minimal time to mix and knead. You can even knead it by hand because it only requires about 5 minutes! Five ingredients and five minutes kneading. Amazing!
How Do You Make this Easy Bread Recipe?
Mix the dough: This is a very wet, sticky dough – it won't form a ball right away.
2. Knead the dough: Kneading only takes 5 minutes for this dough and it's super easy and pliable.
Let the dough rise (1 hour): Put the dough in an oiled bowl, cover and watch magic happen!
Shape the dough (5 minutes): Lightly flour a cutting board, tip the dough out and cut it in half. Then shape it into an oval. Then fold it into thirds and roll out with your hands so it's about a 10-inch long tubular shape.
Let the dough rise again (45 minutes): When your dough is shaped, set it on a baking sheet and cover.
Bake (20 minutes): Add the bread to the preheated oven and bake for 20 minutes. I added a cast-iron pan with water to the bottom rack of the oven which helped the bread get nice and crusty!
Let the bread cool, slice, and enjoy!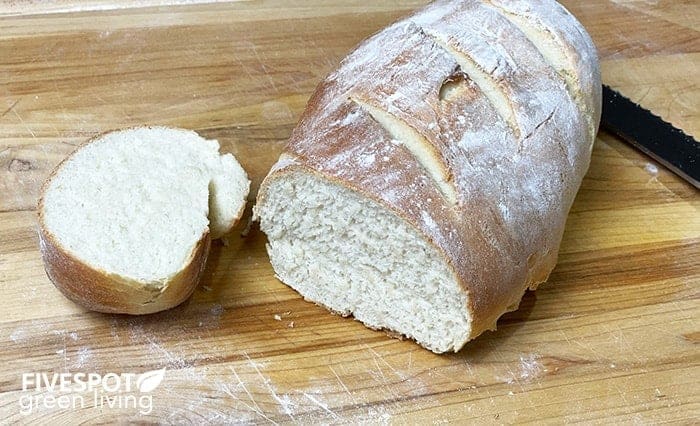 What do I do with Yeast?
As long as you don't kill your yeast with hot water and keep it stored properly you will be good! I like to buy mine in bulk from Costco and then I freeze most of it, keeping a small amount in an airtight container in the fridge.
What is the difference between active dry and instant yeast?
Active dry yeast needs to be dissolved in water before using, while instant yeast can be mixed right into dry ingredients. When you are making a recipe in the bread machine, you want instant yeast. I prefer active dry yeast because mixing it with water allows me to know that it's still fresh and active. There's nothing worse than mixing up a batch of bread dough only to have it refuse to rise!
What about my flour?
Bread flour is just flour with a higher protein content or gluten than all-purpose flour which helps breads rise more and come out fluffier. But you can still make a high-quality loaf of bread with all-purpose flour. In fact, that's all I use for my bread!
How can I make sure my bread rises properly?
Sometimes my house is pretty chilly, especially in the winter and I worry that my dough isn't going to rise properly. Here are a few of my tricks I use to make sure that happens.
Use the oven. If you oven has a "proof" setting you can use that and place your covered dough in there to rise. I think I have that setting but I always forget and I just turn the warm function on for a bit to warm it up and then turn it off before I put the dough in the oven. In the springtime, I usually can just leave the oven door open so the light emits enough warmth to make the bread rise.
We have cupboard lights that light up the counters. I set up a little pile and set the bowl of dough on it so it's right under the light.
On top of a heating pad. I've never tried this but you can place your pan on top of the heating pad on medium!
More Amazing Healthy Bread Recipes!
Homemade Oatmeal Honey Bread Machine Recipe
Unique Items for Your Bread Lover