Quick & Easy Bread Recipe
This Easy Bread Recipe is perfect for that delicious dinner when you want some crusty bread that can be whipped up without fuss! This is one of those bread recipes that will always be in rotation.
Easy Bread Recipe
This delicious bread is so fat and crusty it makes the most delicious addition to any dinner. I couldn't wait to sit down at dinner the first time I made it and I cut it open almost immediately and slathered on some butter. Shall we say... heaven!
Essential Tips for Making Homemade Bread!
• Tired of ending up with dry and crumbly bread?
• Do you find that your dough is flat and refuses to rise?
• Is bread-making taking up too much of your valuable time?
I was amazed that this recipe only uses FIVE ingredients and takes minimal time to mix and knead. You can even knead it by hand because it only requires about 5 minutes! Five ingredients and five minutes kneading. Amazing!
How Do You Make this Easy Bread Recipe?
Mix the dough: This is a very wet, sticky dough – it won't form a ball right away.
2. Knead the dough: Kneading only takes 5 minutes for this dough and it's super easy and pliable.
Let the dough rise (1 hour): Put the dough in an oiled bowl, cover and watch magic happen!
Shape the dough (5 minutes): Lightly flour a cutting board, tip the dough out and cut it in half. Then shape it into an oval. Then fold it into thirds and roll out with your hands so it's about a 10-inch long tubular shape.
Let the dough rise again (45 minutes): When your dough is shaped, set it on a baking sheet and cover.
Bake (20 minutes): Add the bread to the preheated oven and bake for 20 minutes. I added a cast-iron pan with water to the bottom rack of the oven which helped the bread get nice and crusty!
Let the bread cool, slice, and enjoy!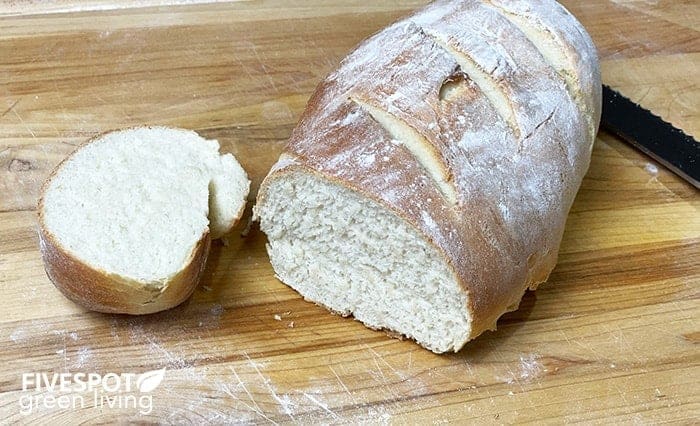 What do I do with Yeast?
As long as you don't kill your yeast with hot water and keep it stored properly you will be good! I like to buy mine in bulk from Costco and then I freeze most of it, keeping a small amount in an airtight container in the fridge.
What is the difference between active dry and instant yeast?
Active dry yeast needs to be dissolved in water before using, while instant yeast can be mixed right into dry ingredients. When you are making a recipe in the bread machine, you want instant yeast. I prefer active dry yeast because mixing it with water allows me to know that it's still fresh and active. There's nothing worse than mixing up a batch of bread dough only to have it refuse to rise!
What about my flour?
Bread flour is just flour with a higher protein content or gluten than all-purpose flour which helps breads rise more and come out fluffier. But you can still make a high-quality loaf of bread with all-purpose flour. In fact, that's all I use for my bread!
How can I make sure my bread rises properly?
Sometimes my house is pretty chilly, especially in the winter and I worry that my dough isn't going to rise properly. Here are a few of my tricks I use to make sure that happens.
Use the oven. If you oven has a "proof" setting you can use that and place your covered dough in there to rise. I think I have that setting but I always forget and I just turn the warm function on for a bit to warm it up and then turn it off before I put the dough in the oven. In the springtime, I usually can just leave the oven door open so the light emits enough warmth to make the bread rise.
We have cupboard lights that light up the counters. I set up a little pile and set the bowl of dough on it so it's right under the light.
On top of a heating pad. I've never tried this but you can place your pan on top of the heating pad on medium!
More Amazing Healthy Bread Recipes!
Homemade Oatmeal Honey Bread Machine Recipe
Unique Items for Your Bread Lover
Quick & Easy Bread Recipe
Total Time:
2 hours
20 minutes
This Easy Bread Recipe is perfect for that delicious dinner when you want some crusty bread that can be whipped up without fuss!
Ingredients
4 1/2 to 5 cups Flour
2 1/4 teaspoons instant yeast
1 tablespoon sugar
2 teaspoons table salt
1 2/3 cups water, lukewarm
Instructions
Stir together all of the ingredients in a large bowl, starting with 4 1/2 cups of the flour. Use a sturdy spoon, or your stand mixer with the beater paddle. Mix until everything comes together in a rough, shaggy mass of dough.
If you're kneading the dough by hand, turn it out onto a lightly floured surface, using some of the additional 1/2 cup of flour called for. If you're using your stand mixer, switch to the dough hook and knead the dough at medium speed for about 7 minutes, until it's smooth, elastic, and feels a bit bouncy. If the dough doesn't form a ball that clears the sides of the bowl, sprinkle in just enough of the additional flour to make this happen.
Place the dough in a bowl that's been lightly greased with vegetable oil or cooking spray; the bowl you started with is fine. Cover the bowl with plastic wrap and let the dough rise at room temperature until it's doubled in size, about 1 to 1 1/2 hours.
Gently deflate the dough and cut it in half. Pat each half into a rough 6" x 8" oval.
Working with one piece of dough at a time, grab a short side and fold the dough into thirds. Gently pat and roll the dough into a log about 10" long. Repeat with the remaining piece of dough.
Place the loaves, seam-side down, on a baking sheet (lined with parchment if desired).
Let the loaves rise, covered, for 45 minutes. When they are puffy, they are ready to bake.
Preheat the oven to 450°F.
For extra-crusty crust and a great rise, add steam to your oven by placing an empty cast-iron frying pan on the lowest rack and add 1 cup of water to the pan.
Make three or four 1/2" deep diagonal slashes in each loaf - these slashes will help the bread rise evenly as it bakes.
Bake the bread for 20 to 25 minutes, until the crust is golden brown and a loaf sounds hollow to the touch when you tap it on the bottom. The interior temperature of the bread should register at least 190°F on a digital thermometer.
Turn the oven off, crack the door open, and allow the bread to remain inside for 5 additional minutes; this helps keep the crust crisp. Remove the bread from the oven and cool it on a rack. It's best not to cut into the bread until it's cooled down a bit; cutting into hot bread can negatively affect its texture.
More Posts about Easy Bread Recipes
5 Reasons Homemade Bread is Better