One of the biggest problems that households encounter is pests. Over-the-counter pest sprays are commonly bought to address pest problems at home. Though these chemicals may be effective, natural pest control is better for your family's health, pets and the environment. Try these essential oils for pest control and get rid of insects.
Essential Oils for Pest Control
Safe, Effective and Affordable Natural Pest Control
Considering the health and environmental risks that chemical pest sprays have, more and more people are now opting for natural pest control. Fortunately, depending on the type of pest problem you have, you can conveniently control pest problems by using essential oils. By applying essential oils for pest control, you'll no longer have to worry about your family, pet and the environment being at risk to harmful chemicals.
• 6-step face care routine
• All-natural ingredients
• Easy homemade recipes
What are Essential Oils?
Essential oils are derived from natural sources and they are very accessible. You need not purchase too much, because a few drops of essential oils are all you need to combat pests. The essential oils for pest control you will need will depend on the type of pest you are dealing with. You may need one to five kinds of essential oils, depending on the type of pest and their number.
Essential Oils for Natural Pest Control – Common Insects
These essential oils can be combined to control different type of pests. Once you identify your pest problem and have purchased your oils, you can then prepare your natural pest control spray.
Natural Pest Control Recipes
Here are some recipes you can try making at home to control your pest problem. However, if you are already dealing with a pest infestation, it is wise to consult with a pest control professional. Just be sure to do some research about the company you will be hiring and ask about natural pest control methods they use.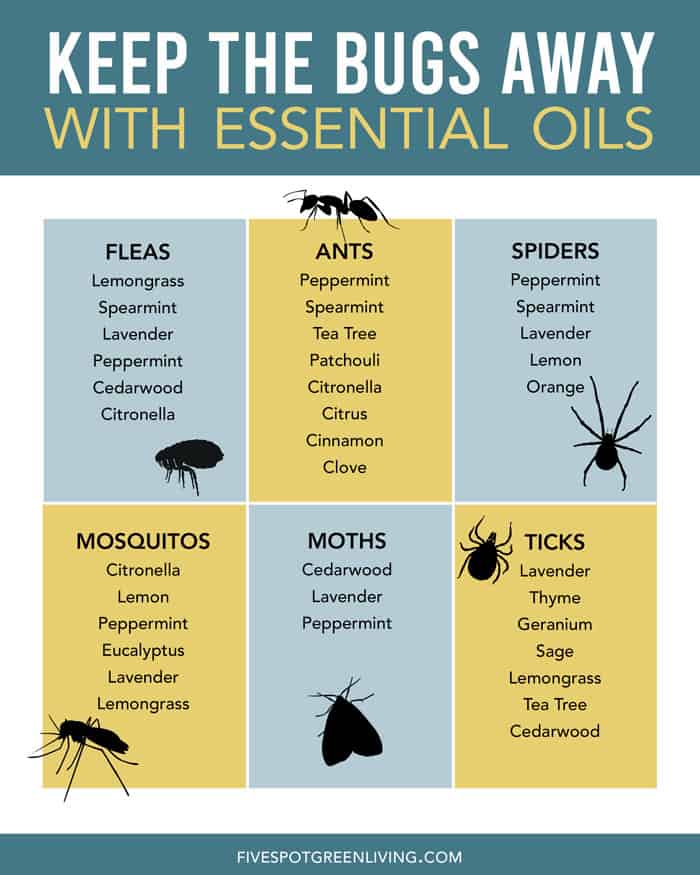 Make sure to pin this for later!


What essential oils keep ants away?
You will need an essential oil mixture of peppermint or spearmint, tea tree, patchouli and citronella. Once you have combined these oils, dip cotton balls into the mixture and place them in affected areas. The scent of these oils will keep ants away. Replace the balls after a week with new cotton balls that have been infused with the essential oil mixture.
Which essential oil is best to repel mosquitoes?
Combine peppermint or eucalyptus, citronella and lemongrass into a spray bottle and use as an air freshener. You can also use the mixture with your aromatherapy burner. If you want to use the mixture on your skin, you can combine the mixture with carrier oil, such as Argan Oil or Rosehip Oil, and apply it as a lotion.
What scent do fleas hate?
You can use a home braided or pure cotton collar to dip into the essential oil mixture to get rid of fleas on your pet. You will need a drop each of citronella, thyme, oregano and cedar wood, and 2 drops of lavender. These essential oils must be thoroughly mixed with a tablespoon of grain alcohol before dipping the collar into it to ensure that the mixture is thoroughly absorbed. Then have your pet wear the collar. The collar must be treated with the essential oil mixture once a month.
Some scents household pests do not like
Fleas
Ants
Spiders
Lemongrass
Spearmint
Lavender
Peppermint
Cedarwood
Citronella
Peppermint
Spearmint
Tea Tree
Patchouli
Citronella
Citrus
Cinnamon
Clove
Peppermint
Spearmint
Lavender
Lemon
Orange
Mosquitos
Moths
Ticks
Citronella
Lemon
Peppermint
Eucalyptus
Lavender
Lemongrass
Cedarwood
Lavender
Peppermint
Lavender
Thyme
Geranium
Sage
Lemongrass
Tea Tree
Cedarwood
I love Rocky Mountain Oils because of their quality 100% pure essential oils that require no minimum purchase and always gives FREE shipping! Plus they always have specials going on!
Rocky Mountain Oils' essential oils are verified by a third-party, independent lab. GC/MS tests verify purity and quality of the oils sold so you can look at the bottom of the bottle to find your individual batch code and then input that number into our website to pull up the GC/MS test results.
Rocky Mountain Products can be returned for any reason, even if opened, for up to 90 days. RMO also pays for our customers' return shipping expenses to make our ordering process completely risk-free.
RMO includes three different icons for recommended use on each bottle for easy reference: Diffuse, Topical Application and Household. So you can look at the bottle and know in what way it's intended for use.
Purchase your Essential Oils here!
If your pest problem persists, then you might be dealing with a severe pest infestation. Consult with a professional before the infestation gets any worse, which can also affect your family's health.