Are you thinking about what you will plant this year? Whether it's early spring or late summer it always helps to have a detailed spring garden planner. Here are some great home and gardening tips for every color thumb.
If it's late winter, you may not be thinking about a garden planner just yet, but remember – you want to start seeds indoor 6-8 weeks before your last frost date for the best harvest! March is the perfect time to get those tomato and pepper seeds started indoors ready for an early spring planting! These are the easiest of all vegetables to grow, plus you can take advantage of those warmer days in early spring by spending time outside!
Do You Need Help Living Your Best Life?
Daily, weekly and monthly planners that will help you keep on track! Inspiration for a healthy mind, body and soul with quotes, healthy meals and more!
Start seeds indoor 6-8 weeks before your last frost date for the best harvest!
Download the garden planner below!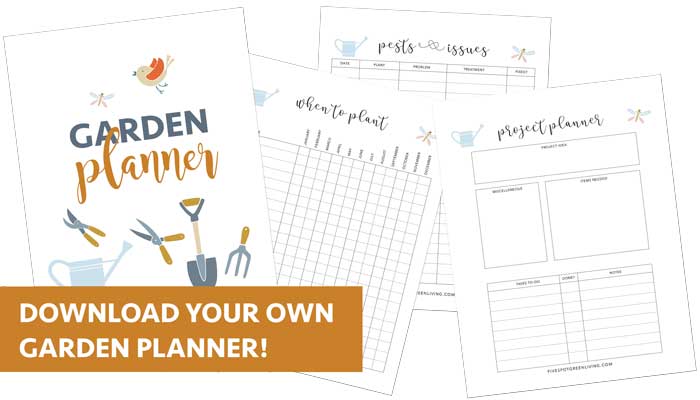 Step 1: Determine your last spring frost date
A frost date is the average date of the last light freeze that occurs in the spring. The possibility of frost occurring after the given spring dates is 50 percent. A frost is defined as a light freeze of temperatures ranging from 29 to 32 degrees farenheit.
According to the Old Farmer's Almanac, the classification of freeze temperatures is based on their effect on plants:
Light freeze: 29° to 32°F—tender plants are killed.
Moderate freeze: 25° to 28°F—widely destructive to most vegetation.
Severe freeze: 24°F and colder—heavy damage to most plants.
Your Zone
Zone 10
Zone 9
Zone 8
Zone 7
Zone 6
Zone 5
Zone 4
Zone 3
Your Lowest Temp (F.)
30° to 40° +
20° to 30°
10° to 20°
0° to 10°
-10° to 0°
-20° to -10°
-30° to -20°
-40° to -30°
Your Last Frost
Date (approx)
February
Early March
Early April
Late April
Mid-May
Late May
Early June
Mid-June
Map and zone information courtesy of Burpee.com.
Step 2: Follow these tips for an instant garden
Cover planting beds with 2 inches of compost and plant directly into that.
Plant the garden as close to kitchen as possible.
Plant garden where it can get at least 6 hours of direct sunlight every day.
Use transplants for slow-growing veggies like tomatoes.
Hand water newly planted seeds and transplants until their roots grow into soil.
What will you be planting this spring/summer? I am hoping to try carrots, tomatoes, peppers and squash. I will need to make some raised garden beds, but with so many ideas out there I should be able to do it myself, right?
I am definitely going to check out the books below for more information.
Have you tested your soil pH? Make sure your soil is ready for a garden!
How to Test Your Soil pH.
Very-Hardy Plants
These plants can tolerate hard frosts – usually 25 to 28 degrees F.
Broccoli
Brussels sprouts
Cabbage
Collards*
English peas
Kale
Kohlrabi
Leeks
Mustard greens
Parsley
Radish
Spinach
Turnip
Semi-Hardy Vegetables:
These plants can tolerate light frosts – usually 29 to 32 degrees F.
Beets
Carrot
Cauliflower
Celery
Chinese cabbage
Endive
Irish potatoes
Lettuce and gourmet salad greens
Radicchio
Rutabaga
Salsify
Swiss chard*
After Frost Plants:
Beans
Corn
Cucumber
Eggplant
Gourds
Melons
Okra
Peppers
Pumpkins
Southern peas
Summer squash
Sweet potatoes
Tomatoes
---
Easiest plants for Beginners to Grow
If you are a beginner, like me, you probably want to start with easy plants! I am a perpetual beginner. I try and try and I just never really get the hang of it. But I still want to.
Snap Peas
Cherry Tomatoes
Pumpkins
Carrots
Potatoes
---
Step 3: Calculate and plan planting dates
Scroll down to download the garden planner below to determine when to plant seeds or seedlings in your area according to the last frost.
Download the Spring Garden Planner here to organize all of your planting and germination this year. Print out as many pages of each layout you need and staple or bind it at your local copy shop.
Other posts like garden planner – spring planting guide
How to Prepare Your Garden for Spring

Home and Gardening Tips for Every Color Thumb
Gardening Activities for Kids
Sources for this article include naturalhomeandgarden.com and Burpee.com.
Linking up to Wonderful Wednesday