Whether you're getting ready to host a fancy July 4th party or or a friend's backyard summer barbecue, you'll love these recipes in this collection. Healthy Appetizers for Summer BBQs and July 4th are recipes that you can definitely afford to snack on before the meal – or make it the meal in itself! Don't regret your choices the next day with heavy, fatty hors d'oeuvres.
Make sure to offer your friends and family healthy recipes and keep everyone – and their bellies – happy!
Don't you just love summer when everything happens outside and everyone is happy? Summer sun and warmth will do that for a person. Don't risk feeling bloated and tired from fatty appetizers. These healthy appetizers for summer are fun to have for any occasion!
What is a Good Appetizer to Bring to a Barbecue?
You're inviting friends over for a barbecue, but you're stuck on what to bring as an appetizer. Don't worry, I've got you covered. A fantastic option is loaded nachos. They're easy to make and always a crowd pleaser. Simply layer tortilla chips, shredded cheese, black beans, diced tomatoes, jalapeños, and any other toppings you desire onto a baking sheet and pop it in the oven until the cheese is melted and bubbly. Serve it up with some guacamole and sour cream on the side, and your friends will thank you for this delicious introduction to the main course.
What Do You Give a Host of BBQ?
When it comes to attending a BBQ, one question always arises: what do I bring for the host? While the classic bottle of wine or a bouquet of flowers never goes out of fashion, it's always more exciting to think outside the box. Why not bring a jar of homemade BBQ sauce or a bag of gourmet charcoal? A fun decorative apron or a set of BBQ utensils are also great options. Don't forget to consider the theme or size of the gathering when choosing your gift. It's not about the price tag, but rather the thought and effort put into it. So, get creative and give your host something that will make them smile and say, "Thank you, you shouldn't have, but I'm so glad you did!"
Warm Weather Appetizer Recipes
When the weather gets warmer, the last thing we want is heavy, filling food. That's where appetizer recipes come in! Whether you're hosting a backyard barbecue or just looking for a light snack, warm weather appetizers are the way to go.
Macaroni Egg Salad

Watermelon Salad

Carrot Raisin Pineapple Salad

Cauliflower Mock Potato Salad

Green Bean Walnut Feta Salad

Cali Spaghetti Salad

Leftover Bread Salad Cups

Red White and Blue Salad

Grilled Vegetable Kabobs

Texas Caviar Dip

Mango Salad

Grilled Caprese Zucchini Tomato Boats

Watermelon Basil Quinoa Salad

Deviled Avocado Eggs

Red White and Blue Appetizer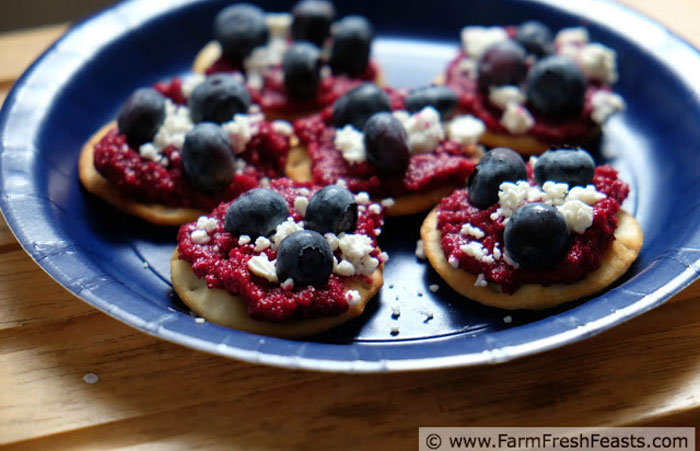 Peach Salsa with Golden Plums and Hatch Chilis

Harissa Potato Salad

Grilled Plantains

Herb Cream Cheese Cucumber Bites

5 Ingredient Fresh Fruit Salad

Mini Guacamole Boat Appetizer Recipe

Garlic Ranch and Veggie Appetizer

Tomato, Cucumber and Feta Appetizer

Figs with Walnuts and Honey

Potato and Chives Mini Waffle Appetizer

Fresh and Easy Bruschetta Recipe

Rosemary and Thyme Potatoes with Tzatziki Dip