Healthy drink recipes can satisfy any mood or occasion with just a few ingredients! Healthy recipes will help keep your energy up and quench your thirst and look absolutely amazing when you want a festive feel!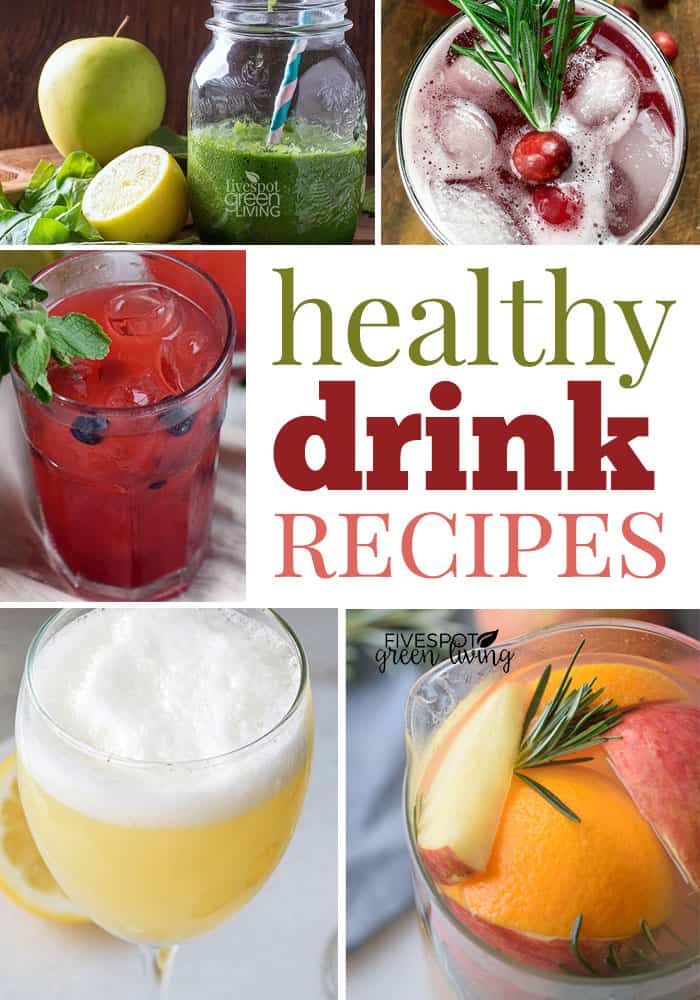 Healthy drink recipes need not be scary or stressful - they are so easy to make as long as you have the ingredients! Most of these recipes only require a handful of good things and you are ready to whip these beverages up in a blender, a pitcher or right in the glass! Not only are they delicious, but they deliver a nutrition bonus as well.
Drink your way to a stronger immune system and a better mood!
Celebrate the holidays with one of these easy holiday mocktail recipes that the whole family can enjoy. These 20 recipes for healthy drink recipes are so festive and tasty it will be hard to pick just one!
These delicious Thanksgiving-themed healthy drink recipes are a fun and festive way to enjoy time with family and friends this holiday season. Try one of these 20 Easy Thanksgiving Mocktail Recipes.
This time of year is so fun to make festive fall punch recipes that look just like the foliage outside! From pumpkin flavors to apple cider to fruity drinks, there are definitely a few fun and mostly healthy drink recipes here to try!
Healthy Mocktail Recipes
Cinnamon and Cumin-Infused Cranberry Spritzer Recipe
Fruity Nectarine Seltzer Mocktail Recipe
Autumn Harvest Punch Recipe (Mocktail) *MOST POPULAR*
Festive Autumn Mocktails Recipes
Sparkling Apple Cider Mocktail
41 Cozy and Warm Fall Drinks (Non Alcoholic)
Healthy Haha!!
Healthy Smoothie Recipes
Matcha Green Tea Smoothie Recipe
Kid-Friendly Green Smoothie Recipe
Breakfast Smoothies: Chocolate Peanut Butter Oatmeal
10 Detox Smoothie Recipes for Weight Loss
Healthy Lemonade and Punch Recipes
Refreshing Blueberry Lemonade Cooler Recipe
Refreshing Fruit Punch Lemonade
Healthy Tea Recipes
Slow Cooker Spiced Tea Recipe with Apple and Cinnamon
5 Quick and Easy Healthy Herbal Tea Recipes
Chamomile Tea: A Dreamseeker's Friend
Healthy Coffee Recipes
My favorite healthy drink recipes from other bloggers
Chia Raspberry Lemonade Spritzer
Healthy Watermelon Lemonade
Healthy Protein Smoothie
Watermelon Agua Fresca Recipe
More Healthy Recipes
If you enjoyed this collection of healthy drink recipes, you might enjoy some of my other healthy recipe collections:
Easy Vegetarian Recipes for the Whole Family
Easy Weeknight Dinners
Also see: Over 100 Delicious Healthy Recipes for Your Family