Do you love pumpkin and feel so tempted by those unhealthy options at the grocery store? Don't buy that junk! Here are 10 Delicious Healthy Pumpkin Recipes for Fall that will satisfy your craving without adding pounds.
Don't forget all of these other healthy recipes!
Delicious Healthy Pumpkin Recipes for Fall
Pumpkin is one of the most popular ingredients to use during the fall season, both for its seasonal appeal and flavor, and for the fact that it is healthy and low-fat. There are so many healthy pumpkin recipes that are delicious and can be eaten everyday for any meal. For example, pumpkin can be used as a substitute for more fattening ingredients in baked food items, like cakes and cupcakes.
Pumpkin also has a variety of health benefits, including omega-3 fats, improving prostate health and gut health, including zinc and magnesium, and being great for post-menopause and liver health.
Making Pumpkin Pancakes is super easy with this recipe from AllRecipes.com. All you need to do is mix the ingredients in a bowl, including canned pumpkin, milk, egg, and oil. Some dry ingredients include baking soda, baking powder, flour, and sugar. You will also need pumpkin spices like cinnamon and ginger. The pancakes themselves are cooked similar to other pancakes.
Another breakfast recipe using pumpkin is this French toast bake from MinimimalistBaker.com. Instead of making French toast the traditional way, you will add the ingredients into a pan and bake it for about 40 minutes. This makes it easier to put together and doesn't require you to spend a lot of time in front of the stove. Some ingredients used include pumpkin butter and pumpkin pie space, nuts, brown sugar, bread, and eggs.

---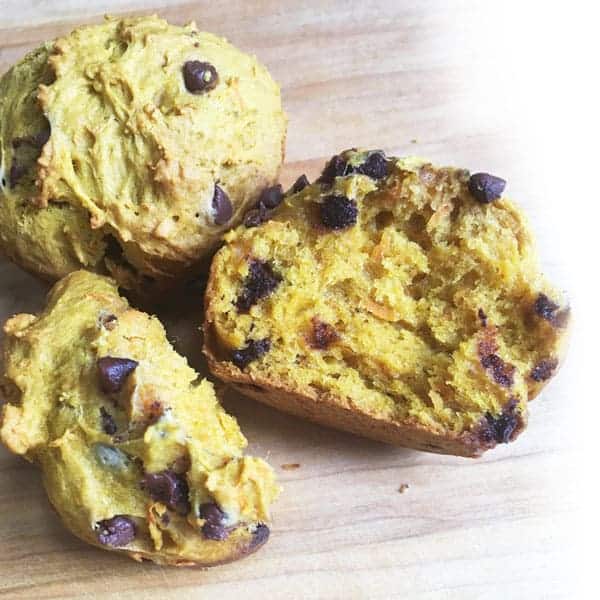 I love this Easy and Healthy Pumpkin Muffins Recipe recipe because you can make it so fast and it makes a ton of muffins! These muffins have so much taste to them and they don't contain nuts. You can send them to school without worrying about allergies.
If you want to make pumpkin treats for Halloween or the fall season, consider making some cookies. Pumpkin cookies are great because they are actually quite healthy and low in fat, while also being delicious. These pumpkin pie chocolate chip oatmeal cookies are provided by Amy's Healthy Baking, and are made with pumpkin puree, cinnamon, nutmeg, whole wheat flour, and instant oats.
Pumpkin biscuits are great for many different meals and snacks, from a nice breakfast to being a side dish at lunch or dinner. With this recipe from AllRecipes.com, you can use pumpkin, flour, brown sugar, spices, and some other ingredients to make a quick batch of seasonal pumpkin spiced biscuits that are lower in fat than the standard buttery version.
Believe it or not, you can make a healthy and yummy hummus by using pumpkin! Instead of canned pumpkin, it is recommended that you use fresh pumpkin for this recipe. You also will add ingredients like olive oil, cumin, garbanzo beans, maple syrup, and spices for the pumpkin-flavored hummus. You can also add some pumpkin seeds to the top for decoration and added flavor. This recipe is provided to you by DaringGourmet.com.
Why not try some hearty and warm pumpkin soup on a chilly fall evening? This Minimalist Baker recipe calls for fresh pumpkin slices, maple syrup, coconut milk, vegetable stock, and seasonings. The longest part of this soup making process is roasting the pumpkin, then the rest is quick and easy.
This healthy pumpkin dessert is provided by Eating Well. It is a great way to have a pumpkin cake with all the added calories. This simple recipe use basic ingredients for cake, including flour, baking soda, baking powder, and salt. The seasonings are ground cinnamon and allspice to give it that seasonal flavor and it uses egg whites instead of regular eggs. You will also add pumpkin puree to the cake.
Pumpkin pie is a holiday favorite, but the crust on it tends to add quite a bit of fat and calories. You can get rid of that fattening crust altogether with this Chocolate Covered Katie recipe. It provides a simple method for having the same pumpkin pie you love without the buttery crust you don't really need. However, it does have a crust bottom to keep the pie together.
These might sound fattening, but they are actually quite healthy. Depending on the ingredients you use, you can even make these pumpkin cream cheese bars to be gluten-free. Pureed pumpkin, pumpkin pie space, and cinnamon add the pumpkin flavor. You can use oat flour instead of white flour if you like, and you can always use xylitol or agave instead of brown sugar to reduce the fat and calories. Make it even better for you by adding some ground flax.
Eating well has another delicious pumpkin dessert with the spiced pumpkin cookies. Basic ingredients like pumpkin, all spice, ginger, and molasses are used. You can increase the health of them by using whole wheat flour and keeping out the butter since the pureed butter still keeps them creamy.
This is another surprisingly healthy and reduced fat pumpkin dessert. Instead of the traditional cheesecake crust, you will have one made of walnuts and gingersnaps, which are much better than the buttery graham cracker cheesecake crust. Instead of regular cream cheese, you will use non-fat cottage cheese in this pumpkin cheesecake.

---

But we can't forget all the sugar and bad ingredients in those things. When I can make a healthy recipe alternative for my kids like this Baked Pumpkin Spice Donuts Recipe it makes me very happy!
Baked Pumpkin Spice Donuts Recipe
Pumpkin spice chai latte made with natural ingredients: pumpkin puree, almond milk, maple syrup and spices. This creamy yet skinny latte clocks in at only 90 calories (without the totally optional coconut cream).
This Easy Pumpkin Spice Homemade Bread is all-natural and clean, plus it's super easy and quick and healthy with added flaxseed.
A delicious, wheat-free, dairy-free, Pumpkin Oatmeal Breakfast Cookie recipe that is packed with fiber and vitamins. It makes a great breakfast on the go or a nutritious snack any time of day…

---

There are so many ways to incorporate pumpkin into our daily routines and milk is a great way to incorporate dairy and protein into our diet! There's nothing that says fall like this pumpkin spice smoothie.
Everyone loves pumpkin, even dogs, just ask mine! They went crazy for these healthy pumpkin dog treats and yours will, too!
A healthy pumpkin apple muffin recipe that's incredibly moist and chock-full of fragrant pumpkin pie spice, cinnamon & nutmeg. Pumpkin puree and applesauce lend moisture while the oats, apple chunks, and cranberries provide a bit of texture.
This healthy pumpkin oatmeal is perfect for those cooler days of fall and early winter. This oatmeal is creamy and full of pumpkin and spice flavor.
Have some apples from a recent visit to an apple orchard? Use them with this amazingly easy and healthy pumpkin pie dip!
This pumpkin smoothie is packed with protein! With the decorative glass and a fun straw, it's easily a new favorite kid's party food option in our house!
These healthy pumpkin scones are wonderfully moist, gently spiced and sweet, but so much better for you than your average scone. They're wonderfully soft and gently moist. They have a warming spice to them and delicious flavor.
This healthy pumpkin pie pudding is the perfect after school snack or dessert. It takes only a few minutes to make and has only 3.4g net carbs per serving!
It's that time of year when everyone is reaching for pumpkin flavored foods. This healthy Pumpkin Cupcake Recipe is my go-to choice! It is so simple to make, and delicious.
Woodland Animal Printable Calendar Pages for Fall
FREE Fall Printable Weekly Calendar
40 Fall Activities for Kids Bucket List