Delicious healthy white bread recipe that can be ready in 90 minutes! It's fluffy and soft and has so much more flavor than store bought bread. Bread recipes don't have to be difficult!
Healthy White Bread Recipe
This healthy white bread recipe was so easy when my 10 year old asked me to make it again I quickly agreed! We ate both loaves in less than 2 days. I love that I know all the ingredients that are in the bread.
Is Homemade White Bread Healthy?
When you make your own homemade bread, you can control the ingredients. You can make a heartier, healthier bread by using unbleached unenriched flour.
What is the best flour to make bread with?
You can make your white bread with either all purpose flour or bread flour. Using bread flour contains more proteins, or gluten, and will result in a higher rise. But using all purpose flour will not change the taste.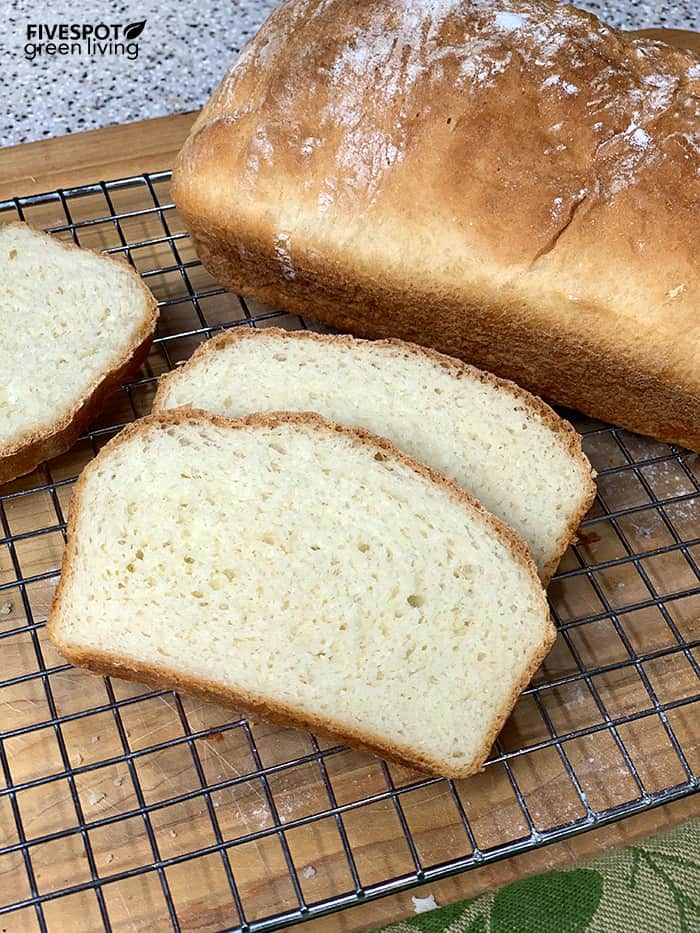 Healthy White Bread Recipe
Total Time:
1 hour
30 minutes
Delicious and fluffy white bread recipe ready in 90 minutes.
Ingredients
5 ½ to 6 cups all-purpose flour
3 tablespoons granulated sugar
4 ½ teaspoons Instant Yeast
2 teaspoons salt
1 ½ cups water
½ cup milk
2 tablespoons butter
Instructions
Combine 2 cups flour, sugar, dry yeast and salt in the bowl of a stand mixer and stir until blended. Combine water, milk and butter in a microwave-safe bowl. Microwave on HIGH in 15-second increments until very warm but not hot to the touch (120° to 130°F. Butter won't melt completely). I highly recommend using an instant-read thermometer. Add to flour mixture.
Beat 2 minutes at medium speed, scraping bowl occasionally. Add 1 cup flour; beat 2 minutes at high speed, scraping bowl occasionally. Stir in just enough remaining flour so that the dough will form into a ball.
Knead on lightly floured surface until smooth and elastic and springs back when lightly pressed with 2 fingers, about 6 to 8 minutes. Cover with a towel; let rest for 10 minutes.
Cut dough into 2 equal pieces. Roll each piece of dough into a 12 x 7-inch rectangle using a rolling pin.
Beginning at short end of each rectangle, roll up tightly. Pinch seams and ends to seal. Place, seam sides down, in two 8-½ x 4-½ inch loaf pans that have been sprayed with nonstick cooking spray. Cover with towel; let rise in warm place until doubled in size, about 45 minutes.
Bake in preheated 400ºF oven for 20 to 30 minutes or until golden brown. Remove from pans by running a knife around the edges and invert onto wire rack.
Amazing Bread Recipes to Try Today