Believe it or not, the holidays are right around the corner! It's amazing how they sneak up on us every year. Maybe that's just me, but I feel like I've been splashed in the face with cold water every year when the holiday decorations go up in the stores and mall. So now is the time to start planning for your holiday parties with healthy appetizers. Most of these gluten free appetizers are healthy recipes, but in the name of the man in the red suit, some splurging is okay this time of year!
Holiday Gluten-Free Healthy Appetizers
Not everyone gets to indulge in healthy appetizers when they make their way around, but with these easy gluten free appetizers for parties, it makes it so much easier for your gluten-challenged guests to enjoy themselves and the food!
1. These Bacon Wrapped Kielbasa Bites from What the Fork with Brown Sugar Glaze will be the star of your Christmas brunch. They're slightly sweet, slightly salty from the bacon and completely irresistible. whattheforkfoodblog.com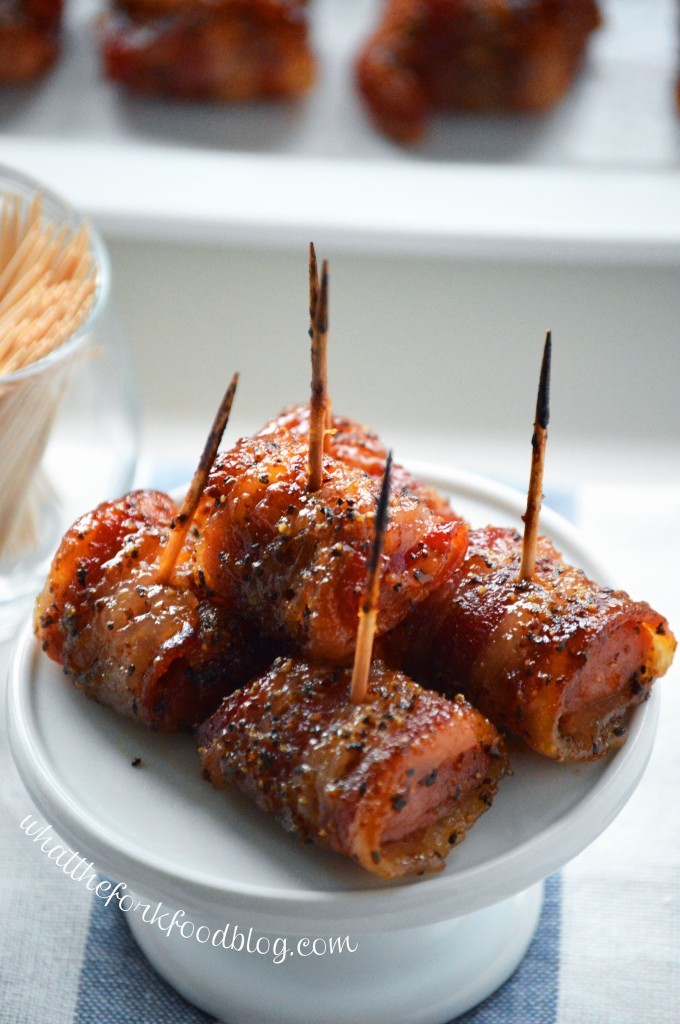 2. Think you don't like Brussels sprouts? Try Roasted Brussel Sprouts with Balsamic Maple Glaze. It brings out the nutty sweetness of the Brussels sprouts. They are perfectly complemented by the tangy and sweet balsamic-maple glaze, which makes this dish oh so delicious! yayforfood.com
3. These Easy Oven Baked Zucchini Chips are easy to make and are thin, crispy, and irresistible! Did I mention they were healthy, too? Oven-baked to crisp perfection! tablefortwoblog.com
4. Cranberry Pecan Mini Goat Cheese Balls from Mom On Timeout makes holiday entertaining easier and more delicious! So easy to make and gorgeous too! Perfect for Thanksgiving, Christmas, and New Year's. momontimeout.com
5. This Cream Cheese Cranberry Dip from Julie's Eats & Treats is perfect to treat your family and friends with this Thanksgiving. It will literally take you 15 minutes to whip up and have everyone ooohhhing and ahhhing over it. julieseatsandtreats.com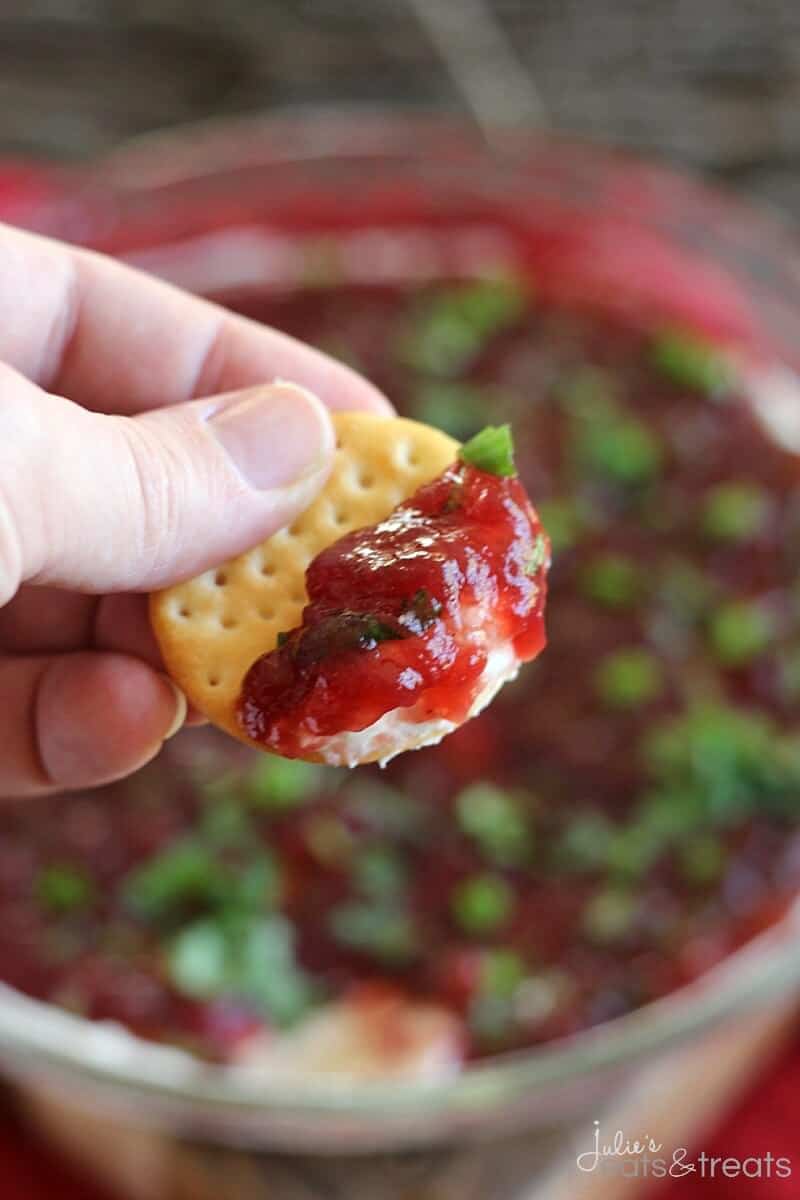 6. Avocado Deviled Eggs appetizer made using avocados instead of mayo. Creamy, a little spicy, and delicious! memeinge.com
7. Caprese Bites Recipe – Budget Savvy Diva / budgetsavvydiva.com
8. Simple Antipasto Skewers from A Saucy Kitchen with pepperoni, olives, artichoke, fresh basil & marinated mozzarella balls make an easy yet stylish appetizer. / asaucykitchen.com
9. Baked Brie With Balsamic Cherries from Averie Cooks is such a simple recipe with just three ingredients, but it's amazing how satisfying, comforting, and just face-stuffing worthy it is. / averiecooks.com
10. Gluten Free Bruschetta – Life Made Full / lifemadefull.com
11.Spinach Balls from Sweet as Honey are actually easy to make ahead and freeze! / sweetashoney.co
12. Tahini Glazed Chicken Wings from A Calculated Whisk are a favorite paleo appetizer. They're crispy and juicy, and the glaze has a perfect mix of sweet and savory flavors. / acalculatedwhisk.com
13. Tri Colour Spread – The Appetizer Chick This cheerful looking dip is as tasty as it is colorful. / theappetizerchick.com
---
---
14. Winter Fruit Salad – Julia's Album is a healthy, gluten free salad that utilizes seasonal winter fruit. / juliasalbum.com
15. Gluten-free Fried Cheese Sticks – Fearless Dining are a delicious blender and beer, fresh herbs and ginger. / fearlessdining.com
16. Stuffed Mushrooms from The Girl Who Ate Everything are one of my favorite appetizers and gluten-free! This easy recipe for stuffed mushrooms has cream cheese and sausage inside. / the-girl-who-ate-everything.com
17. Meatball Marinara Poppers from Yellow Bliss Road recipe uses frozen meatballs are topped with a delicious homemade marinara sauce that is simple to make and full of flavor. / yellowblissroad.com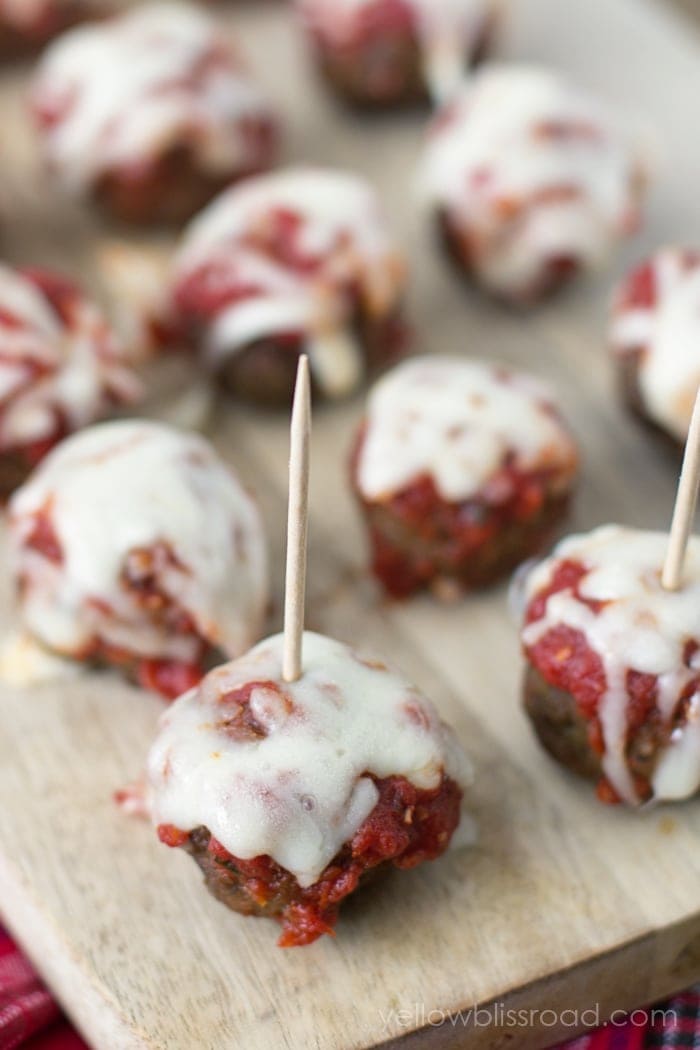 18. Who says potatoes at a holiday dinner have to be part of the main event? Try these Gluten-free, Vegetarian Mini Hasselback Potatoes – Bowl of Delicious for your next healthy appetizer! / bowlofdelicious.com
19. Pine Cone Cheese Ball with Almonds from Living Locurto is so easy and the perfect party food for the holiday season! / livinglocurto.com
20. Puff Pastry Sausage Rolls from The Gluten Free Notebooks are for those still-grieving gluten-intolerant peeps. / glutenfreenotebooks
21. Spinach Dip Bites from Lil' Luna are super easy to make and come out all warm and cheesy and would be great for your next get together. / lilluna.com
---
---
22. Delicata Squash Chips and "Awesome" Sauce from The Whole Smiths is pretty much a no-brainer. Olive oil, salt, smoked paprika and drizzle, sprinkle, rub. / thewholesmiths.com
23. Creamy Feta Stuffed Peppers from I Heart Vegetables are a super easy and simple appetizer to whip up at the last minute! / iheartvegetables.com
24. These Sundried Tomato Vegan Sweet Potato Bites from Abbey's Kitchen make great easy gluten free appetizer recipe for entertaining this festive season! / abbeyskitchen.com
25. Delicious Prosciutto Wrapped Brie Bites from Yammie's Noshery for those nostalgic for Germany – and just about anyone else!
26. Cranberry Cream Cheese Dip – Mom Endeavorsis a delicious appetizer or side dish, perfect for the holidays! / momendeavors.com
27. This Jalapeño Meatball Appetizer Recipe is one that doesn't disappoint. When you are looking for healthy appetizers for a special dinner or your next party, these babies are the ticket! / fivespotgreenliving.com

28. Dairy-Free Pumpkin Dip (Date-Sweetened) / cleaneatingkitchen.com
29. Roasted Mediterranean Olives / itsnotcomplicatedrecipes.com
30. Keto Sausage Pizza Bites / myproductivebackyard.com
31. Smoked Salmon Potato Appetizers with Sour Cream Dip / homemadeandyummy.com
32. Cranberry Goat Cheese Appetizer / joyfoodsunshine.com
33. Layered Greek Dip / joyfoodsunshine.com
34. Chili Garlic Edamame / profusioncurry.com
35. Vegan 7 layer dip / cadryskitchen.com
36. Creamy Homemade Cilantro Jalapeno Hummus / profusioncurry.com
37. Crispy Air Fryer Potato Wedges / thebellyrulesthemind.net
38. Smoked Trout Mousse / whatagirleats.com
39. Mushroom Spread {Easy Mushroom Pate} / whatagirleats.com
40. Cheddar and Sour Cream Ranch Dip / dancingthroughtherain.com
41. Bacon Wrapped Jalapeno Poppers / bellyfull.net
42. Vegan Veggie Dip / delightfuladventures.com
43. Garlic Herb Vegan Almond Cheese Spread / delightfuladventures.com
44. Chickpea Flour Sticks / shelovesbiscotti.com
45. Healthy Guacamole Deviled Eggs / hellospoonful.com
46. Easy Chicken Parmesan Sausage Bites Recipe / snappygourmet.com
47. Smoked Salmon Cucumber Bites / ketocookingchristian.com
48. Keto Spinach And Artichoke Dip / trinakrug.com
49. 5-Minute Avocado Ranch Dip with Greek Yogurt / twohealthykitchens.com
50. Sweet and Spicy Cream Cheese Dip / twohealthykitchens.com
51. Easy Loaded Crispy Potato Skins / gritsandpinecones.com
52. Cranberry Pecan Mini Goat Cheese Balls / gritsandpinecones.com
53. Potato Bhajis / greedygourmet.com
54. Vegan Loaded Sweet Potato Skins / karalydon.com
55. Ketie's Smoked Salmon and Goat Cheese Appetizers / christinascucina.com
56. Creamy White Queso Dip / thefreshcooky.com
57. Endive Salad Bites with Pears, Blue Cheese, and Pecans / flavorthemoments.com
58. Butternut Squash Hummus with Spiced Pepitas / flavorthemoments.com
59. 7 Layer Black Bean Dip / therisingspoon.com
60. Caprese Salad Bites / appetizeraddiction.com
61. Gluten Free Meatball Sub Appetizer / momadvice.com
62. Gluten-free Chip and Guacamole Bites / mygluten-freekitchen.com
More posts like gluten-free healthy appetizers
15 Healthy Appetizers for Christmas
20 Healthy Appetizers for Thanksgiving
Healthy Appetizers for Everyone
Featured on Blogghetti