Kid-Friendly Homemade Bread for Sandwiches
Looking for homemade bread recipes that your kids will allow you to use in their lunches? This homemade bread for sandwiches will do the trick with most kids!
My middle child absolutely loves my homemade bread, so when he saw I made homemade bread for sandwiches just for his lunch, he was over the moon! If only I had cooled the bread OUT of the bread pan, I think it would have been a little bit better. But it was still good. He ate two pieces of this bread for breakfast and then took a sandwich to school with it.
I made this bread too late at night and was focused on making it correctly and forgot to worry about cooling it. So basically you want to remove it from the pan as soon as possible and allow the bread to cool on a rack. Otherwise the steam builds up and the edges become too crusty and rubbery. Not a great combination.
So, this bread was amazingly EASY to make! I couldn't believe it. The two days before this, I had tried twice to make a different kind of bread and it just didn't work. #breadfail
This homemade bread for sandwiches mixes up super easy and even without a KitchenAid Mixer this dough would be very pliable and easy to knead. Because of this, it rises very easily without a lot of fussing - just cover it with towels and be done. Don't worry about being near something warm, as long as the room itself is not too cold.
You can easily make this bread while dinner is cooking and allow it to rise while putting the kids to bed and then bake it and have fresh bread for the next day before your head hits the pillow!
Kid-Friendly Homemade Bread for Sandwiches
Ingredients
3 cups Unbleached All-Purpose Flour (I like King Arthur)
1/2 cup milk
1/2 to 2/3 cup hot water, enough to make a soft, smooth dough (I used 1/2)
1/4 cup melted butter
2 tablespoons sugar
1 1/4 teaspoons salt
2 teaspoons instant yeast
Instructions
Mix the cold milk with hot tap water to make a lukewarm liquid before adding to the remainder of the ingredients.
In a large bowl, combine all of the ingredients and stir until the dough starts to leave the sides of the bowl. Transfer the dough to a lightly greased surface, oil your hands, and knead it for 6 to 8 minutes, or until it begins to become smooth and supple. Or mix and knead the dough using an electric mixer or food processor for 7-8 minutes.
Transfer the dough to a lightly greased bowl, cover the bowl, and allow the dough to rise until puffy though not necessarily doubled in bulk, about 1 to 2 hours, depending on the warmth of your kitchen.
Gently deflate the dough and transfer it to a lightly oiled work surface. Shape the dough into an 8" log.
Place the log in a lightly greased 8 1/2" x 4 1/2" loaf pan, cover the pan loosely with lightly greased plastic wrap, and allow the bread to rise for about 60 minutes, until it's domed about 1" above the edge of the pan. A finger pressed into the dough should leave a mark that rebounds slowly. Towards the end of the rise, preheat your oven to 350°F.
Bake the bread for 30 to 35 minutes, until it's light golden brown.
Remove the bread from the oven and take it out of the pan as soon as possible, cooling it on a rack before slicing. Store the bread in a plastic bag at room temperature for several days; freeze for longer storage.
Benefits of Homemade Bread vs Store Bought
Easy Homemade Bread in the Slow Cooker

Easy Kid Friendly No Knead Homemade Bread Recipe

Is Homemade Bread Better for You?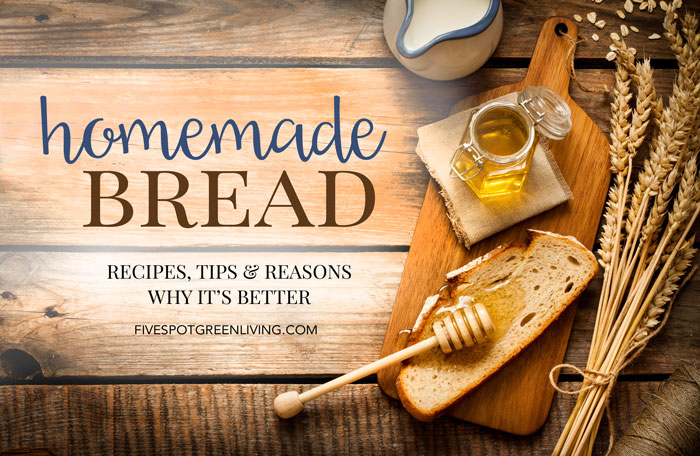 Recipe based on this one from King Arthur.