Here's an easy and inexpensive recipe for homemade bread in a jar to gift a healthy bread recipe to loved ones and friends! Just add a few ingredients and have fresh homemade bread in an hour!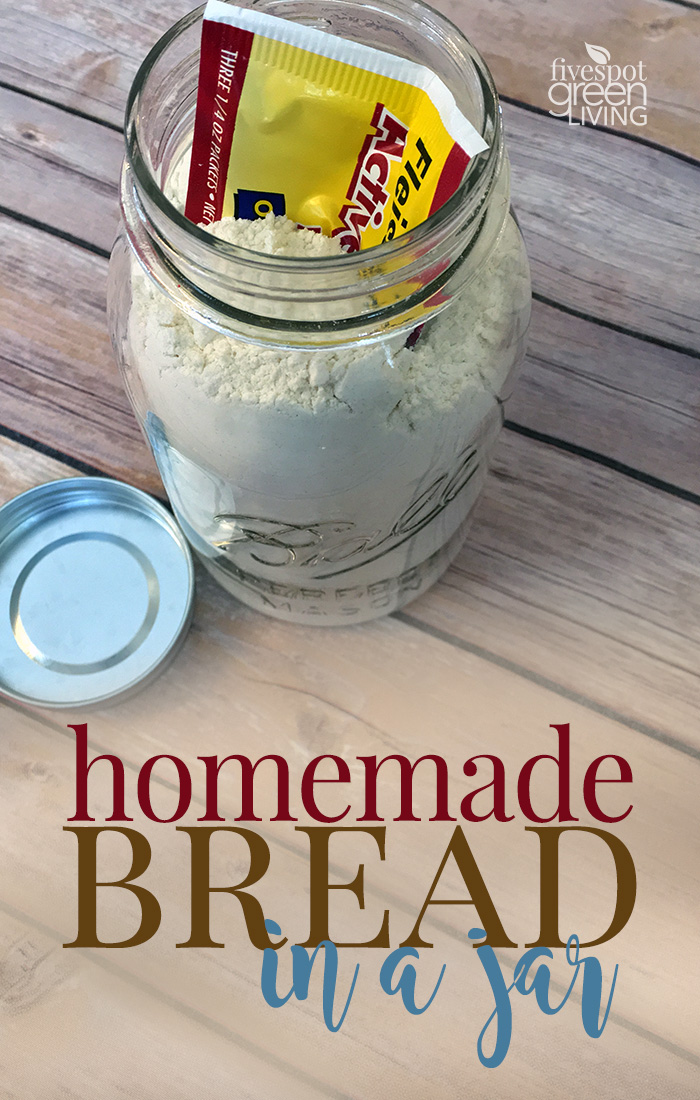 Homemade Bread in a Jar
This is such a great recipe to have on hand or to give to those who like bread and aren't gluten-sensitive. Who doesn't enjoy a fresh loaf of fresh with dinner? People who can't enjoy gluten I guess.
essential tips
for making bread
• Bread too dry & crumbly?
• Dough flat & not rising?
• Is it too time-consuming?
This recipe is truly something of a baking wonder. It's quite literally a "dump-bread". You dump all the ingredients in the bowl, add a few liquids, mix and bake for a bit and then you are in heaven.
This gift goes really well with The Healthy Maven's Moroccan Lentil Soup in a Jar! I love this stuff. We usually make our Moroccan lentils recipe using green lentils but I actually prefer red ones. I can't wait to make this recipe.
If you are giving this as a gift, your recipient will loooooove you for this homemade bread in a jar. Once they make this bread and their families think they slaved over it for hours they are going to say you gave them the best gift ever!
You literally just put ALL of the ingredients in the bowl together! I know, usually when you make yeast breads you have to be careful about mixing the yeast, but not in this Easy Kid Friendly No Knead Homemade Bread Recipe recipe. If you have a KitchenAid Mixer you can throw everything in and mix it up. Otherwise, you can use a spoon and mix just until dough is too stiff to stir anymore.
---
---
Homemade Bread Recipe
Ingredients
1 cup lukewarm water
1/4 cup orange juice
1/4 cup melted butter or vegetable oil
3 tablespoons maple syrup
1 packet instant yeast
1/4 cup nonfat dry milk powder
1 1/4 teaspoons salt
3 cups White Whole Wheat or Bread Flour
Directions
For the jars or bags:
Add the flour, dry milk powder, salt, and place yeast packet on top.
Baking instructions:
Dump the dry ingredients and yeast into bowl. Add 1/4 cup orange juice, 1/4 cup melted butter, 3 tablespoons maple syrup, and 1 cup lukewarm water.
Beat the mixture vigorously for about 3 minutes; an electric mixer set on high speed works well here. You should have a very sticky dough.
Scoop it into the prepared pan.
Cover the pan with lightly greased plastic wrap, and let it rise for 60 minutes; it should just about rise to the rim of the pan.
While the dough is rising, preheat the oven to 350°F.
Uncover the bread, and bake it for about 40 to 45 minutes, tenting it with aluminum foil after 20 minutes.
The bread is done when it's golden brown on top.
Remove it from the oven, and after 5 minutes turn it out onto a rack.