Is homemade bread better for you? Free of chemicals and junk, homemade bread is one of those foods that is very simple but so delicious and definitely worth the effort. When you get it right, all you need is some garlic butter or creamy cheese and you have a meal right there – along with some fruit of course! Living healthy is really so easy and many of these homemade bread recipes can be done very quickly with minimal work from you, the new bread goddess, which is what your family will call you when you serve this up amidst glorious fresh bread smells tickling their noses.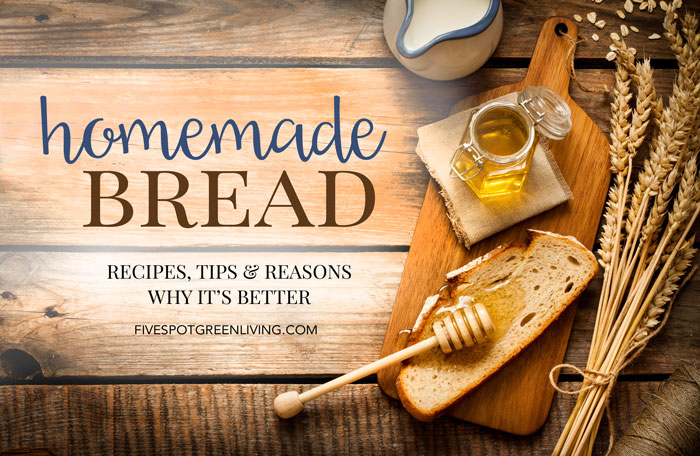 Is Homemade Bread Better for You?
Homemade bread is so much tastier than store-bought bread, it isn't laden with preservatives, it is very inexpensive to make, and doesn't take all that much time, either. Who knows what is really in that store-bought bread anyway? We all know the government is padding their pockets with money made from genetically-modified ingredients that are just making us sick, hence all the new gluten-free products out now.
Here are some of my favorite posts about homemade bread that you can pair with these healthy recipes!
Simple Gluten-Free Homemade Bread
Kid-Friendly Homemade Bread for Sandwiches
No-Knead Homemade Bread in a Jar
20 More Amazing Homemade Bread Recipes
Moroccan Semolina Homemade Bread Recipe
Easy Homemade Breadsticks in Under 1 Hour
10 Best Homemade Bread Supplies
How to Make Homemade Breadcrumbs
Benefits of Homemade Bread vs Store Bought
Chocolate Zucchini Homemade Bread
Pumpkin Applesauce Spice Homemade Bread
Healthy Banana Homemade Bread Recipe
10 Best Bread Machines for Homemade Bread
Home-baked bread can also offer more nutrients and fewer additives than commercially manufactured breads.

The USDA recommends consuming at least 3 oz. of whole grains daily. Labels on commercial breads can lead you to believe they contain more whole grains than they actually do. When you prepare bread at home, you can be sure of the amount of whole grains included in the recipe.

If you have serious food allergies, you can tailor your bread recipes to leave out the offending ingredients. Even manufactured breads that do not contain the allergen may have been produced on equipment contaminated with it. Making your own bread prevents almost all possibility of cross-contamination
More Resources for Baking
6 Tips for Healthy Baking Recipes
Oatmeal Chickpea Cookies
Easy Slow Cooker Chocolate Cake
Baking with Kids
Do you have specific questions about baking homemade bread or where to find items? Be sure to leave a comment below and we will be sure to respond!