Homemade Disinfectant Spray Recipe
Did you know that you can use essential oils for health and wellness and they will clean your home and skin better than chemicals because they are all-natural and derived from plants? Try this Homemade Disinfectant Spray Recipe and make your home free of germs and dirt.
Homemade Disinfectant Spray Recipe Using Essential Oils
Do you believe you can get rid of some or most of those chemical-laden products for a natural hard surface cleaner that's not only safe, but effective at cleaning many surfaces in your house?
Why Not Just Use Conventional Cleaning Products?
When you shop for cleaning items, there are so many products that claim to clean your homes without having to scrub hard or spend a lot of time trying to make things shine. But these products effect your health in ways you wouldn't know if you don't read the fine print on the bottles, which most people don't.
A 2014 study in the International Journal of Occupational and Environmental Health showed that people who used these type of products are at risk for a number of health effects in the short-term, including irritant- or sensitizer-induced asthma.
Children are more prone to issues since they don't have fully developed nervous, immune, respiratory and reproductive systems.

International Journal of Occupational and Environmental Health
You can easily make your own cleaning products. Vinegar and baking soda create some serious cleaning power without harmful effects. Add in a few drops of essential oils, too, for their benefits. Oils like lemon and tea tree have disinfecting capabilities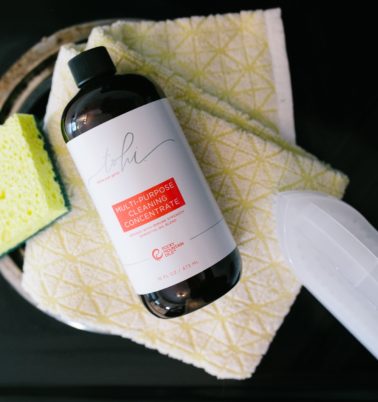 Tohi Multi-Purpose Cleaning Concentrate
Clean your home with the power of natural and pure essential oils! This Multi-Purpose Cleaning Concentrate utilizes the power of essential oils that are known for their ability to clean and purify surfaces while leaving a fresh, invigorating, and spicy scent.
You can absolutely use individual oils in your cleaning spray, but this multi-purpose cleaning concentrate is super easy and uses the power of Rocky Mountain Oil's Immune Strength oil blend. Immune Strength includes essential oils known for their ability to clean and purify surfaces while leaving behind a fresh, invigorating scent including  Lemon, Orange, Thyme, Mandarin, Rosemary, Nutmeg, and Eucalyptus citriodora.
Simply mix 2 tablespoons of Tohi concentrate per 24 ounces of water.
Natural Homemade Disinfectant Spray Recipe
If you prefer mixing a cleaner with separate oils follow this recipe. This recipe fills one 8oz spray bottle.
Ingredients
1/2 cup vinegar
1 1/2 cups warm water
30 drops essential oils of your choice (lemon, orange, thyme, rosemary, tea tree and/or eucalyptus)
Directions
Mix ingredients in a glass measuring cup and pour into spray bottle.
Get cleaning and feel confident your home is clean and still a safe place for your family.
I love Rocky Mountain Oils because of their quality 100% pure essential oils that require no minimum purchase and always gives FREE shipping! Plus they always have specials going on!
Rocky Mountain Oils' essential oils are verified by a third-party, independent lab. GC/MS tests verify purity and quality of the oils sold so you can look at the bottom of the bottle to find your individual batch code and then input that number into our website to pull up the GC/MS test results.
Rocky Mountain Products can be returned for any reason, even if opened, for up to 90 days. RMO also pays for our customers' return shipping expenses to make our ordering process completely risk-free.
RMO includes three different icons for recommended use on each bottle for easy reference: Diffuse, Topical Application and Household. So you can look at the bottle and know in what way it's intended for use.
Purchase your Essential Oils here!