Are you fed up with trying to soothe your itchy, irritated skin caused by eczema? Look no further than an easy Homemade Oatmeal Lotion for Eczema that can help relieve symptoms and get your natural skincare routine back on track! This simple recipe combines purified water, old fashioned oats, olive oil, beeswax, vitamin E oil, and essential oils to restore the smoothness and suppleness of your skin. Try it today to get relief from eczema! Read on for our easy-to-follow homemade oatmeal lotion recipe. You won't regret it! It's the perfect way to keep eczema symptoms at bay.
When it comes to Eczema Treatment, everyone's got a different remedy that they swear by. Some people slather on steroid creams till the cows come home, while others prefer a more natural approach with plenty of shea butter and coconut oil. But the truth is, there's no one-size-fits-all answer––what works for one person may not work for another. The key is to experiment and figure out what gives you the most relief. And don't be afraid to talk to your doctor or a dermatologist for professional guidance. Together, you can get your skin feeling better in no time.
Have you ever tried to make your own natural skin care products for different ailments? My youngest has eczema and lots of scalp issues which is why I look to lots of home remedies and natural skin care. She actually will use this Homemade Oatmeal Lotion for Eczema – even the original recipe that left a weird feeling on my skin. I think it was the honey. Imagine rubbing honey on your skin and what that would feel like. *shudder*
Do You Need Help Living Your Best Life?
Daily, weekly and monthly planners that will help you keep on track! Inspiration for a healthy mind, body and soul with quotes, healthy meals and more!
This homemade lotion is so crazy easy to whip up, even if you don't have a double boiler, as you will see in the photos below. You can indeed use a double boiler, or put the ingredients in a jar in a pot of water like I did, OR use the microwave.
Is Oatmeal Lotion Good for Eczema?
If you're one of the unfortunate ones, battling dry itchy skin from eczema, you might have considered trying every possible solution to soothe the damage. Oatmeal lotion for eczema is indeed a popular choice amongst many people struggling with the dermatological condition.
Not many people know this, but oatmeal is actually quite impressive when it comes to calming irritated skin. It contains plenty of antioxidants and amino acids that maintain the natural cellular structure of the skin. Plus, the beta-glucans found in oats help enhance the immune system's response to skin inflammation, leading to less irritation and redness. So if you're looking for some relief, go ahead and give oatmeal lotion a shot!
According to a 2012 study in the Journal of Drugs in Dermatology, colloidal oatmeal can protect skin and soothe the itching and irritation from eczema. The same study indicates that colloidal oatmeal can also act as a buffer to help maintain skin surface pH.
Can You Use Lotion on Eczema?
When you have eczema or atopic dermatitis, it's key to use a moisturizer. Dry skin can often make eczema worse. Moisturizers lock in water and create a barrier against things that can irritate your skin.
What are the Best Essential Oils for Eczema?
I like to add essential oils to all of my natural skin care items as they help soothe and heal the skin and irritations. I particularly like to use "Skin Care" essential oil blend when making lotions and creams. It has the following essential oils, all of which are amazing for eczema treatment:
Amazing Natural Skin Care for Eczema
Eczema can be downright frustrating – and painful. So, it's no surprise that people with this skin condition are on a never-ending search for relief. Thankfully, there are some amazing all-natural skin-care solutions that can help soothe your eczema.
I love Rocky Mountain Oils because of their quality 100% pure essential oils that require no minimum purchase and always gives FREE shipping! Plus they always have specials going on!
Rocky Mountain Oils' essential oils are verified by a third-party, independent lab. GC/MS tests verify purity and quality of the oils sold so you can look at the bottom of the bottle to find your individual batch code and then input that number into our website to pull up the GC/MS test results.
Rocky Mountain Products can be returned for any reason, even if opened, for up to 90 days. RMO also pays for our customers' return shipping expenses to make our ordering process completely risk-free.
RMO includes three different icons for recommended use on each bottle for easy reference: Diffuse, Topical Application and Household. So you can look at the bottle and know in what way it's intended for use.

Homemade Lotion for Eczema Recipe
Ingredients
Instructions
Put the water and oats in a bowl or jar. Cover and allow to soak for 12 hours or overnight at room temperature.
2. Drain the oats, reserving the oatmeal water. Press the oats gently with a spatula to get all the oatmeal liquid. Discard the oats. Measure 1/4 cup of oatmeal water. Set aside.
3. In a glass jar, place the olive oil and beeswax. Microwave until melted or heat over a pan with shallow simmering water (making a double boiler). Heat until completely melted.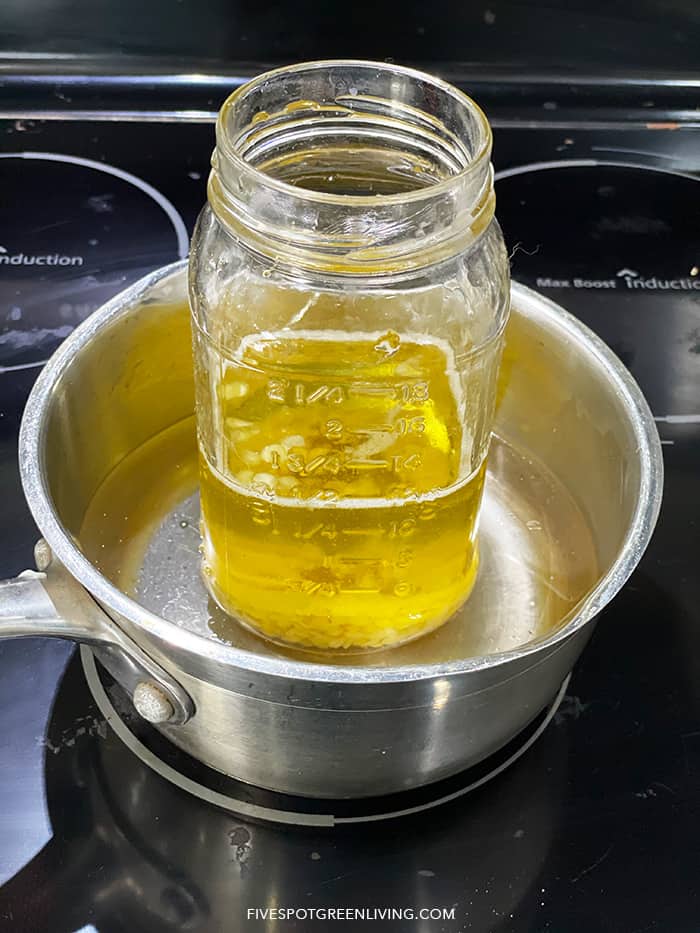 4. Put the oil mixture in the refrigerator for about 45 minutes.

5. Mix together the oil mixture, the oatmeal water, the vitamin E and the essential oils with a handheld mixer. You can mix it in a bowl or right in the jar. I used the whisk on the handheld mixer but you can also use beaters or an immersion blender. Whip until thickened, lighter in color and well-blended.

6. I used a funnel to get the lotion into the pump container. You can also store in a jar or in a squeeze bottle for lotion.

7. To use, pump out a small amount and rub into skin.