Do you suffer from dry skin sometimes and want a natural skin care solution? Try this Homemade Green Tea and Peppermint Sugar Scrub and say goodbye to dry itchy skin!
Homemade Green Tea and Peppermint Sugar Scrub
I love making my own bath and body recipes, especially when they are super simple like this Homemade Green Tea and Peppermint Sugar Scrub and have a boatload of benefits! This DIY sugar scrub is so great for soothing tired muscles and reviving dry skin, especially this time of year when winter has been going on for months and our skin is suffering from the dry, cold air.
I don't like to use peppermint in my bath, however. But a peppermint sugar scrub in the shower is just the thing to wake me up in the morning! It's also great after you've had a bout of sickness, too. Add a little bit of eucalyptus to the scrub and you are good to go. Some all-natural respiratory relief.
This peppermint sugar scrub makes such a great and inexpensive DIY gift idea! Every year, my sister-in-law puts together a basket of homemade goodies and it's always my favorite gift. She includes items that her friends sell like honey or maple syrup or something she finds at a craft show and then she makes some things herself. I love the washcloths, warm pack, soaps and scrubs – they are the most creative and thoughtful gifts that actually get used!
Green Tea Benefits for the Skin
Did you know that green tea is REALLY good for your skin? According to 100 Percent Pure, there are 6 amazing benefits of green tea for skin.
Drinking and applying green tea fights skin cancer by promoting DNA repair.
Green tea has anti-inflammatory properties which reduce irritation, redness, and swelling.
Green tea is powerful antibacterial agent for treating acne and unclogging pores.
Green tea has a ton of Vitamin B2 and Vitamin E, both essential for skin health maintenance.
Caffeine and tannins in green tea help shrink blood vessels around the eyes.
Green tea also helps hair growth.
Olive Oil for Skin
Olive oil helps to remove impurities from your skin. Benefits of olive oil for your skin include:
Evening out discoloration from skin and sunspots
Reduce appearance of lines and wrinkles by hydrating and smoothing skin
Cleansing skin of dirt and bacteria that causes blackheads
Even skin's texture and tone
Give skin a natural, healthy glow
I love Rocky Mountain Oils because of their quality 100% pure essential oils that require no minimum purchase and always supplies FREE shipping! Plus they always have specials going on!
Purchase your Peppermint Essential Oil here!
This recipe is super easy to mix up. Just gather your ingredients and mixing tools.
Simply empty the tea bag contents into the bowl with the sugar, olive oil and essential oil. Then mix and be done!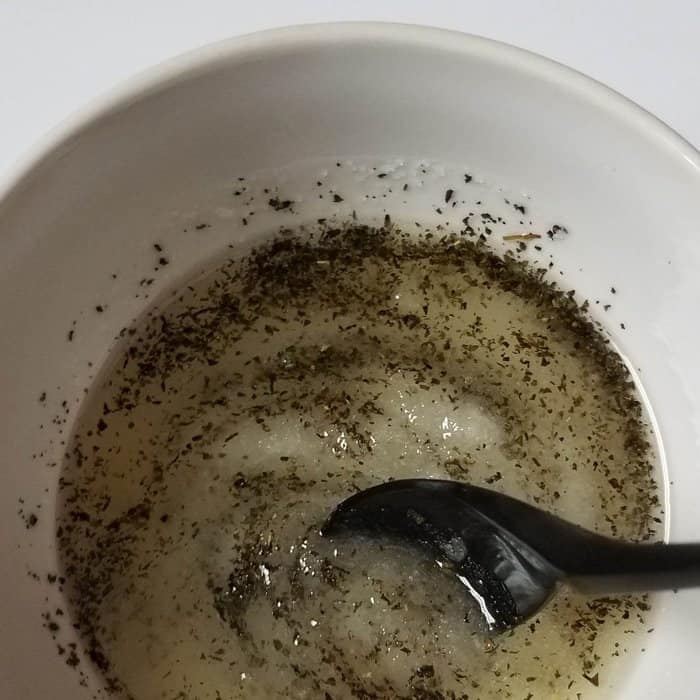 Homemade Green Tea and Peppermint Sugar Scrub
Ingredients
Directions
In a small bowl, combine the sugar, olive oil, green tea and peppermint essential oil.
Stir well until blended thoroughly.
Pour into airtight container. A canning funnel is great to use if you're using mason jars.
More posts like peppermint sugar scrub
Should You Use Peppermint Oil for Hair Care?

Peppermint Oil for Chapped Lips

Lemon Sugar Scrub Recipe