10 Gripping Psychological Thriller Books for 2020
Psychological thrillers often incorporate elements of mystery, drama, action, and paranoia from edge-of-your-seat psychological thrillers to gripping period crime novels. Here are 10 Gripping Psychological Thriller Books for 2020 to read that you won't be able to put down.
Go for a Ride with these Psychological Thriller Books!
These psychological thrillers are guaranteed to stay with you long after you turn the last page. All of these books are gripping page turners which will keep you at the edge of your seat till the very end.
1. If You Tell: A True Story of Murder, Family Secrets, and the Unbreakable Bond of Sisterhood / Gregg Olsen
After more than a decade, when sisters Nikki, Sami, and Tori Knotek hear the word mom, it claws like an eagle's talons, triggering memories that have been their secret since childhood. Until now.
For years, behind the closed doors of their farmhouse in Raymond, Washington, their sadistic mother, Shelly, subjected her girls to unimaginable abuse, degradation, torture, and psychic terrors. Through it all, Nikki, Sami, and Tori developed a defiant bond that made them far less vulnerable than Shelly imagined. Even as others were drawn into their mother's dark and perverse web, the sisters found the strength and courage to escape an escalating nightmare that culminated in multiple murders.
Harrowing and heartrending, If You Tell is a survivor's story of absolute evil—and the freedom and justice that Nikki, Sami, and Tori risked their lives to fight for. Sisters forever, victims no more, they found a light in the darkness that made them the resilient women they are today—loving, loved, and moving on.
---
2. Disappearing Earth / by Julia Phillips
One August afternoon, on the shoreline of the Kamchatka peninsula at the northeastern edge of Russia, two girls--sisters, eight and eleven--go missing. In the ensuing weeks, then months, the police investigation turns up nothing. Echoes of the disappearance reverberate across a tightly woven community, with the fear and loss felt most deeply among its women.
Taking us through a year in Kamchatka, Disappearing Earth enters with astonishing emotional acuity the worlds of a cast of richly drawn characters, all connected by the crime: a witness, a neighbor, a detective, a mother. We are transported to vistas of rugged beauty--densely wooded forests, open expanses of tundra, soaring volcanoes, and the glassy seas that border Japan and Alaska--and into a region as complex as it is alluring, where social and ethnic tensions have long simmered, and where outsiders are often the first to be accused.
In a story as propulsive as it is emotionally engaging, and through a young writer's virtuosic feat of empathy and imagination, this powerful novel brings us to a new understanding of the intricate bonds of family and community, in a Russia unlike any we have seen before.
---
3. Anonymous Girl / by Greer Hendricks
Looking to earn some easy cash, Jessica Farris agrees to be a test subject in a psychological study about ethics and morality. But as the study moves from the exam room to the real world, the line between what is real and what is one of Dr. Shields's experiments blurs.
Dr. Shields seems to know what Jess is thinking… and what she's hiding.
Jessica's behavior will not only be monitored, but manipulated.
Caught in a web of attraction, deceit and jealousy, Jess quickly learns that some obsessions can be deadly.
---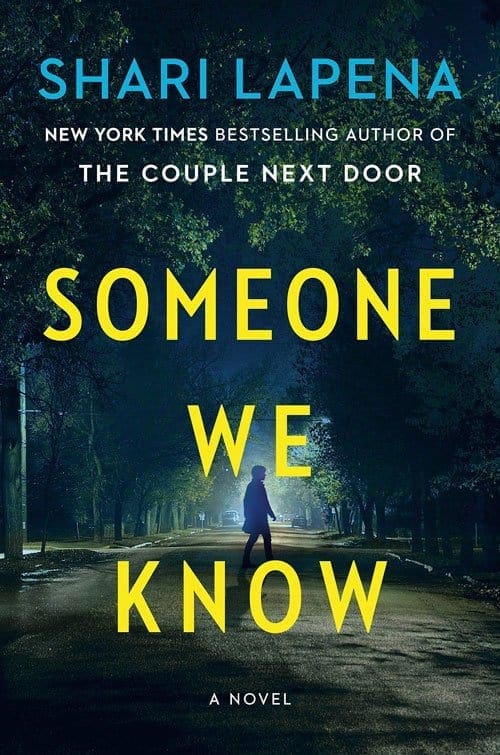 4. Someone We Know / by Shari Lapena
"This is a very difficult letter to write. I hope you will not hate us too much. . . My son broke into your home recently while you were out."
In a quiet, leafy suburb in upstate New York, a teenager has been sneaking into houses--and into the owners' computers as well--learning their secrets, and maybe sharing some of them, too.
Who is he, and what might he have uncovered? After two anonymous letters are received, whispers start to circulate, and suspicion mounts. And when a woman down the street is found murdered, the tension reaches the breaking point. Who killed her? Who knows more than they're telling? And how far will all these very nice people go to protect their own secrets?
In this neighborhood, it's not just the husbands and wives who play games. Here, everyone in the family has something to hide . . .
---
---
5. Behind Every Lie by Christina McDonald
If you can't remember it, how do you prove you didn't do it?
Eva Hansen wakes in the hospital after being struck by lightning and discovers her mother, Kat, has been murdered. Eva was found unconscious down the street. She can't remember what happened but the police are highly suspicious of her.
Determined to clear her name, Eva heads from Seattle to London—Kat's former home—for answers. But as she unravels her mother's carefully held secrets, Eva soon realizes that someone doesn't want her to know the truth. And with violent memories beginning to emerge, Eva doesn't know who to trust. Least of all herself.
Told in alternating perspectives from Eva's search for answers and Kat's mysterious past, Christina McDonald has crafted another "complex, emotionally intense" (Publishers Weekly) domestic thriller. Perfect for fans of Lisa Jewell's I Found You and Karin Slaughter's Pieces of Her, Behind Every Lie explores the complicated nature of mother-daughter relationships, family trauma, and the danger behind long-held secrets.
---
More amazing psychological thriller books to add to your bookshelf:
10 Best Psychological Thriller Books for 2019
---
6. The Dancing Girls/ by M.M. Chouinard
When loving wife Jeanine Hammond is found dead in a small leafy town in Massachusetts, newly promoted Detective Jo Fournier is shocked to her core. Why leave her body posed like a ballerina? Why steal her wedding band and nothing else? Hungry for answers, Jo questions Jeanine's husband, but the heart-breaking pain written on his face threatens to tear open Jo's old wounds. It's the same pain she felt when her boyfriend was cruelly shot dead by a gang in their hometown of New Orleans. She couldn't get justice for him, but she's determined to get justice for Jeanine's devastated family.
But before Jo can get answers, another woman is found, wedding ring stolen, body posed in the same ritualistic way.
Digging through old files, Jo makes a terrifying link to a series of cold cases. She knows a serial killer is on the loose, but nobody will listen to the truth – not her bosses, nor the FBI. Still, Jo won't let her superiors keep her from stopping the murderer in his tracks, even if it means the end of her career.
Just as she is beginning to lose hope, she finds messages on the victims' computers that feel like the crucial missing link. But she knows the murderer is moments away from selecting his next victim. Will she be able to take down the most twisted killer of her career before another innocent life is lost?
---
7. The Other Mrs. / by Mary Kubica
Sadie and Will Foust have only just moved their family from bustling Chicago to small-town Maine when their neighbor Morgan Baines is found dead in her home. The murder rocks their tiny coastal island, but no one is more shaken than Sadie.
But it's not just Morgan's death that has Sadie on edge. And as the eyes of suspicion turn toward the new family in town, Sadie is drawn deeper into the mystery of what really happened that dark and deadly night. But Sadie must be careful, for the more she discovers about Mrs. Baines, the more she begins to realize just how much she has to lose if the truth ever comes to light.
---
8. The Wives / by Tarryn Fisher
Thursday's husband, Seth, has two other wives. She's never met them, and she doesn't know anything about them. She agreed to this unusual arrangement because she's so crazy about him.
But one day, she finds something. Something that tells a very different—and horrifying—story about the man she married.
What follows is one of the most twisted, shocking thrillers you'll ever read.
You'll have to grab a copy to find out why.
---
9. Whisper Network / by Chandler Baker
Sloane, Ardie, Grace, and Rosalita have worked at Truviv, Inc. for years. The sudden death of Truviv's CEO means their boss, Ames, will likely take over the entire company. Each of the women has a different relationship with Ames, who has always been surrounded by whispers about how he treats women. Those whispers have been ignored, swept under the rug, hidden away by those in charge.
But the world has changed, and the women are watching this promotion differently. This time, when they find out Ames is making an inappropriate move on a colleague, they aren't willing to let it go. This time, they've decided enough is enough.
Sloane and her colleagues' decision to take a stand sets in motion a catastrophic shift in the office. Lies will be uncovered. Secrets will be exposed. And not everyone will survive. All of their lives―as women, colleagues, mothers, wives, friends, even adversaries―will change dramatically as a result.
"If only you had listened to us," they tell us on page one of Chandler Baker's Whisper Network, "none of this would have happened."
---
10. The Red Lotus / by Chris Bohjalian 
The first time Alexis saw Austin, it was a Saturday night. Not in a bar, but in the emergency room where Alexis sutured a bullet wound in Austin's arm. Six months later, on the brink of falling in love, they travel to Vietnam on a bike tour so that Austin can show her his passion for cycling and he can pay his respects to the place where his father and uncle fought in the war. But as Alexis sips white wine and waits at the hotel for him to return from his solo ride, two men emerge from the tall grass and Austin vanishes into thin air. The only clue he leaves behind is a bright yellow energy gel dropped on the road.
As Alexis grapples with this bewildering loss, and deals with the FBI, Austin's prickly family, and her colleagues at the hospital, Alexis uncovers a series of strange lies that force her to wonder: Where did Austin go? Why did he really bring her to Vietnam? And how much danger has he left her in? Set amidst the adrenaline-fueled world of the emergency room, The Red Lotus is a global thriller about those who dedicate their lives to saving people, and those who peddle death to the highest bidder.
Here are some of my favorite reading inspired items!
More great reads
10 Best Psychological Thriller Books for 2019



20 Best Thriller Books to Read in 2019



The Best Summer Thriller Books to Read this Year



The Best Books to Read that will Fulfill Your Life