Are you tired of dealing with itchy, annoying mosquito bites every summer? You're not alone! Mosquito bites can be highly irritating and uncomfortable – but there's a simple solution that many parents swear by: tea tree oil. In this ultimate guide to using Tea Tree Oil for Mosquito Bites, we'll discuss exactly why and how this powerful essential oil can help keep your family bite-free all year long. Read on to learn more about the amazing healing powers of tea tree oil!
Tea tree oil is one of those all-purpose essential oils that you'll want to have in your toolkit, there are so many Tea Tree Oil Uses. Known for its antibacterial and anti-inflammatory properties, it's often used to soothe skin irritations, treat acne and even help with wound healing. But did you know that tea tree oil can also give your scalp and hair some much-needed TLC? Yes, when diluted properly and applied to your scalp, it can help with dandruff, itchiness and even stimulate hair growth. It's a multi-talented oil that's definitely worth exploring!
What is Tea Tree Oil and How Does it Work for Mosquito Bites?
If you're searching for a natural remedy to ease the pesky itch of mosquito bites, look no further than tea tree oil. Derived from the leaves of the Melaleuca alternifolia plant native to Australia, this essential oil has been used for centuries for its antibacterial, antiviral, and anti-inflammatory properties. When applied topically to a mosquito bite, tea tree oil can soothe the area and reduce swelling and itching.
This is because it contains compounds that disrupt the mosquito's saliva proteins, which are responsible for causing the allergic reaction and subsequent itching. Plus, using tea tree oil as a bite remedy is a great alternative to traditional chemical-laden options. So, next time those pesky bloodsuckers try to ruin your day, give tea tree oil a try and say "see ya later alligator" to those irritating mosquito bites.
Using Tea Tree Oil for Bug Bites
Benefits of Using Tea Tree Oil as a Natural Remedy
If you're looking for a natural remedy to add to your routine, tea tree oil might just be the answer. Derived from the leaves of Melaleuca alternifolia, a plant native to Australia, tea tree oil has been used for centuries for its antibacterial and antifungal properties.
Treats skin conditions like acne and athlete's foot
Eases congestion
Soothes sore throats when added to a warm steam inhalation
Plus, it's safe and easy to use – just add a few drops to your favorite carrier oil or lotion and apply as needed. Trust us, once you start using tea tree oil, you won't want to go back to anything else.
Quick Tips on Using Tea Tree Oil for Mosquito Bites
Summer is the time for outdoor fun, but it also means pesky mosquito bites. Fortunately, tea tree oil is a natural and effective solution for those itchy bumps.
Just a few drops can help relieve swelling and calm the skin.
To use, mix a few drops of tea tree oil with a carrier oil like coconut or almond oil and apply to the affected area.
You can also add a few drops to your bath to soothe multiple bites at once.
Not only does tea tree oil help with mosquito bites, but it also has antibacterial properties that can help prevent infection.
Keep this versatile oil on hand during the summer months to have a fast, natural solution to those annoying mosquito bites.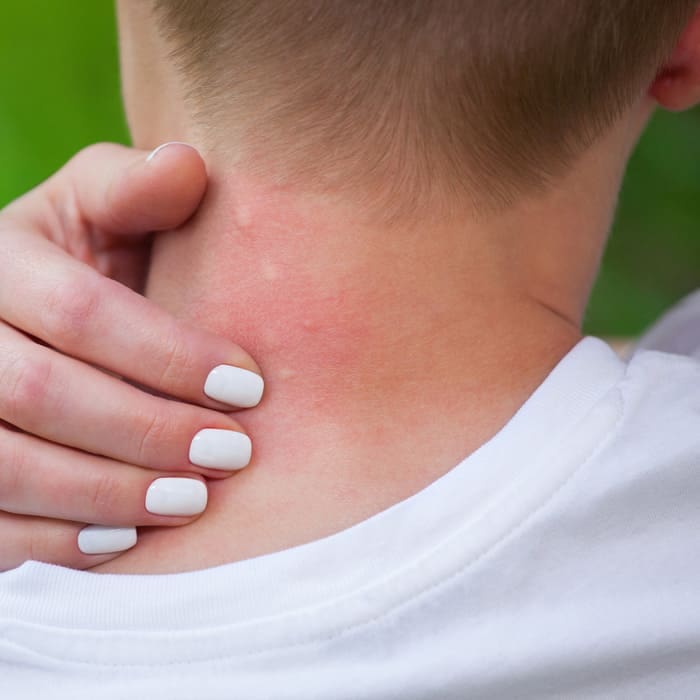 Tea tree oil has natural anti-inflammatory properties that can help reduce swelling and itching. Simply mix a few drops of tea tree oil with coconut oil or another carrier oil and apply directly to the mosquito bite. You can add it to a roller bottle for on-the-go or just to have to grab when you need it too!
Not only will it provide relief, but it smells great too! Don't let pesky bites ruin your outdoor fun this summer – give this tea tree oil remedy a try and enjoy the great outdoors without the irritation.
I love Rocky Mountain Oils because of their quality 100% pure essential oils that require no minimum purchase and always gives FREE shipping! Plus they always have specials going on!
Rocky Mountain Oils' essential oils are verified by a third-party, independent lab. GC/MS tests verify purity and quality of the oils sold so you can look at the bottom of the bottle to find your individual batch code and then input that number into our website to pull up the GC/MS test results.
Rocky Mountain Products can be returned for any reason, even if opened, for up to 90 days. RMO also pays for our customers' return shipping expenses to make our ordering process completely risk-free.
RMO includes three different icons for recommended use on each bottle for easy reference: Diffuse, Topical Application and Household. So you can look at the bottle and know in what way it's intended for use.
Purchase your Essential Oils here!

Tea Tree Oil for Mosquito Bites Rollon
Are annoying mosquito bites driving you nuts? Try this DIY recipe using tea tree oil for relief!
Materials
5 Drops of Lavender Essential Oil
10 Drops of Tea Tree Essential Oil
Fractionated Coconut Oil (or olive oil)
10mL Roller Bottle
Instructions
If you can remove the roller bottle top with your fingers, great. If not, you can use a small or tiny screwdriver anything flat.
Add the essential oils.
Top off with the coconut or olive oil, 1-2 teaspoons. Shake well.
Now you're ready to roll! Pun intended.
References