Here are 20 vegetarian casserole recipes for everyone in the family that are healthy and hearty you won't hear anyone asking about the meat! Eating vegetarian healthy recipes isn't just for meatless Mondays anymore!
20 Easy Vegetarian Casserole Recipes for the Whole Family
Given the choice, I will always choose the vegetarian casserole over the meat one. Which is surprising since I am a butcher's daughter and grew up with meat on the table 6 nights a week. I'm not sure my dad knew how to make a meal without meat unless it was salad night – which would then be a bevy of mayonnaise-laden salads.
My parents had huge health issues.
Meat is great for protein, but so are grains and legumes! Give me some chickpeas over a hamburger any day.
Vegetarian Casserole Recipes

This delicious Vegetarian Black Bean Enchilada Casserole is something that I turn to on days that I want to eat something yummy but don't have the energy to cook. This vegetarian casserole basically throws itself together and you just have to make sure it doesn't burn in the oven! Five Spot Green Living
This vegetarian baked pasta is filled with veggies and made with whole wheat penne pasta so it's a bit lighter than your average comfort food casserole. It's easy to make two versions at once to serve at the table as well if you have people who just can't give up their meat.

---
Here's a whole30 breakfast casserole recipe that is also vegetarian, paleo, low-carb, dairy-free and gluten-free. I love that it's made with all veggies like spinach, eggplant, avocado, broccoli and tomato and also eggs!


---
I was never a huge turnip fan growing up but this mashed turnip and apple casserole is mixed up so it's more sweet than savory and it's only 5 Weight Watchers Freestyle points per serving! It is such a great side dish for your holiday meal! Food Meanderings
One of my favorite Thanksgiving side dishes is corn casserole. My best friend's mother taught me to make it growing up and it's always a personal favorite. Drugstore Divas
You all know how much Five Spot loves her mexican food! Here's a vegetarian mexican tortilla casserole that is easy to put together and doesn't take long to bake. Mama Likes to Cook
---
Are you the kind that can't be without Sweet Potato Casserole at Thanksgiving? Have you never even tried one? Here's one that is the best version and perfect way to try it. Dancing Through the Rain
Here's an easy egg casserole recipe that is somewhere between a quiche & frittata. This makes a great healthy breakfast to make on the weekend or for a holiday.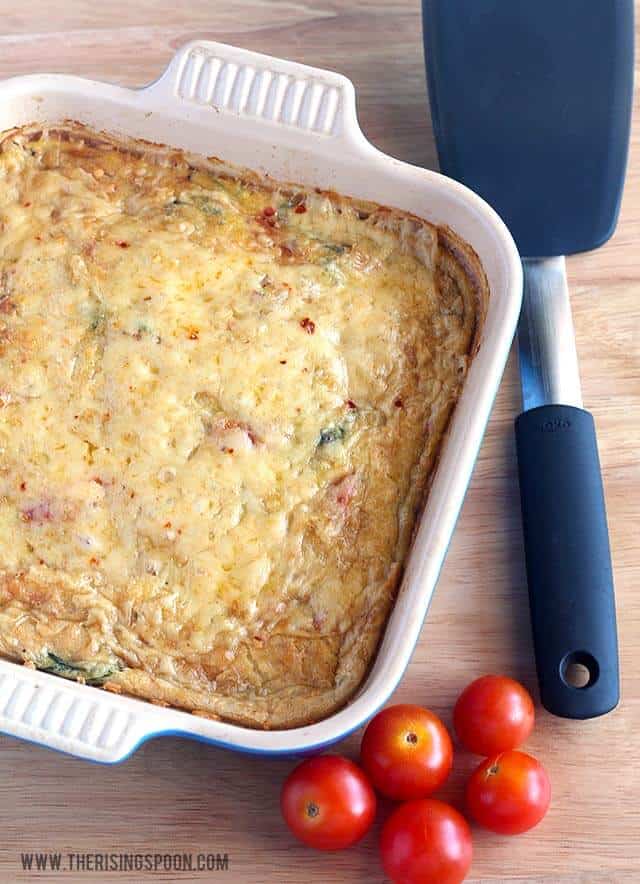 ---
Here's a paleo sweet potato casserole with pecan crumble topping that's gluten-free, grain-free, dairy-free, and perfect for Thanksgiving! It's so easy and quick to make!



---
Have you ever tried a butternut pasta bake that is puréed into a velvety sauce? The pasta is then smothered with this for something you will never believe is not comfort food.


Amazingly cheesy Broccoli Cauliflower Brussels Sprout Gratin isn't your average casserole made with cream of whatever soup. Made from scratch this delicious dish is the bomb! Peas and Crayons

---
This zucchini gratin recipe is a baked cheesy zucchini casserole that everyone will love because not only is it low carb but it's also absolutely delicious and nobody will believe it's healthy! Wholesome Yum
Here's an option to make ahead for guests and then wow them with this vegetarian overnight breakfast casserole. Crayons and Cravings
Do you wonder what to do with all of those root vegetables? Try this Root Vegetable Casserole for a delicious and easy side dish option that can also be multiplied and frozen! Delicious on a Dime
Yum – I love me some beans! Here is a Vegetable Bean Casserole that is creamy and comforting with brown rice, broccoli, carrots, and celery. It is perfectly tasty and hearty enough to serve by itself. V Nutrition and Wellness
This Easy Spanish Rice Casserole gives me that south-of-the-border fix while not making my family crazy for making mexican-style recipes all the time. Five Spot Green Living
Rich, creamy, flavorful, cheesy and so satisfying, this Potato and Zucchini Gratin is an ultimate comfort food side dish any night of the week. Lavender and Macarons
---
I love that there are lentils in this
Vegetarian Ranch Shepherd's Pie
and it's so crazy delicious you won't even miss the meat.
Delicious on a Dime
Here is one version of the infamous sweet potato casserole that is not super sweet but showcases the vegetable on its own. Healthy Slow Cooking
Have you been wondering how to make this unique vegetable? This recipe for Spaghetti Squash Casserole will make you think twice because it will taste so much like actual lasagna! Peas and Crayons
Do you love it when you can pull out your instant pot (a.k.a. pressure cooker)? This recipe for Pressure Cooker Cauliflower Soufflé is deliciously cheesy and so delicious. Not as much an oven-baked casserole but deserves to be on this list! This Old Gal
---
This amazing recipe reminds me of the one my mother-in-law makes in the winter.
Eggplant Gratin
is smothered with a secret white sauce and topped with a generous layer of Gruyere cheese for a decadent comfort food dish that makes amazing leftovers.
Lavender and Macarons
This gluten-free green bean casserole recipe is super easy and uses just a few ingredients that can be made ahead of time! Wholesome Yum
Keto Cauliflower Mac and Cheese is the perfect substitute for traditional macaroni and cheese as it is healthy and can be served as a main dish or in addition to a main dish. Fit to Serve Group
This Pumpkin Vegetable Casserole is a different way to put a healthy veggie-filled dish on the table. V Nutrition and Wellness

What's more delicious than tender-cooked potatoes with soft onion slices in a creamy white sauce? This Vegan Scalloped Potatoes is some really delicious vegan comfort food you would never believe doesn't contain real cheese! My Pure Plants


---
Here is one of the Best Vegan Lasagna (Pasta-Free Version) recipes I have ever eaten. It's actually vegan ground beef cooked in hearty marinara sauce layered with vegan alfredo sauce and cabbage! My Pure Plants
This healthy Vegetarian Mexican Casserole is made with quinoa and black beans and a few other delicious veggies. It's so hearty you won't miss the meat and makes amazing leftovers! I Believe I Can Fry
Healthy Vegetarian Mexican Casserole with Rice & Beans is easy to make and filled with cheesy goodness along with brown rice and veggies. Piping Pot Curry
I've never tried Jackfruit so this recipes for tangy Vegan Buffalo Jackfruit Enchiladas make for something completely different! This is a great make ahead recipe for a quick and easy weeknight dinner. Spabettie


---
This easy Hearty Portobello Kale Lasagna is packed with nutrients to make a satisfying comfort food you will wish you made a double batch! Spabettie
I love this old-fashioned Mac and Cheese with Tomatoes that is made 3 simple ingredients – macaroni, cheddar cheese and tomatoes. It's super easy and quick! Food Meanderings
This recipe for One Pot Cheesy Broccoli Chickpea Rice Casserole is now in my rotating recipe list! Anything with chickpeas means it's delicious, hearty and filling! Flavor the Moments


---
Sweet Potato Casserole with Black Beans, Kale and Buckwheat casserole is easy to assemble and perfect to make ahead. Happy Kitchen
This simple Asparagus Macaroni Cheese is made with everyday ingredients for a healthy vegetarian comfort meal! Recipes from a Pantry


---
Have you ever heard of an onion casserole? This Sweet Onion Casserole with Crispy Topping is definitely a unique make ahead side dish that is packed with flavor and compliments any kind of main dish! Sprinkles and Sprouts
This Bean Burrito Casserole definitely reminds me of my single days when I had no money! It's the perfect weeknight vegetarian freezer meal that costs pennies to make. Honey and Birch


---
More posts like Vegetarian Casserole recipes
10 Easy Vegetarian Meals for Fall


Vegetarian Summer Picnic Food Ideas