Here are 20 vegetarian casserole recipes for everyone in the family that are healthy and hearty you won't hear anyone asking about the meat! Eating vegetarian healthy recipes isn't just for meatless Mondays anymore!
20 Easy Vegetarian Casserole Recipes for the Whole Family
Given the choice, I will always choose the vegetarian casserole over the meat one. Which is surprising since I am a butcher's daughter and grew up with meat on the table 6 nights a week. I'm not sure my dad knew how to make a meal without meat unless it was salad night – which would then be a bevy of mayonnaise-laden salads.
My parents had huge health issues.
Meat is great for protein, but so are grains and legumes! Give me some chickpeas over a hamburger any day.
Vegetarian Casserole Recipes
This delicious
Vegetarian Black Bean Enchilada Casserole
is something that I turn to on days that I want to eat something yummy but don't have the energy to cook. This vegetarian casserole basically throws itself together and you just have to make sure it doesn't burn in the oven!
Five Spot Green Living
Packed with veggies and made with whole wheat penne, this saucy vegetarian baked pasta packs a little less guilt than your average comfort food casserole. If you've got meat-eaters coming to the table, it's easy to bake two versions: one with ground beef, one without.

---
This whole30 breakfast casserole recipe is also vegetarian, paleo, low-carb, dairy-free and gluten-free. Made with nothing but eggs and nutritious veggies like spinach, eggplant, avocado, broccoli and tomato, this healthy breakfast bake is the perfect easy dish for a family brunch.

This mashed turnip and apple casserole is a delicious mixture of apples, turnips, brown sugar and butter. It's also been lightened to 5 Weight Watchers Freestyle points per serving. It makes a fabulous side dish for holiday dinners. I serve it at Thanksgiving, Easter and Christmas! Food Meanderings
One of my favorite Thanksgiving side dishes is corn casserole. It's so warm and inviting, plus it's a fun play on corn bread (which I also love so very much). Drugstore Divas
This delicious vegetarian mexican tortilla casserole is easy to assemble and doesn't take long to bake. I'm a wimp, so I go easy on the spice. Those of you who like it hot can add more before it goes into the oven or just douse it with hot sauce before you eat. Mama Likes to Cook
---
This easy and delicious Sweet Potato Casserole recipe is one of my absolute favorites – and truly the best. I have been making it for years for Thanksgiving and each and every year I am reminded that I'm to bring it again next year. There are lots of ways to vary things, but let's start with the basics and I'll discuss some changes and alterations that you can make if you should choose to. If you're looking for an appetizer or side to pair with this for Thanksgiving, go for my Asparagus Puff Pastry Tart! Dancing Through the Rain
An easy egg casserole recipe with a softer & creamier texture somewhere between a quiche & frittata, yet slightly puffy like a souffle. Serve it with your favorite sides for a simple healthy breakfast or make it ahead & cut into squares to reheat for quick morning meals.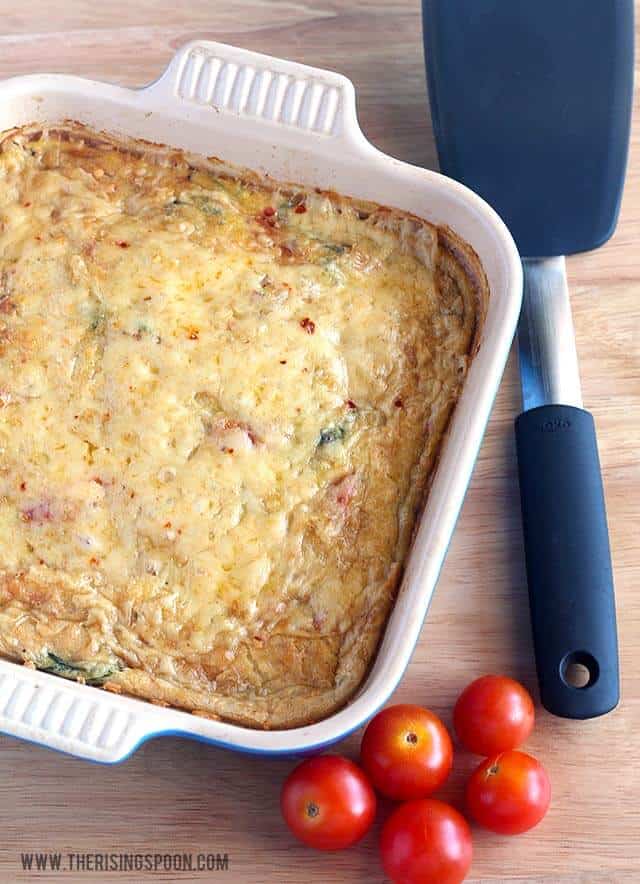 ---
A paleo sweet potato casserole with pecan crumble topping that's gluten-free, grain-free, dairy-free, and perfect for Thanksgiving and all your holiday feasts. It's so simple and easy to make!

---
Vegan comfort food to the max in this butternut pasta bake. Butternut squash, garlic, smoked paprika … pureed into a velvety sauce that smothers al dente whole wheat penne.

This lusciously cheesy Broccoli Cauliflower Brussels Sprout Gratin isn't your average casserole. Ditch the canned cream-of-craziness, grab some veggies, and meet me in the kitchen! Peas and Crayons

---
This easy
zucchini gratin recipe
is a baked cheesy zucchini casserole that everyone will love! Healthy, low carb, gluten-free, and delicious. Only 10 minutes prep time & simple ingredients!
Wholesome Yum
This cheesy vegetarian overnight breakfast casserole is an easy breakfast option to serve overnight guests on busy holiday mornings. Crayons and Cravings
This Root Vegetable Casserole is a superstar side dish – it's delicious, easy, cheap, healthy, versatile and can be made ahead of time. This is freezer-friendly comfort food at its best! Delicious on a Dime
This Vegetable Bean Casserole is creamy and delicious. This comforting casserole is gluten-free and filled with brown rice, broccoli, carrots, and celery. This vegetarian casserole is perfect for a hearty and tasty any day meal. V Nutrition and Wellness
This Easy Spanish Rice Casserole gives me that south-of-the-border fix while not making my family crazy for making mexican-style recipes all the time. Five Spot Green Living
Rich, creamy, flavorful, cheesy and so satisfying, this Potato and Zucchini Gratin is an ultimate comfort food side dish for any type of meal or occasion. Very easy to make and so delicious! Lavender and Macarons

---
This
Vegetarian Ranch Shepherd's Pie
(with lentils!) is so delicious you won't even miss the meat!
Delicious on a Dime
Every family seems to have a special recipe for sweet potato casserole. This one is less sweet than the sticky sweet casserole of my youth. It skips the caramel and marshmallow sometimes included. You could add vegan versions of both if you really want to. After all, any day is a holiday when you get to eat sweet potato casserole! Healthy Slow Cooking
This Spaghetti Squash Casserole channels all the flavor of our favorite lasagna recipe with a healthy low-carb twist! This gluten-free recipe can be served as a side dish or a main entree for dinner. Peas and Crayons
This whole30 breakfast casserole recipe is also vegetarian, paleo, low-carb, dairy-free and gluten-free. Made with nothing but eggs and nutritious veggies like spinach, eggplant, avocado, broccoli and tomato, this healthy breakfast bake is the perfect easy dish for a family brunch. One Clever Chef
Butternut Squash, Zucchini, and Spinach Lasagnais rich, creamy, packed with healthy vegetables and loved by even the pickiest of eaters! This Butternut Squash Lasagna is one you will want to make again and again! The Forked Spoon
Pressure Cooker Cauliflower Soufflé is a simple Low Carb, Low Calorie, Keto side dish, which is delightfully cheesy and totally delicious. Not as much an oven-baked casserole but deserves to be on this list! This Old Gal
---
This creamy and scrumptious
Eggplant Gratin
is smothered with a secret white sauce and topped with a generous layer or Gruyere cheese. It is a side dish that is so easy to make and will be gone before you know it.
An easy, gluten-free green bean casserole recipe with just a few ingredients! You can make this low carb green bean casserole ahead, too. Wholesome Yum
Keto Cauliflower Mac and Cheese is the perfect substitute for traditional macaroni and cheese. This healthy dish can stand alone as a main dish, or be served along-side your favorite protein. Fit to Serve Group
This Pumpkin Vegetable Casserole is a great way to put a veggie-filled dish on the table. And it's so tasty that no one will even realize how healthy it is! V Nutrition and Wellness

More posts like Vegetarian Casserole recipes