Sometimes you need a fun treat that doesn't involve an entire cake in the oven – this 5 Minute Chocolate Cake in a Mug hits the spot!
I love chocolate cake. I mean, like it's the best thing ever. When I was pregnant, it's all I wanted to eat. I think at one time I even ate an entire cake myself in a day. Maybe that's why my oldest loves it so much!
This easy chocolate cake in a mug recipe is great for those nights when you just want to quick treat without running to the store or making an entire cake that also takes hours. You want something quick to satisfy that craving!
Sometimes I even add a scoop of peanut butter to it. *sigh*
This recipe is so great because my kids learned how to start baking using it. It is simple enough for them to learn the basic measurements and they loved that they could make their own treat.
I love this recipe for chocolate mug cake because it's so adaptable! You can make a vanilla cake without adding the cocoa. You can make a vegan cake by omitting the eggs – which is what I recommend anyway. It comes out SO much fudgier without the eggs!
This recipe also would be super fun for playdates at home while dressing it up with whipped cream and sprinkles or candies!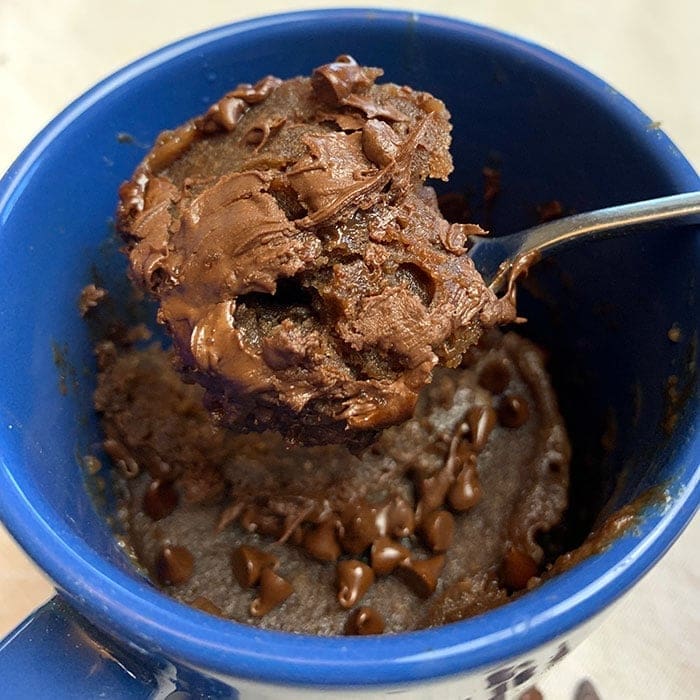 So making a personal sized chocolate cake in a mug in literally 5 minutes is seriously the best thing I've ever heard of.
My girls love making cookies and cakes in the microwave! Although I don't encourage microwave use in our house, it's still there and I want to encourage my kids to be independent and creative.
5 Minute Chocolate Cake in a Mug
INGREDIENTS
4 tablespoons flour (exact)
4 tablespoons sugar
1 tablespoon unsweetened cocoa
2 tablespoons whisked egg – 1 egg is too much, 1 egg white is too eggy, 1 yolk is too dense, but 2 tblsp is just right!
3 tablespoons milk
3 tablespoons oil (I used coconut oil)
3 tablespoons chocolate chips
splash vanilla or other flavoring – try peppermint or cinnamon
For a fudgier version, omit egg!
DIRECTIONS
Add all of the dry ingredients to the mug and mix.
Add the egg and combine well. It gets pretty pasty at the point.
Stir in milk and oil.
Add chocolate chips* and splash of vanilla. Stir well.
Microwave for 3 minutes in a 1000w oven, or 4 minutes in a 700w oven.
It will start to crown over the top of the mug.
**Update: I have since made this without the egg and no sauce and it was so good. Very fudgy and cakey!**
Looking for more ideas like chocolate cake in a mug?
Easy Slow Cooker Chocolate Cake
Easy Gluten-Free Mug Cake